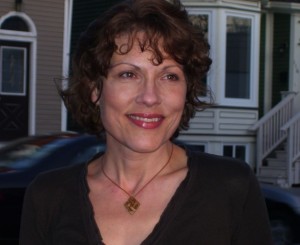 Leslie Vryenhoek is a writer, poet and communication consultant based out of Newfoundland. Her work has appeared in various Canadian and international publications. Leslie has received numerous awards for her poetry, fiction and memoirs including the Winston-Collins Descant Best Canadian Poem 2010 prize, two provincial Arts and Letters Awards, the Eden Mills Festival Literary Competition and the Dalton Camp Award. Her two books Scrabble Lessons (fiction) and Gulf (poetry), both published by Oolichan Books, received a great deal of praise from the literary community. We recently spoke with Leslie about her work, literary contests, and the idea of plot versus character.
This Magazine: You took second place in our Great Canadian Literary Hunt back in 2009 as well as third in 2006, how has that helped your career?
Leslie Vryenhoek: The 2006 showing was one of my first published poems, so it was a real shot in the arm. Both poems—Stuck and My Parents' Past—were published last year in a collection called Gulf (Oolichan Books).
This: What have you been working on lately?
LV: Since Gulf was published, I've been working on finishing and revising a novel—my first attempt at the interminable form—but I keep getting distracted by ideas for screenplays that keep appearing out of nowhere. So a lot of sketching out ideas, and then wading back in to wrestle the beast I've tentatively titled Doubtful Accounts.
This:What is the value of literary contests for up and coming writers?
LV: At the very least, they usually come with a subscription to a good publication, which it is important to read. And maybe if you win, a few bucks. But most importantly, literary contests have deadlines—they make you finish something. Also, they help up and coming writers get used to soul-crushing disappointment. It's never too soon to start on those callouses.
This: You have quite the resume of awards from writing competitions. Do you have any tips for writers out there to get the judges attention?
LV: Write the best thing you can write, not what you think the judges might want. That said, read the damn rules and follow them.
This: In writing fiction what do you feel is more important: plot or character?
LV: Whoa, that's like asking What's more important: arms or legs, love or sex, coffee or vodka … Character is essential for driving a plot, but the things that happen, plotwise. necessarily develop the character. They are equally crucial.