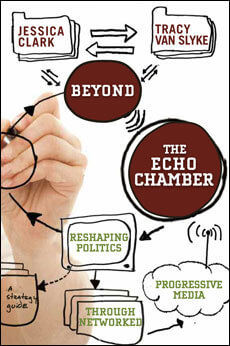 Progressive media, it seems, is one of the very few bright spots in today's bleak world of journalism. Despite the cash-strapped economy, rather than succumbing to the heavy hand of advertisers or clinging to sensationalized coverage—as their corporate counterparts have been obliged to do—independent progressive media has managed to survive and flourish by simply sticking to its mandate while keeping ahead of the changing media environment.
At least, this is the optimistic picture presented in a new book entitled Beyond the Echo Chamber: Reshaping Politics Through Networked Progressive Media, and its accompanying blog. Authors and activists, Tracy Van Slyke and Jessica Clark examine the recent surge of progressive media from 2004 to the present and envision a strong, continuous rise in popularity based on their observations.
This article published by alternet.org discusses the content of the book and makes reference to current media trends that have enabled independent liberal media to thrive. The article states:
In the old days, it was considered a big success when a progressive magazine had 200,000 monthly subscribers. But today, there are a dozen or more blogs, magazines and online news sites that have enjoyed more than a million unique readers in a month.
With well over a billion worldwide internet users, progressive online media outlets in the form of blogs, news sites and magazines are reaching and capturing larger audiences than ever before. This is great news for Canadian media organizations like rabble.ca, The Walrus, Adbusters and, of course, This Magazine. (It should be noted that even mid-size American media Clark and van Slyke talk about easily dwarf their Canadian cousins—200,000 subscribers in Canada would rank among the largest publications in the country—which we certainly are not.)
Yet, a larger audience isn't the only advantage for progressive web-based media. Instead of relying on advertisers as a main source of funding during a time when budgets are tight, online independent media outlets also benefit from the support of government grants and reader donations. This, in turn, has allowed them to produce and remain consistent with the uncompromisingly lefty content that their readers crave.
The alternet article points out that:
… the new progressive media use a range of strategies and tactics that are far more hard-hitting and activist-oriented than the smaller print magazine universe that dominated progressive media for a long time.
While Clark and Van Slyke paint a flattering portrait of this new face of progressive media, they recognize that there are still a few flaws that remain to be fixed.  One, being its disproportionate demographic since the majority of audience members are primarily white, middle-aged and well-educated. Other weaknesses include its lack of funding from wealthy foundations and individual billionaires, as well as its tendency not to invest in major media and communication in order to challenge the power of corporate big-wigs like CTVglobemedia and Canwest.
Nevertheless, the solution the authors propose is simple, and one that progressive media is already beginning to undertake. The establishment of larger and more interconnected models of  social networking and an increased collaboration among independent media outlets should help alleviate the previously mentioned problems, increase its overall influence and allow it to continue to, quite literally, progress.