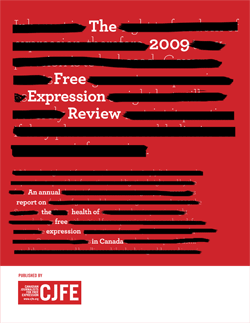 Today, which is, appropriately,
World Press Freedom Day
,
Canadian Journalists for Free Expression
released their first in what will be an annual series of reports on the state of free expression in Canada. As the authors note in the introduction, 2009 was a notable year in Canadian press freedom:
The Supreme Court of Canada established the new "responsible communications" defence to claims of defamation, providing greater latitude in reporting on issues of public interest and beating back libel chill;
Federal government transparency took a decisive turn for the worse, so much so that the access to information commissioner pronounced it being at risk of being "totally obliterated";
There were two attacks on members of the "ethnic press" in Canada—a physical assault of the editor of the Canadian Punjabi Press in Brampton, Ont., and the vandalization of the offices of the Uthayan newspaper in Scarborough, Ont.;
The Vancouver 2010 Olympics produced a handful of troubling incidents, with reporters harassed by law enforcement, detained on dubious grounds, or turned away at the Canadian border on specious grounds.
The study includes a report card that assigns grades to different institutions and their openness to public scrutiny, or their actions that make that scrutiny possible. The Supreme Court gets an A for the new defamation defence; The Canadian Human Rights Commission gets a B for deeming the hate speech provision of the Canadian Human Rights Code unconstitutional in the Marc Lemire case; on publication bans in the courts, appeals courts get a B+, while trial courts get a C-. Continuing the drumbeat of discontent over the federal government's lack of transparency, it gets an F:
Here, the only assessment can be a failing grade.We remain bedevilled by the antics of those federal entities that invoke national security at the drop of a hat to restrict the dissemination of vital information to journalists and, in turn, the public. Perhaps this attitude is best exemplified by a recent exchange between a federal government lawyer and the Military Police Complaints Commission, in which the lawyer not only challenged the commission's right to obtain certain government documents on detainee transfers but went so far as to indicate that he was not at liberty to discuss when those documents might be available. Add to this the countless delays and roadblocks put in the way of access to information and we are left wondering how the prime minister could praise the media's attempt to hold government accountable while abandoning his own promises of access reforms so loudly trumpeted on the campaign trail.