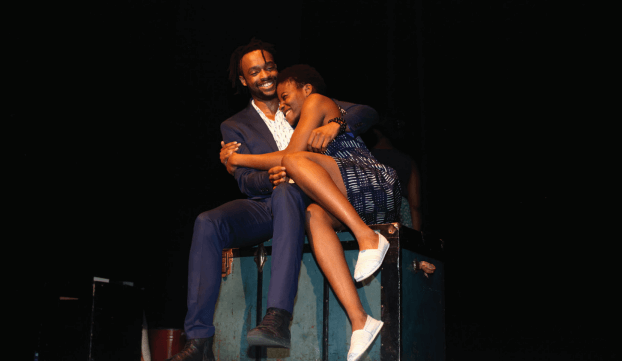 A lullaby sombrely lilts through a theatre as stage lights reveal a teenage Ghanaian girl. She is dressed simply but neatly, in a patterned blue dress and white shoes. There is a venturesome spark in her eyes as she stares toward an audience unseen. She begins to speak dreamily of a fairytale land she imagines by a river near her humble house in the Greater Accra Region of the country. Her voice is clear and unflinching.
The creator of the play, Jijo Quayson, first dreamt up this teenage girl in 2014, as the voice behind a monologue for a fourth-year university writing class. She would then transform her into the protagonist of her debut play, Osia.
Osia tells the story of Harmosia and her family as they plan to make their way to the United States from Ghana. The transactions of a "shady uncle" promises to help them in their great pilgrimage, but soon, the parlous state of his business deals threatens to upturn all of their lives.
Quayson began working on the script of Osia during her final undergraduate year at the University of Toronto. She was later accepted into Toronto's Nightwood Theatre's writers program in 2015, which helps budding writers develop scripts that have never been published into full-length pieces. At Nightwood, under the direction of famed Canadian directors Brad Fraser and Andrea Donaldson, the details of Osia gradually took shape—its Ghanaian setting in the working class, coastal town of Teshie; and its colourful list of characters, including Harmosia's mother, who works as house help for a wealthy family, and a neighbour, Bernice, whose livelihood comes from spreading gossip and teaching bible studies.
As production for Osia began in January 2016, an ensemble of actors from African and Caribbean heritages was put together to bring the show to life. Quayson notes that the piece used an all-Black cast, including Nicole Nwokolo, who played Harmosia, also starred as the evil stepmother in a 2016 Africanized version of Cinderella, hosted by the Robert Gill Theatre at the University of Toronto's St. George campus, and Chemika BennettHeath, known for roles on CBC and Nickelodeon series. "I really do enjoy seeing people who look like me onstage," says Quayson, whose own Ghanian background is reflected in the play. "I was very lucky to have been surrounded by individuals who wanted to bring this story to stage."
In many ways, Quayson, who grew up in England but also visited Ghana frequently during her childhood, embodies in her play an ideological exchange between her two subjectivities. As her uncle's business deals accumulate, Harmosia dreams of becoming a princess—a familiar trope for Canadian girls—forcing Harmosia's selfhood to take up space next to ours. Quayson's focus on Harmosia's idyllic escapism also highlights the paradoxical optimism in migration: A dream of a better life typically is the source of hope for potential expats, though they cannot confirm if their dreams of a brighter future will substantiate until they have said goodbye to their reality. As Harmosia imagines herself a princess while she sits in her stark room, we the Canadian audience are confronted with the painful duality of diasporic dreams.
Distinctly Ghanaian specificities also figure in Quayson's script. Characters in the play speak in the Ghanaian languages Gha, Twi, and Ewe. And in select scenes, characters utter a Ghanaian word for God, "Yesu." During these moments, Quayson had to trust that the similar euphonies of "Yesu" and "Jesus" would manifest the religious connotations of a scene. "It was very interesting shaping a story for a Canadian audience while mediating the language and culture of somewhere else to them," she says.
Despite the cultural specificities explored in Osia, Quayson says her play is for all audiences, be they expats or 12th-generation Canadians.
In August, her play premiered to great acclaim at Toronto's SummerWorks festival, and she completed her work with the Nightwood Theatre a few months later.
When asked if her she believes Osia makes her a voice for minority experiences in Canada, she laughs. "I think I have a lot more work to do for that," she says.
Photo by Anthony Gebrehiwot.
---
CORRECTION: A previous version of this online story misspelled Ghanian in its title. This regrets the error.