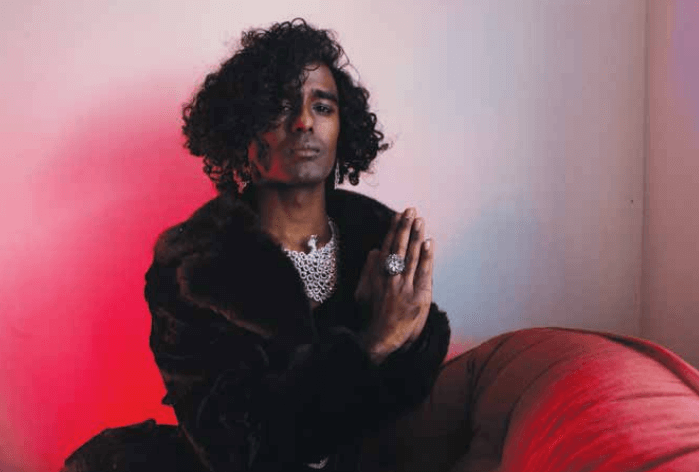 Photo by Pascha Marrow
Asking Kama La Mackerel what her art practice consists of is not an easy question to answer, but one she reacts to with a smile and a warm, inviting laugh. From poet to photographer, curator to performance artist, the simple response, she says, is that she has never restricted herself. "It's about letting my body and my heart speak and create what it wants to create," she says.
Regardless of the medium, she says her relationship to her art is closely tied to her relationship to her femininity. "As someone who was assigned male at birth and had to reclaim my femininity through the years and repress my femininity when I was a child, I had to repress that artistic and creative side of me. It allowed me to find myself and who I am."
In 2013, La Mackerel added founder to her roster, with the creation of her queer open stage mic project, Gender B(l)ender. The collective came out of a personal need: La Mackerel says she found it difficult to find a stage she felt comfortable sharing her art on when she moved to Montreal in 2011. "There are so many open mics in Montreal, but open mics are not [always] safe for queer and trans people," she says. Her goal was to create an experimental environment where "anybody from the LGBTQ community could come in and perform whatever they wanted"—whether someone wants to try drag for the first time, do a poetry reading, or try their hand at comedy. La Mackerel says about 50 percent of current performers are people of colour, while 9 out of 10 are women or femmes and trans. "They are the people who need it the most," she says. Now, each monthly event reaches capacity, and she has to cap the number of performances; otherwise, "it could go on forever."
Both Gender B(l)ender's audience and performers are diverse, coming from a range of backgrounds and lived experiences. "What I really love about it is that it's an intergenerational space," La Mackerel says. "My favourite moments are when trans women come who are in their sixties, and I'm like, 'You're my elders! I can't believe you're here!' I get really excited when that happens."
La Mackerel grew up in Mauritius, a plantation island off the Indian Ocean that was a British colony until 1968, which has led to intergenerational and colonial violence on her family. "I don't think I understood this when I was younger, but colonial violence expresses itself in so many ways. I don't think you can talk about race separately from gender," she says.
That's why La Mackerel designed the Gender B(l)ender stage as a place for performers to discuss identity through art. "It's about the conversations, and creating that space where we can find each other," she says. "Some people go on stage for the first time in their lives, and that's something I don't take for granted; that people are so willing to share their ownness. The audience really wants to hold that space and allow that vulnerability to grieve and exist."
And La Mackerel is no stranger to being vulnerable in her own work, regularly grappling with the idea of her own healing, with subject matter spanning gender, race, sexuality, and anti-colonial resistance.
Besides preparing for Gender B(l)ender's return after its short hiatus over the summer, La Mackerel is keeping busy with two ongoing projects: From Thick Skin to Femme Armour, a multimedia, multi-dimensional research project about femme of colour resistance across history, and Breaking the Promise of Tropical Emptiness, a postcard photography project about Mauritian transwomanhood. She is also starting an eight-month artist residency in the Faculty of Education at McGill University.
"There's the art, and the final performances, but really, my art is about the process. The process is where I grow, where I learn, where I heal," she says. "Those are my stories, that's my lived experience, and I know other people connect to that story."