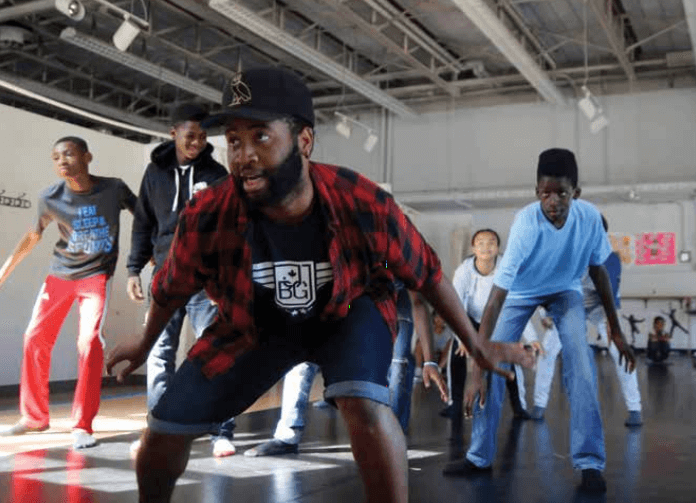 A scene from Just BGraphic's Summer Arts Academy 2016. Photo courtesy of Just BGraphic
Past the gymnasium and down a stairwell, a standard classroom scene unfolds in Toronto's Downsview Secondary School. Students file in, arrange themselves around tables, chat as their instructor, Josh Watkis, asks for order. Watkis, a spoken word artist, has scrawled "my childhood tastes like" on the blackboard. "What's the top rule?" he asks, over the gradually receding babble. "Respect each other, respect yourselves." (The second rule is "no Iggy Azalea.") The kids are here, in July, as part of not-for-profit Just BGraphic's (JBG) summer academy. Watkis demonstrates the exercise. "My childhood tastes like limelight. My childhood taste like divorce. My childhood tastes like bad grades. My childhood tastes like homicide," he says, adding, "The idea isn't to write something you can taste. The idea is to match it to something you can't."
Launched in 2010 by Kayode Brown, JBG began as an after school program to provide accessible, constructive activities during "at-risk" hours—that unstructured and often unsupervised window after school and into the evening. In its first year, about 60 kids attended JBG programs, a number that climbed to 850 students last year. Now, Brown's out to do more than offer a safe space for students—he wants to boldly revolutionize arts education in schools and their surrounding communities. "Art plays a crucial role in society, period," he says. "The power of imagination—the power of seeing something that's not there and building that—that is what we're built on."
During the school year, JBG runs curricula for high school-aged students. Workshops are collaborative and bring together teachers, JBG expertise, and contemporary artists who resonate with their students, including Ivan Evidente, a director at Universal Music Canada, as well as activist and author Sister Souljah. The idea is to make artistic aspirations tangible, a way to shape pop culture into an animating opportunity. Brown says the students are often enthralled with such guests. "I'm talking the room is dead silent. You can hear a pin drop," Brown beams. When it's time for Q and A, the hands fly up. "To see that energy—it's something that's remarkable."
Performance builds confidence. Mentorship breeds possibility. Technical skills, like those earned in an upcoming podcasting program about "your ideal school" are transferable. Brown should know. Art runs in his family. Brown's brother is Luther Brown, dancer and choreographer of So You Think You Can Dance Canada fame. His father, a principal, has been a deejay for years—a way to preserve his Jamaican culture after immigrating to Canada at a time when there weren't any reggae programs on the radio. Brown himself has a background in marketing and owned his own company. Yet, when he started to lose his sight in 2010, he moved away from marketing and started JBG. In 2014, a year after he had two eye surgeries and lost sight completely in his left eye, he closed the marketing company to focus all his energy on promoting arts education.
JBG programs weave discussions of mental health and identity into its activities, both as theme and self care. Drama classes guide kids in unfolding notions of identity; workshops on stereotype-busting invite students to question their assumptions; literary court scene reenactments have them interrogate forgiveness. Brown believes that having space, as a young person, to deal with the idea of stigma, to deal with notions of self through creation and expression is a holistic approach that works. Plus, he adds, "What good is health and fitness if your brain can't process imagination?"
Brown now wants to expand collaborations and bridge institutions. While the program is highly localized and the spirit community-based, the Toronto District School Board and JBG are in talks for a centralized programming initiative, which means Brown will be able to bring his brand of inclusive arts programming to students across the city. "We are not conformed to any one type of learner, one genre of music or culture or art," says Brown "We are as diverse as art can be. One three-letter word represents so much."
Steph Wechsler is a former intern at This Magazine.