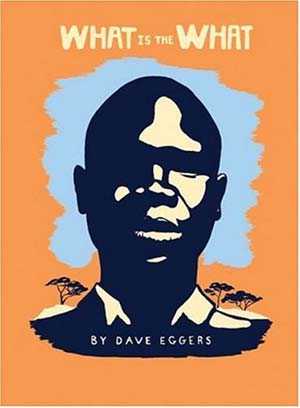 When civil war between representatives of south Sudan and the government — or north Sudan — erupted in the early 80s, the debris took the form of mass displacement, thousands upon thousands of southern Sudanese leaving their villages that had been ravaged by government-financed militia. Among the unhappy travellers were newly orphaned young males, the "Lost Boys" of Sudan. Valentino Achak Deng was one of those Lost Boys and his story of deprivation and profound hardship is recounted by Dave Eggers in What is the What: A Novel.
At the age of seven Deng was forced to flee his village when the murahaleen, the government sponsored militia group, attacked it and killed its inhabitants. Along with a few hundred other boys, they trekked from south west Sudan to Ethiopia — a distance of approximately 600 kilometres, or from Toronto to Quebec City — eating something like a handful of nuts and berries on some days, and less on others; escaping the clutches of roaming lions; and avoiding the machine gun fire of passing government planes: the kinds of difficulties nearly none of us can convincingly imagine.
Their days at the Kenyan refugee camp in Kakuma were not much better. Malnutrition, disease and illness: this was their fate. Even the campdwellers, victims of their own government's systemic removal and obliteration of their people, would not be too quick to call the place a refuge. Some though, like Deng and many other Lost Boys, had since been sponsored by the citizens of other countries.
With Deng and many of his walking companions now living comfortably in the United States or Canada, basic needs can finally be met without such struggle. And in telling What is the What: A Novel with Dave Eggers, Valentino Achak Deng is helping cast some light on a particularly dark situation within which many of his people are still enveloped.