Marriage certificates in hand, middle-class gays and lesbians have drifted away from the fight for queer rights. Underfunded and burnt out, the activists left behind say there's still plenty of work to do.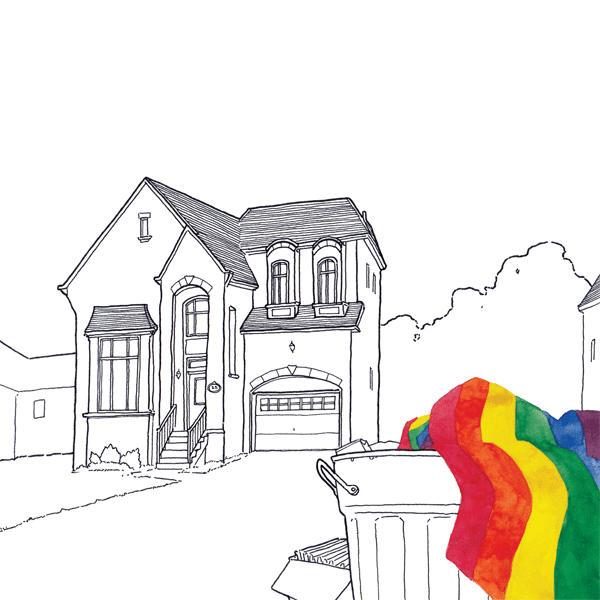 Last January, Helen Kennedy sat behind the Hockey Night in Canada desk with CBC's Ron MacLean, explaining why her organization, Egale Canada, had filed a complaint about sports commentator Mike Milbury. Milbury had worried on-air about the "pansification" of hockey. To suggest that a pansified league is inferior is to say that pansies are inferior, Kennedy argued.
"Why can't young boys be effeminate?" asked Kennedy, a lesbian with a devilish glint in her eye. "Why is it seen as lesser? You're less a person if you're not macho?"
Since taking over the national lobby group for lesbian, gay, bisexual, and trans people in April 2007, Kennedy had spoken at many rallies and public meetings. But that six-minute TV conversation took her into 1.3 million of the most testosterone-filled homes in Canada, where she evidently touched a nerve. "I received hundreds of emails after Hockey Night in Canada, and some of them were vile, absolutely vile," says Kennedy. "That level of discrimination and homophobia is still there."
The "pansygate" confrontation allowed Kennedy to speak to a wide audience about homophobic bullying and safe schools, one of Egale's key projects. But the kerfuffle was a sticks-and-stones debate over a made-up noun. Arguing semantics would not likely woo the hearts and minds of Canadians who have a problem with LGBT people, nor was it likely to improve the quality of life for LGBT people who are harassed and discriminated against. The pansy issue, while important, just didn't have legs, and it slipped off the agenda in one news cycle. It was an illustrative episode for Egale, an organization used to making front-page news. For Egale Canada, nothing has ever equalled the remarkable three-year final battle for same-sex marriage. The group was nearly ubiquitous on the national stage from the same-sex "summer of love" in 2003 through to Parliament's final vote in December 2006. Those years put lesbian and gay issues at the centre of the national consciousness. Egale Canada and its spinoff, Canadians for Equal Marriage, raised nearly $1 million to back the court challenges that started the nuptial landslide, then led the lobbying to persuade Parliament to uphold marriage equality laws.
Same-sex marriage was, arguably, the final piece of a decades-long project for full legal equality for gay men and lesbians. In the words of Michael Leshner, a lawyer and long-time activist, "With marriage, you win the pot of gold at the end of the rainbow." His marriage to Michael Stark was one of the first legal same-sex marriages in the country. Mission accomplished. Right?
If queers were going to advocate for something more—and Canada, pink as it is, is still not quite a gay utopia—activists would have to look beyond changing discriminatory laws. But the transition from wartime to peacetime has not been easy. At the height of the marriage debate, Egale's annual operating budget peaked at $538,000; now it's about $160,000, plus donated office space in Ottawa and Toronto. This year the Coalition for Lesbian and Gay Rights in Ontario packed up shop after more than 33 years, during which time it had successfully advocated to include gay and lesbian people in Ontario's Human Rights Code and get the Toronto District School Board to adopt a non-discrimination policy that included LGBT people.
In January a group of six queer health activists launched a human rights complaint against Health Canada, accusing it of discriminating against gay, lesbian, and bisexual people in its spending. The complaint got limited mainstream media coverage. "I naively thought our complaint was going to be a sexy issue, but it's not sexy like marriage," says Gens Hellquist, executive director of the Canadian Rainbow Health Coalition and an activist since 1971. In 2004 the CRHC had a budget of $2.3 million to promote better health care for LGBT people. Now it has an annual budget of approximately $10,000.
Marriage was a victory that came with a price—complacency. Activists who believe that LGBT people are still oppressed are struggling to find issues to rally the troops. Kennedy has taken Egale into schools with a student survey about homophobia in the classroom and into the world beyond Canada's borders, asking that musicians who sing anti-gay lyrics be denied entry to Canada. The new directions are expanding to include more health care workers, teachers, artists, and people of colour. Kennedy seems prepared to throw lots of ideas at the wall and see what sticks, but some of her peers wonder if the issues that attract the most public attention—and the most donations— are actually the most important ones for LGBT Canadians.
Susan Ursel came out in the late 1980s, when Canadians could be fired or refused housing for being gay or lesbian, a time when police would turn a blind eye to—or worse, perpetrate—harassment and assault. At first Ursel confined her lesbian life to socializing, but then, as a lawyer, she started doing activist work. Ursel joined a legal community that had successfully removed several forms of institutional discrimination, but still had much more to accomplish. Going into the 1990s, gay men and lesbians were legally acknowledged as people, but not as couples, and with tangible rights like pensions, child custody, hospital visitations, and inheritance riding on relationship recognition, the next step was obvious. "The work around same-sex relationship recognition is what brought in the churches and other groups," says Ursel. "It was a tremendous focal point and it crossed all kinds of lines to unify people."
In 1995 Egale and several lawyers who had been handling the relationship-recognition cases convinced a gay couple to walk away from a Supreme Court challenge over the right to marry. The lawyers, believing that the courts and the public weren't ready, worried that a negative ruling would ruin their momentum. But in 1999, the Supreme Court of Canada ruled on the famed M. v. H. case concerning the acrimonious split of a lesbian couple. The court ruled that they had financial obligations to one another—effectively granting same-sex couples the same status as heterosexual common-law spouses. The M-word was, at long last, openly tossed around. Suddenly, longtime activists found themselves surrounded by gay and lesbian couples they had never before laid eyes on.
"I could tell at fundraising events that it mobilized a segment of the queer community that had more money," says Cynthia Petersen, a lawyer who worked on M. v. H. and many other groundbreaking Charter cases.
Earlier activists usually had more radical roots. They wanted equal treatment before the law, but they were also interested in what made gay and lesbian people different: a more open approach to sex that included promiscuity, open relationships, and the commercial sex culture of bars and bathhouses. Their defiant attitude toward public morals and mainstream expectations alienated gay and lesbian people who just wanted to fit in. Marriage, with its formal clothes and kitschy cakes, changed the equation.
Same-sex marriage was, in fact, a perfect storm. Established middle- and upper-class gay and lesbian couples who normally avoided anything other than traditional party politics wanted it. Sympathetic straights—people who didn't understand things like cross-dressing or anonymous sex in parks—could relate to the desire to marry. And the vehement opposition, which highlighted the sway religious beliefs still have over public policy, was a tremendous motivating force. Everything was so delightfully black and white: at some specific moment, there would be a definitive thumbs-up or thumbs-down. Queer Canadians would be equal or not. For pure drama, no other issue could touch it.
Not even a legal case that dealt with actual depictions of sex could compete with the sex appeal of marriage. Petersen had represented Little Sister's, a Vancouver gay and lesbian bookstore, against Canada Customs, successfully arguing to the Supreme Court in 2000 that the border cops were targeting gay and lesbian pornography. People offered Little Sister's good wishes, but not much cash.
"Marriage affects everyone, even if you choose not to marry," says Petersen. "With Little Sister's, censorship affects everyone, too, but a lot of people would say, 'I don't consume pornography so it's not my issue.'"
It would shock most outsiders to know how much of the equal-marriage leadership was, in fact, quite cold to the idea of marriage itself. The activists leading the charge were the ones who had honed their skills during the bathhouse raids, the AIDS crisis, and anti-censorship campaigns, and many saw the institution of marriage itself as a tool of the patriarchy and symbol of assimilation. Like Christian missionaries who shrug when Jesus' name is mentioned, this faction had no appetite for church weddings and happy honeymoons—only for ending discrimination.
"I was supportive of the equal-marriage campaign, but I wasn't enthusiastic," says Kaj Hasselriis, a journalist and former Winnipeg mayoral candidate who, in 2006, was the chief spokesperson for Canadians for Equal Marriage. "I think, 'Why can't we do our own thing, define our relationships our own way?' But I believe in choice. And once the courts had given us the right to marry, it would have been a disaster to have that taken away."
The community's marriage skeptics waited quietly and patiently for the circus to end, knowing there were many other things that needed attention. Marriage had steamrolled most other issues: in 1998, for example, Ontario delisted sexual reassignment surgery from the list of procedures covered by the province's Health Insurance Act, forcing transsexuals to pay tens of thousands of dollars for the procedure. Canada Customs (now operating as Canada Border Services Agency), mostly ignoring the Little Sister's ruling, continued to target gay and lesbian materials at the border. In 2004, Hamilton police raided a gay bathhouse, charging two men for consensual sexual activity.
There were rumblings that activist groups, Egale in particular, had become too focused on marriage and too distant from racier topics like sex laws and censorship. "I think we allowed the issues of sexuality to get buried. It was an apologetic position—'Please like us because we're just like you,'" says Hellquist. "If you were skeptical of marriage as the most important issue, you had to be careful what you said."
The Civil Marriage Act, introduced by the Liberal government of Paul Martin, was passed by the House of Commons on June 28, 2005. After defeating Martin the following year, Prime Minister Stephen Harper put the issue to another free vote on December 7, 2006. Harper's motion lost, 175 to 123.
The Conservatives wouldn't be snatching back the pot of gold. The question was not only settled in law, but in the court of public opinion. In 1997, 63 per cent of Canadians opposed same-sex marriage, according to one survey. By 2006, the percentage of Canadians who supported it was as high as 60. No wonder people are always asking Kennedy, "We have same-sex marriage. What else do we need?"
The list of remaining LGBT issues in Canada can be filed under two headings: "Complicated" and "Divisive." Ask an activist to name the number one issue and the answer is bound to be safe schools—which fits under the "Complicated" heading. Schools are where gay kids still get beat up, children of same-sex parents get taunted, and straight children form their impressions about queers.
Under Helen Kennedy, Egale Canada's largest project has been its National Climate Survey on Homophobia in Canadian Schools. Phase One, released in March, found that 75 percent of self-identified lesbian, gay, bisexual, trans, queer, and questioning students feel unsafe in at least one place at school. Six out of 10 LGBT students had been verbally harassed at school, one in four physically harassed. (An earlier study suggested that 32 percent of lesbian, gay, and bisexual youth contemplate or attempt suicide.) The report recommended that schools implement anti-homophobia and anti-transphobia policies— things as simple as assuring students that it's okay to bring a same-sex date to a dance—and supporting Gay-Straight Alliance clubs. Some principals and school boards actively block the clubs, which allow students to talk peer-to-peer about sexual orientation and homophobia.
If marriage was about getting the Supreme Court and Parliament to do the right thing, education advocacy means getting nearly 500 school boards across Canada to do the right thing—and spend money doing it. Some boards are receptive to LGBT issues, while some are emphatically not. Some have policies about issues like homophobic bullying but don't have the money or the will to enforce them. A national group like Egale, which is accustomed to supporting court challenges and lobbying politicians, now runs around responding to the disaster of the moment. It's important work, but negotiations with ministry bureaucrats seldom garner headlines. Unlike marriage, school issues are also hard to keep resolved. Responding to a human-rights complaint, British Columbia has introduced an optional high school course on social justice that would include sexual orientation, race, ethnicity, and gender topics. The case started in 1997 and even now, two years after implementation, the issue is still with the B.C. Human Rights Commission and the original complainants, Peter and Murray Corren, claim that the Abbortsford school board continues to create obstacles to the course being offered.
"I've seen great documents coming out of the education ministry recently," says j wallace, a trans man whose job description for the Halton District School Board includes facilitating GSA clubs. "But there's such a gap between the policy and the implementation, especially at the Catholic school boards."
The rights of transsexual and transgendered people—those whose gender identities don't match the physical characteristics they were born with—are also a top priority for Egale.
Like gay and lesbian people 30 years ago, trans people continue to suffer blatant discrimination and are often the victims of violence—they're easier to target if they have trouble "passing" as their chosen gender. Though adding gender identity to the hate provisions of the Criminal Code remains a political priority, access to good health care is considered the most pressing concern. The hormones and surgical procedures that help trans people change their gender are expensive and difficult to access, especially outside major urban centres. But, as with education, health-care decision-makers are spread across the country, and just when one problem is dealt with, another emerges. After several human rights complaints spent years wandering through the labyrinth of the Ontario Human Rights Tribunal, the province relisted sexual reassignment surgery last year. Hooray. Then Alberta delisted SRS this year. Boo.
Though Ontario expects to pay for eight to 10 SRS procedures annually—Alberta paid for 15 last year—many trans people choose not to have surgery, using hormones, clothes, language and sensibility to shape their gender identity in distinctive ways. Many live mainstream lives, choosing not to call attention to their trans identity. All of which makes their concerns a hard sell. Trans health issues involve money and training as much as they do political will. Even obvious allies like gay and lesbian people tend to have a shallow grasp of their needs and even of their numbers.
"There's a lot of preconceptions about transsexual people," says Diane Grant, one of the organizers of Toronto's Trans Pride March. "Throughout my life I've taken as much grief from the gay community as I have from the straight community."
There are also simpler issues to grapple with, but little consensus around them. Before it decided to close up shop, the Coalition for Lesbian and Gay Rights in Ontario had campaigned against the Conservative government's raising the age of consent to 16 from 14 while maintaining the clause that restricted anal sex to married people over 18. That clause is seen to target gay men. CLGRO argued that the Conservative bill criminalized consensual sexual relationships between young people and did nothing to address the discriminatory clause.
But more conservative gay and lesbian people, especially those who had been attracted to activism by marriage, didn't want to touch the issue, which conjured stereotypes of gay sexual predators who wanted to fuck 14-year-olds. CLGRO has also lobbied against Canada's bawdy-house laws, which criminalize anyone found in a place used for prostitution or "acts of indecency." Depending on police attitudes, gay bathhouses or even homes where group sex takes place might be considered bawdy houses. Despite some attempts at partnering with prostitutes' rights groups, a coherent sex-law reform campaign never took off. "In the end we didn't have an issue we were able to take up and engage the community," says CLGRO co-founder Tom Warner. "We had a membership that was dwindling and aging, making it difficult to get things done."
Some have accused Egale of pushing questions of sexual freedoms to the bottom of its to-do list, and although Kennedy says these concerns remain, she does not bring them up herself in conversation. Call her prudish, but the fact is there's not enough pressure for Egale to take up this work. And though HIV-AIDS has been an integral part of gay activism since the 1980s, Kennedy says the issue is not in Egale's mandate (though some of its legal repercussions, like the Canadian Blood Services ban on gay men donating blood, are). She's also quick to point out that most HIV-AIDS organizations, with their access to government dollars, are much better funded than her organization.
The legal atmosphere has changed too. Though the courts were the main engine of the marriage train, they have become harder to use. In 2006, the Conservatives suspended the Court Challenges Program, a federal grant system that had helped fund many previous LGBT rights cases. Now Egale must rely solely on its own dwindling funds and the pro bono work of lawyers. Its current flagship case, Heintz v. Christian Horizons, is expected to go before the Supreme Court in December. The case pits a publicly funded Christian service organization against a lesbian employee who says she was fired because of her sexual orientation. This perfect charter duel—religious freedom versus gay rights—is sure to generate headlines, but there are some who would rather leave established religion alone to lick its wounds after its marriage defeat.
Egale's Stop Murder Music campaign, launched in 2007, urges the government to deny entrance to Canada to certain Caribbean singers, and this stance has also raised eyebrows. Few would defend Elephant Man lyrics like "Battyman fidead! Tek dem by surprise!" (translated as "Queers must be killed! Take them by surprise"). But demanding that the government ban hateful singers is, for some, a little too close to censorship—a practice that gay activists, in cases like Little Sister's, have historically fought against.
"If I'm saying that I should be able to produce or write pornography without committing a criminal act, then I think I'm also saying that hate mongers have the right to do what they do without committing a criminal act," says Warner. "Frankly, I think there's something to be said for letting some idiot get up and spew hate."
But Kennedy says it's a matter of life and death for LGBT people in the Caribbean, who are frequently harassed and beaten by people singing these songs. The lyrics are not just insults, they are threats, she argues—and therefore covered by the Criminal Code. And the symbolism will hopefully resonate back in the singers' home countries.
"We are very mindful of free speech," she says, "but if something violates hate-crime laws, we are going to speak up. You have to take responsibility for what you say."
Though the Stop Murder Music campaign has alienated some free-speech advocates—and many activists whose roots go back to the 1970s fit in this category—it has helped Egale grow in other directions. Often seen as a white, middle-class organization, its increasingly international perspective has attracted more people of colour, while Canada's relatively welcoming attitude to LGBT refugee claimants has brought fresh blood from the Caribbean, Latin America, and the Middle East. These are places where state-sanctioned or state-tolerated attacks on queers are ongoing realities, not things that happened 30 years ago. Marginalized by their sexuality in their native countries, the new arrivals are often marginalized again here by their skin colour or accent. New Canadians have the least to lose and the most to gain by advocating for change, and any advocacy group would be foolish to leave their energy untapped.
Leonardo Zuñiga arrived in Canada in 2004 as a refugee from Mexico, where he was persecuted for being gay. He didn't think much about the marriage debate that was going on around him when he arrived because he had a more pressing concern—not getting deported. He joined Supporting Our Youth, a program for queer young people, and soon became a volunteer. He joined the Toronto Youth Cabinet and is still active in the Youth Advisory Group and the Toronto LGBT community police consultative committee, as well as organizing No One Is Illegal, a grassroots movement to stop the mistreatment of undocumented people living in Canada. Zuñiga is typical of his generation—it's hard to know where his queer activism ends and his immigration activism starts.
Back in Mexico, Zuñiga had no interest in social change. "But when I got here and got myself settled, I wanted to do something for other youth and to pay back the support I'd been receiving," he says. "For me, queer activism is a humanrights platform where I can connect other issues."
While partnering with sex workers to get the bawdy house laws repealed now seems like a stretch, "imported activists" like Zuñiga are creating intersections between communities and issues that nobody would have imagined existed as recently as a decade ago. Of course, nobody realized what a monumental project marriage would be until we were in the thick of it.

"I don't know what the next issue is," confesses Hasselriis, who has forsaken politics for a writing career. "I don't know if we'll bring it up ourselves or have it forced upon us. I look at Winnipeg Pride, which I'm involved in. We have it at the steps of the Manitoba legislature as if we're still asking for things. But we're not. Why are we still there?"
In the U.S., of course, gay activists are very much engaged in the marriage fight. In May, California's Supreme Court— which had granted marriage rights to gay and lesbian couples the previous year—upheld the results of last November's referendum on Proposition 8, which rescinded the legal victory. In contrast, Vermont, Maine, and Iowa have established marriage equality rights in the past year. With U.S. politics so much more polarized and freewheeling than Canada's, marriage will unify American gay activists for years to come.
At Egale, people talk about finding a wedge issue such as safe schools, something that will push buttons. But usually that means the buttons of urban middle-class people with time and money. Marriage has been so successful at helping these people integrate into the mainstream, it's become hard for them to imagine the lives of queer teens committing suicide because of homophobic bullying, small-town landlords denying housing to same-sex couples, or transsexuals unable to find a doctor who will see them.
"What ramparts are there for us to mount at Bloor and Bay?" wonders Leshner. Youth issues? He and Stark don't have kids so it's not something he's thought much about. Supporting people from ethnic communities where it's harder to come out? "I'd love to be involved in being a symbol for Orthodox Jews and Hasidic Jews who want to be gay, but when I think of what it's like to be gay in that community, I figure the only way for them to deal with it is to leave," says Leshner, who does support Toronto's Inside Out Lesbian and Gay Film and Video Festival because it's celebratory.
"I understand there are other issues," says Leshner, "but, in all honesty, trans issues matter less to me than gay issues because when I look in the mirror, I don't see a transgendered person."
Kennedy has inherited a community filled with Leshners, people who have found their pot of gold and know the neighbourhoods they should stick to to avoid being called a pansy. The big money has come and gone, leaving behind a small group of activists who feel burnt out.
Kennedy's no fan of the institution, but does admit that marriage has made things a little easier, at least on the personal level. Although equal marriage no longer dominates the headlines, every same-sex wedding brings a new crop of aunts and nephews and grandparents into contact with queer people, forcing them to rethink their prejudices. Married couples may not give the most accurate or comprehensive picture of queer people or what they want, but with every wedding invitation they send, they're announcing their right to exist and to love people who would otherwise have no reason to rethink their relationship to LGBT people.
But awareness only gets you so far. It can make governments, institutions, and citizens more conscious of the needs and demands of LGBT people, but it doesn't get these needs met. That job requires more hard work from a community that has earned its laurels, but must fight the temptation to rest on them.