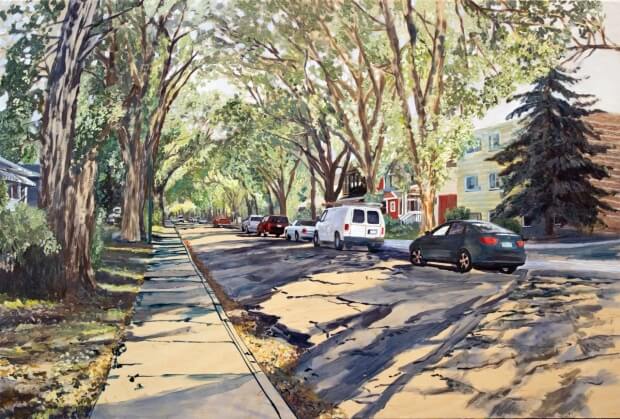 Apartment, acrylic panel, 2016. Courtesy Heather Cline.
Regina, Sask., artist Heather Cline has her own ideas about Canada's sesquicentennial. There's nothing wrong with a big national blowout, she says, but Ottawa's version of an official birthday party isn't for her. "In Canada, we talk a lot about big history moments, but I've always thought about how everyday people and everyday places have real meaning and importance." For Cline, small towns are the soul of the nation. The result of her conviction is her solo exhibition Quiet Stories from Canadian Places, a series of acrylic landscapes inspired by small town Canadiana. "I'm offering it up as a dialogue with official history," says Cline. "I call it community history."
A well-known mixed media artist and winner of the Saskatchewan Lieutenant Governor's Art Award in 2014, Cline started toying with the interplay between personal history and place in 2007. What ties people to their community? And how could those stories be turned into paintings? "I started thinking about Canada's one-five-oh," she says.
In October 2011 she took to the road, crisscrossing the country with a digital recorder and the intent to turn memories and interviews into artwork. It was a herculean task. In addition to recording and painting, she had to solicit funding for herself and secure exhibition places to display her upcoming show. "I had very little luck pitching the project to the funding agencies," she says. "It was massive and very difficult to explain."
Quiet Stories was a people project so she went to the people, asking for help and money. "In some cases I looked for an institution I knew would show my work. In other occasions I looked for a residency program that would get me to a place I hadn't been to before," she says. The residencies, which lasted anywhere from four days to several months, became her entry point into the community.
"In Inglis, Man., I worked with the Inglis Grain Elevators National Historic Site heritage committee (the town's five elevators are deemed a national treasure) and had them pick 25 people from the community for me to interview," Cline says. After she completed the interviews, the community held a pie sale. "They did really well," she says, "It covered my artist fees." However, in Vernon, B.C., she had to pay the residency fees herself, a justifiable expense, she says, that introduced her to the Okanagan country.
In total, Cline compiled more than 200 interviews with Canadians aged six to 92, asking them about their childhood, their families, and pivotal moments in their lives. The exhibit opened in Yorkton, Sask., last January, and will move on to other galleries in western Canada throughout 2017. Some of the paintings are literal renditions of a specific place, while others are more iconic, like a country road or a waterfall. When an elderly Chinese man in Kelowna, B.C., spoke to her about racism he encountered in his life, Cline painted the town's Chinese cemetery. "For me, that went with all his stories about the Chinese community. A lot of the paintings have symbolic overtones." And to make the point, Cline has installed speaker boxes next to the painting the recording has inspired.
She's disappointed she didn't have enough time to paint Atlantic Canada or the far North. "I kind of ran out of time," she says, "but I learned your experience of geography isn't limited to the place you're in at the moment. In Alberta, I spoke with a lot of people with Maritime connections. I also talked to a lot of French-Canadians in Manitoba." As she travelled across the country, she was surprised to find more similarities than differences.
Older folk, for instance, had much in common with newly arrived Canadians. "There was a rawness to their growing up that echoed the rawness of the immigrant struggle," she says. "Immigrants had similar stories with First Nation peoples about displacement."
Part of the scope of the project was to show how everyday places have added meaning through the people that experience them, she says. And in that regard, Quiet Stories delivers a consistent message: "I heard stories of death, dislocation, and intolerance, but many of the stories conveyed a sense of everyday people finding love and joy in their family and their surroundings."