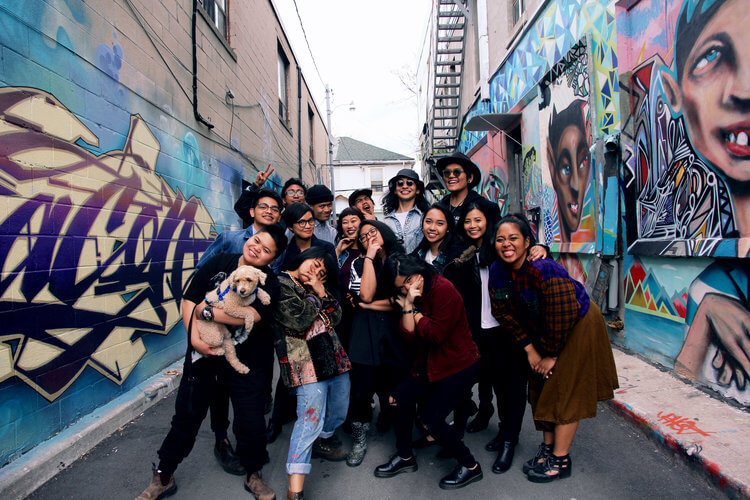 Photo by Ailyn Malit
Nikki Cajucom can pinpoint the exact moment her trajectory in life ricocheted. It happened when she first set foot in a basement in Toronto's Kensington Market neighbourhood, reluctantly beginning her first day as an intern at Kapisanan Philippine Centre for Arts and Culture, a community organization that acts as a safe space and creative hub for Filipino-Canadian youth.
"I had grown up with very little to no exposure to Filipino culture, and my parents never encouraged me to explore our cultural identity," Cajucom says. "There was a lot of cultural shame that I carried, a lot of internalized racism, and so I entered Kapisanan with the sole intention of getting experience, completing my contract, and then moving on."
Immediately, she was struck with the vibrancy of the creators around her, and the diversity of Filipinos she hadn't seen before. Five years later, Cajucom is the centre's first executive director to inherit the title from Kapisanan's founder. In that time, the centre brought a generation of Filipino youth into its basement depths, who are now emerging artists of local and international acclaim.
As a small charity, Kapisanan reflects its youth's diversity through extensive programming. Their workshops include learning folk dances, Tagalog, lanternmaking, mat-weaving, and martial arts. And while they work year-round organizing Kultura, an annual multiday arts festival across Toronto, they also teach in schools, run a recurring gender-segregated mentorship, and will soon be serving up culinary arts classes. Programming is deliberately missing one aspect: faith. Many Filipino-Canadian initiatives are Christian, and for youth like Cajucom, Kapisanan is a secular vehicle of engagement.
"Kapisanan provides them that stepping stone to the larger Filipino community," she says. "You don't necessarily have to pursue a career in arts to participate; we're just using the arts as a way to participate."
Kapisanan's emphasis on a broad curriculum, informed by Indigenous and often utilitarian art practices, isn't by mistake. With more than 100 ethnolinguistic groups in the Philippines, whittling a unifying arts tradition from the country's culture is impossible, and sometimes, downright colonial. According to the Philippines' national arts council, fine arts were shaped by the nation's conquerors. The centre's arts also function as covert storytelling. Cajucom notes that working at the centre made her realize it made problems easier to share, such as cultural shame or yearning for identity.
To keep costs low, the centre has since traded one basement for another, moving into Artscape's spacious west-end Toronto digs thanks to their Sketch Working Arts partnership. And with so much physical growth, Cajucom is looking forward to what stories the next generation of participants will unearth.
"Working with these young late teens, they make me so enthusiastic for the future of this community," she says. "They're excited to be Filipino, they want to hang out at Kapisanan, they want to meet other like-minded Filipino folks. It's like, okay! That makes my job so much easier."