Gold headband and matching bracelets. Go Go boots, booty shorts and a baby tee. A raven haired badass wearing shades and driving an invisible car (goodbye invisible jet) to track down the bad guy. This was the latest Wonder Woman appearance, aired on the Cartoon Network July 13 in an animated short. Her first appearance was in a 1941 December/January edition of All Star Comics.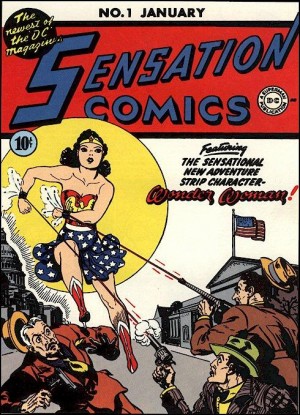 "Wonder Woman is psychological propaganda for the new type of woman who should, I believe, rule the world," said William Moulton Marston who created the heroine and penned her stories under the name Charles Moulton. The Harvard graduate and psychologist invented the lie detector test (Hey there, Lasso of Truth). When he spoke of creating a new hero, his wife Elizabeth Holloway suggested it be a woman. It was her and his other wife Olive Byrne (they had a polygamous marriage) who inspired the character.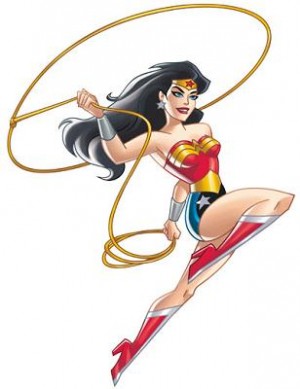 Being the woman superhero that first pops to mind, for those not even interested in comic book culture, Wonder Woman is a feminist icon. And with anything feminist, female, and human, comes conflict. Both her story and costume have been revamped many times over the past 72 years. "[Wonder Woman's] metamorphoses reflect nothing less than the confusion, fear, and constant reformation of American ideals about American women," says crime fiction writer Kelli E. Stanley in a 2005 article on Wonder Woman's cultural impact.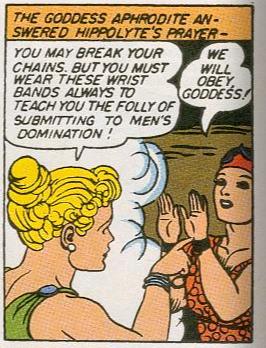 In the beginning, the story of Wonder Woman is rooted in Greek mythology. Aphrodite, the Goddess of love, molded Amazon women out of clay. After Hercules tried to enslave the women, Aphrodite took them to a place where men could not go, Paradise Isle. The earlier stories contain a lot of bondage and likewise imagery, "The ropes and chains are symbols of patriarchy and the drama is her ability to break the shackles of male domination they symbolize," says Philip Charles Crawford in an article published on the School Library Journal. The stories were also around, Stanley points out in her article, during wartime and women were encouraged to join the workforce. After that the character got trapped in romance comics, being the domestic role model during a time when women were told to get back home and let the men have their jobs back.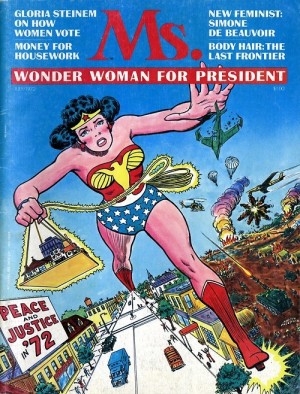 Wonder Woman's writers, origin, powers, weapons and gadgets have varied throughout the years. Sometimes her lasso is gone, others she has an invisible plane. She's been a clay figure brought to life, she's been an orphan in New York City. Gloria Steinem got involved in 1968 when writer Dennis O'Neil and artist Mike Sekowsky revamped the heroine's image. She was stripped of her powers and instead learned martial arts and weapon mastery, from a man. The theory was her mortal identity, Diana Prince, could be more attainable than a mythological Amazon (or in some stories a demi-goddess) Steinem and other critics did not like seeing their icon lose their super power status, or her sudden need of male mentoring. When writer and artist George Perez took over the character, in 1987, he consulted Steinem in order to keep the feminism alive in the series.
The character has made television before, most notably from 1975 to 1979 with Lynda Carter playing the lead. A re-attempt was made in 2011, but was cancelled after the pilot. Animated series have been off and on since 1973. In 2009 there was a direct-to-video animated film.

Throughout all media, her costume has changed. Her original skirt has been altered to culottes. Her body has been covered up by the Comics Code Authority or by artists who thought too much skin didn't measure up to the feminist ideals. The latter hasn't been received well from feminists who do not want to be labeled as anti-sex. There is also the argument that Wonder Woman will be sexy no matter what since she is a strong, female lead. No matter what, the character will be complicated, like all great things are.