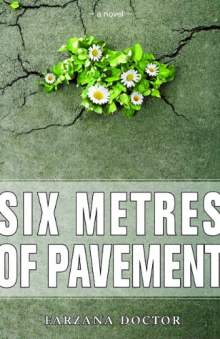 Ismail Boxwala's Infant daughter died of heatstroke after he left her sleeping in the backseat of his car on a summer day. Twenty years later, Ismail has yet to forgive himself. His wife has long since divorced him and remarried, but Ismail has resolutely passed up any chance at happiness. He lives in the same house, the baby's room untouched, and bolsters his life with alcohol and casual sex.
Then Ismail joins a writing class at the University of Toronto where he meets Fatima, a girl the age his daughter would have been, who also belongs to his Indian Muslim community. When Fatima's parents kick her out because they learn she's queer, Ismail's near-empty house presents a convenient (if not entirely comfortable) solution. Meanwhile, Celia, a recent widow, moves into the house across the street. Celia, battling her grief and her Portuguese community's strict rituals of widowhood, finds herself drawn to Ismail. Ismail, who mostly shuns (and is shunned by) his neighbours in Little Portugal, finds he's less fractured in Celia's company. As Ismail's relationship with the two women deepens, his demiexistence gradually fills with ripe, rewarding chaos.
With a quiet, inward-looking analysis of Ismail's life, Farzana Doctor's Six Metres of Pavement asks how mourning can make way for grief when it's cemented in by guilt, and if memories can be defanged. Simmering in the background is a remarkable portrait of immigrant Toronto. As an Indian in a Portuguese neighbourhood, Ismail is a double immigrant, and the narrative marks the myriad ways Ismail experiences the city as insider-yet-chronic outsider. With this second novel, Doctor confirms her adeptness at burrowing deep beneath the surface of things—and her gift for relating her findings with humour and grace.