After a brief sabbatical, Tuesday Tracks returns this week with three songs coming straight off of three great albums. And I mean it—I could have pulled any or the tracks from any of these albums and they wouldn't disappoint. An impressive feat, especially today when the industry has moved to focus on singles. Not that I'm complaining. One great song is all you should expect from someone, I think. Coming close to perfect once should be enough, but when you can do it consistently, all on one disc, well, all the better.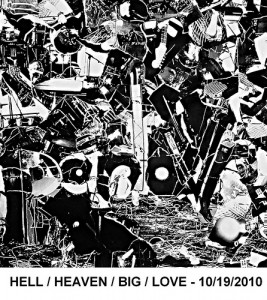 First, Parlovr were my stand out favourite act at Canadian Music Week this past spring. Despite playing to a near-empty house, they pulled out one of the most energetic and flat-out joyful performances I'd seen in quite a while. Three dudes just playing music for the sake of it, it didn't matter who was there. It was as inspiring as it was awesome. For those of us who have been looking forward to new music from these Montrealers, the wait is finally over. Their new EP Hell/Heaven/Big/Love hits the streets today. Here's a taste with the first track "Hell, Heaven":
Next, Meet Me At The Muster Station is the debut LP from Kingsont's PS I Love You. Paul Saulnier (PS) has made a name for himself over the course of the past year, surprising audiences with beautiful, angsty, yet uplifting performances. The title of the track presented might make you question whether it's worth a click, but rest assured it is: "Butterflies and Boners" is a big, emotional maelstrom that feels like it clocks in far too short at just over three minutes, I suppose that is what the repeat button is for.
Finally, we have Chilly Gonzales. Perhaps known best for his Grammy-nominated work with Feist, he's a producer/musician/filmmaker/all around eccentric. "I Am Europe" is from his latest album, Ivory Tower, a companion piece to Gonzales' film of the same name. In the film, which he wrote and stars in, Gonzales plays a renegade chess champion on a mission to introduce the world to a new form of the game he's created called Jazz Chess. It's a more fluid game completely devoid of rules in which the player navigates the board by emotion rather than reason—no winners or losers, just chess. Or course, this doesn't play too much into the album itself, a stylish collection of loungy pop. Check it out: