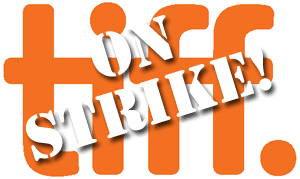 Around the corner from This' offices the Toronto International Film Festival has set-up its Director's Lounge. Orange-shirted volunteers stand at the doors and, peering in, I see uncomfortable-looking but fashionable furniture, backdrops emblazoned with government sponsorships and, just maybe, a star or two. Oh, and cameras. Lots of cameras.
For 10 days, playing host to one of the world's largest and most important film events, Toronto—making sure that none of the TIFF-associated signs deviate from the obligatory Helvetica font—dresses itself up as the cosmopolitan city it aspires to be (and sometimes is). Maclean's was first, but no doubt not the last, to remind its readers that, yes, Toronto is indeed a "World Class city."
Being a global city, however, means that you also have global problems. As much as the flashes flare, the gossipers chatter, it remains true that the entire spectacle rests on tremendous amounts of work: much of it grossly underpaid, excessively strenuous and unjustifiably tenuous. So it's exciting to see the workers of one of Toronto's premier hotels (the Fairmont Royal York) walk off the job today in a strike action organized by Unite Here, the same union that led the G20 hotel workers' strike. The injuries, the poor-pay, the long hours, the mounting workloads, the tyrannical bosses today proved too much to bear (all of this while the employer harvests a windfall from the festival).
That celebrities and the local actors' (ACTRA) and set workers' (IATSE) unions immediately joined them reminds us that films are not just art, and film festivals not just parties, but also work. Hotel workers, actors, and on-set workers have all taken a beating these past few years and seeing them join together injects an important note into Toronto's celebration of film: that despite the very well put together show things really aren't going so well for a lot of people. But they're working to change that.
Update: Monday September 13, 11:35 am
The strikes continue.  Workers at the Hyatt regency walked off the job yesterday for 24 hours.  I wouldn't be surprised if these short strikes continue throughout the film festival.  What caught my eye most, however, wasn't Martin Sheen but the following from one of the strikers:
"As TIFF celebrates the new Bell Lightbox with a street party for Torontonians, and the Hyatt boosts its profits with film guests this week, we continue to be treated like second-class citizens by the Hyatt owners," said Althea Porter-Harvey, a Room Attendant at the Hyatt Regency. "We deserve better than that. We're joining the street party today."
The last time a hotel service workers' labour dispute and that ol' showtime razzle-dazzle collided, it resulted in the "Bad Hotel" video, seen below. We can hope today's strike results in a similar explosion of social justice and jazz hands: