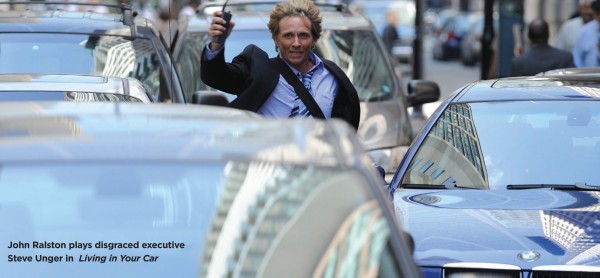 After decades of populist programming, serialized television has blossomed into an auteur's medium over the last decade. This new golden age is marked by subtle characterization and complex narrative: American cable networks such as HBO and AMC have pioneered the revolution with series like The Sopranos, Mad Men and The Wire.
Here in Canada, playwright George F. Walker has emerged as a leader of our own televisual renaissance. Ten years ago, Walker took leave of the theatre—"it was time for a change," he says nonchalantly—and embraced television, where, with his writing partner Dani Romain, he has since created and written three ambitious programs. His first foray into television, the criminal justice–oriented This is Wonderland, aired on CBC for three seasons. That was followed by The Movie Network's The Line, which explored the blurred moral boundaries on both sides of the law.
Walker and Romain's latest effort, Living in Your Car, co-created by Joseph Kay, premiered in May on HBO Canada. A single-camera comedy reminiscent of Arrested Development, it follows Steve Unger, a powerful executive who loses his wealth and family after being caught cooking the books, and is forced to live in his 2004 Mercedes S430.
"People used to like their sitcoms 22 minutes long and very loud, and they liked their dramas very quiet and whispered and very serious," says Walker. "But now I think the world is much too complex to separate those things. There will be elements of everything."
Eroding divisions between TV genres make the medium an ideal outlet for Walker's sardonic social commentary. "They're comedies about serious things," he explains, adding that by focusing on character, he is able to address political issues without the clunky exposition.
Walker was working as a cab driver in the early 1970s when he submitted his first play, The Prince of Naples, to Toronto's Factory Theatre. Since then, his storied career has resulted in more than two dozen plays and numerous awards, including three Governor General's Awards, one for Lifetime Artistic Achievement. His works—prickly satires of corporate greed and urban pretense—often focus on those living on the periphery of mainstream society. Drawing on everything from the Theatre of the Absurd to the deft, character-driven tradition of Anton Chekhov, Walker's plays grapple with some of modernity's most pervasive dilemmas.
Although Walker left the stage, the stage didn't leave him. "Dani and I try to bring theatre to television," he says. "Basically every scene is a one-act play, and the actors get really good stuff to do, which is really what you're trying to do in theatre—not waste actors."
In addition to the new TV show, two new Walker plays will debut in 2010. And So It Goes, the story of a middle-class family's struggle with financial ruin and a schizophrenic daughter, opened to excellent reviews last February, while King of Thieves premiered at the Stratford Festival in July.
Walker calls King of Thieves "a play with songs" for which he wrote the lyrics and dialogue. The play is loosely based on John Gay's The Beggar's Opera, but transplants the source text to New York City right before the stock market crash of 1929. "It's about who the real thieves are," he explains. "Are the police the thieves, are the bankers the thieves, are the thieves the thieves—are they all thieves?"
Of his return to the theatre, Walker says, "It was just there." He insists that it wasn't a self-conscious decision to return to his old stomping grounds, but an outlet for reflection. "All this stuff is just sort of what's on my mind," he explains. "If I feel it personally, if I have an emotional response to it, I'll let it come out."