This happened a couple of days ago now and we're only just now getting around to blogging it, but we're very excited to tell you that This Magazine has been nominated for three National Magazine Awards. Industry awards can be pretty inside-baseball, but this is an excellent opportunity to highlight a few of our many hardworking contributors who are receiving some special recognition from their journalist peers with these nominations. And it's a chance for you to catch up on some of the compelling articles we published in 2009. The full list of nominees is available at the National Magazine Awards Foundation's website, and we'd also like to give our congratulations to our fellow nominated small and independent magazines, including Geist, The Walrus, Maisonneuve, Spacing, Prefix Photo, Taddle Creek, AlbertaViews, The Ryerson Review of Journalism, Briarpatch, and Border Crossings (among others).
Here are the This nominees (drumroll please):
Katie Addleman was nominated in the Health & Medicine category for her feature story on drug legalization, "Addicted to failure" (which was a keystone of last November's Legalize Everything! issue).
Morgan Dunlop was nominated in the Best New Writer category for "Gimme shelter," her feature on undocumented migrants living in church sanctuary in Canada, and the work of those faith communities to reform our cumbersome immigration policies.
And illustrator Graham Roumieu was nominated in the "spot illustration" category (an illustration smaller than a full page) for this cheeky scene that accompanied Darryl Whetter's column on the lack of sex in CanLit. Note that Graham is nominated four times in this category for three different publications. He's a busy guy.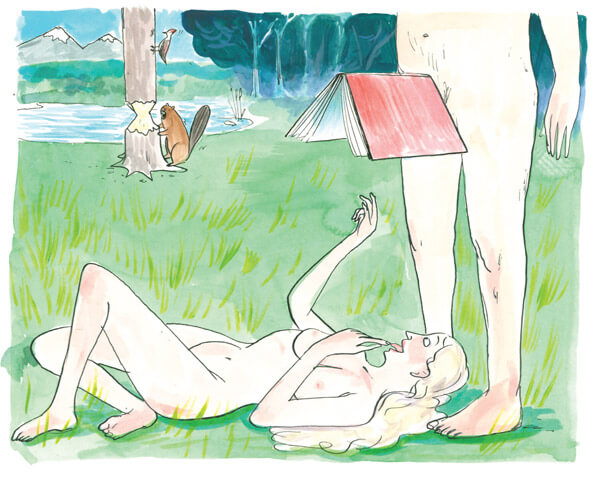 *Graham Roumieu may not be exactly as pictured.