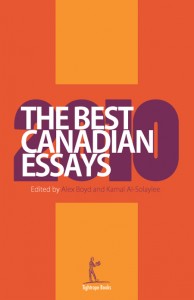 Best Canadian Essays 2010, the second annual collection of its kind from Tightrope Books, again includes a feature article that originally appeared in This Magazine. The collection includes Paul Gallant's essay on the state of Canada's gay rights movement in the wake of same-sex marriage legalization, "Over the rainbow", from our September-October 2009 issue. Sounds like there are many other great pieces to read in the collection, judging by the rundown on co-editor Alex Boyd's blog, including:
Katherine Ashenburg on cosmetic surgery, Ira Basen on citizen journalism, Will Braun on the tendency to customize Christ, Tyee Bridge on the power of fiction, Abou Farman on the Iranian Revolution, Paul Gallant on future of gay activism,Lisa Gregoire on life in Nunavut, Danielle Groen explores the brain when in love, Elizabeth Hay on the summer of her last poems, Jason McBride prepares for the end of the world, Carolyn Morris on people forced to live underground in Canada, Katharine Sandiford on the longest dogsled race in North America, Andrew Steinmetz on his family history and the Second World War, Timothy Taylor on a Spanish pilgrimage route, Chris Turner on the prodigal Alberta band, Nora Underwood on the future of farming and food.
Carolyn Morris's excellent essay is reprinted from Toronto Life, but she also wrote about undocumented migrants needing health care in Canada in our March-April 2009 issue, if you're looking for a bit of further reading. You also might be interested in reading Alison Lee's "The New Face of Porn," about feminism and pornography, from our November-December 2008 issue, which appeared in the 2009 Best Canadian Essays collection.