Editor's note: We're posting the winners of the 2009 Great Canadian Literary Hunt to promote the 2010 contest. Look for one new poem and short story each day the rest of this week. Enter today and you could be published in This Magazine, and win a cash prize of $750!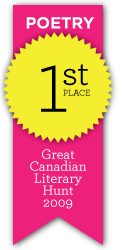 After the weeding and wilting, bean-
snapping, brown-soap-and-vinegar'd bug bites;


After the trip in a hayseed van to the co-op
for duck feed and a candy stick,
the jars of "garden special"
neatly lined up in the root cellar;


After the hike to the sugar shack
past the few forlorn fruit trees
felled by the she-bear;


After a peasant supper of soup and bread,
Gramma's mile-high strawberry shortcake,
the scrap over dish duty,
a few rounds of 99—


The kids squeak in the bunk beds above
as I sit in the window rocker watching
the return of the red-winged blackbird
to his oily twig; the chaos of the day
settles under the steady watch of the Big Dipper.


I dare not lean or shift
in my rocking chair, but stay
still beside the picture window,
watching the pearl moon
illuminate a peony, its petals in a pile
beside the old pump.
Kate Marshall Flaherty has written four books of poetry: Tilted Equilibrium, String of Mysteries, Hobbeldehoy, and Where We Are Going. She won the 2006 Shaunt Basmajian Chapbook Award for her chapbook Unfathom. She lives in Toronto where she teaches yoga and meditation, guides teen leadership retreats, and leads workshops in "writing as a spiritual practice."