Editor's note: We're posting the winners of the 2009 Great Canadian Literary Hunt to promote the 2010 contest. Look for one new poem and short story each day the rest of this week. Enter today and you could be published in This Magazine, and win a cash prize of $750!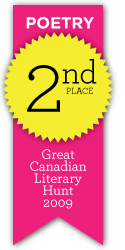 I'm addicted to the real estate guide,
to paint chips and floor samples and airline
seat sales. Slick magazines stack up, then
slide sideways just to keep me dissatisfied
with the walls that contain me,
the skin I'm stuck in.
I judge flyers by their
weight, streets by their names
and I take quizzes online
for clarity. I do not
ask directions and once,
rounding a curve by the lake,
I saw a gull try to outfly the grocery bag
caught to its foot. The water was calm,
my reflection too obvious.
Leslie Vryenhoek is a St. John's-based writer whose poetry, fiction, and memoir have appeared in magazines and journals across Canada and internationally. This is the second time her poetry has placed in This Magazine's Great Canadian Literary Hunt. A debut collection of short stories, Scrabble Lessons, will be published this fall by Oolichan Books.