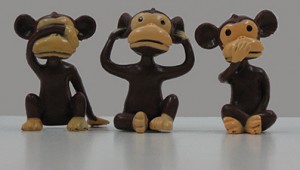 From the Afghan Detainee torture scandal to the Helena Guergis Magical Mystery Police Adventure, governmental transparency is at a dangerously low ebb and risks being "totally obliterated," says the interim access-to-information commissioner Suzanne Legault. Her report, released yesterday, gave low ratings to 13 out of 24 government institutions on their compliance with requests for information, and that delays — either due to incompetence or deliberate foot-dragging — are the most common offence:
"While timeliness is the cornerstone of the Act, delays continue to be its Achilles' heel," said Legault. The findings of a special report tabled in Parliament this morning "show that little progress has been achieved so far to remedy the root causes of delay across the system."
The bottom line is, important parts of Canadian government have become near-completely opaque, operating out of the oversight of citizens. They aren't small departments or ministries, either: we're talking big, important divisions of the bureaucracy, and their report card scores are much worse than "needs improvement." The Globe story:
…core departments including the Privy Council Office and Foreign Affairs were singled out for slow response times and for creating a bottleneck that causes delays in other departments.

Five departments received F rankings and seven earned Ds, while the performance of Foreign Affairs was deemed so poor that its report card ranking simply states "red alert."
There's a little ray of sunshine here, the launch of OpenParliament.ca, which launched yesterday — good timing! — and allows you fast searching of Hansard records to easily follow what's going on in the House of Commons. Different MPs' statements are tagged by topic, party, and more. So it's not all bad news. Just most of it.