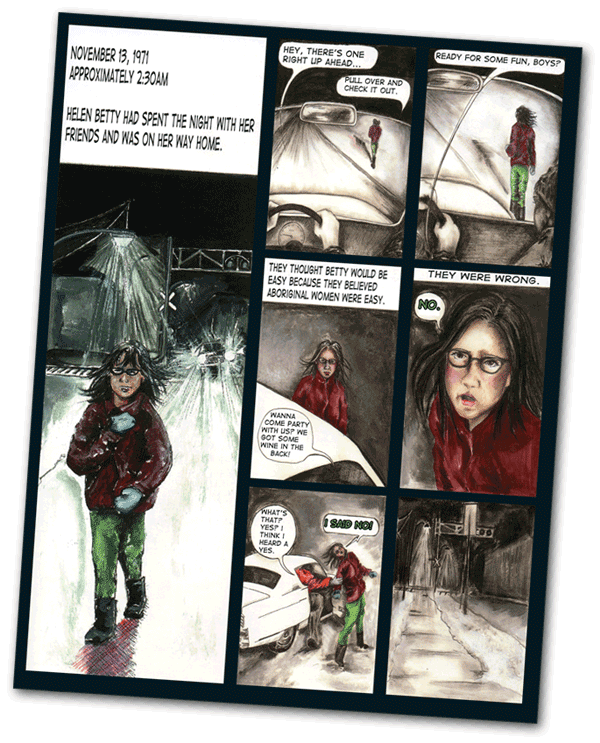 November 13, 1971, The Pas, Manitoba. Four young white men drive past Helen Betty Osborne, a 19-year-old Cree girl. They call for her to get in the car and party with them. "I think I heard a yes," one man taunts. When she refuses, the men pull her into the car and drive off.
Flip the page, to illustrated panels showing the RCMP knocking on her mother's door, about to deliver the news of Osborne's rape and murder. Winnipeg author David Alexander Robertson uses the advantages of a graphic novel to detail the horrific event in his book, The Life of Helen Betty Osborne.
"Her story is really close to my heart. All of us involved in it really got to know her," Robertson says. His father comes from Norway House, the same small northern community where Osborne spent her early years.
Robertson had self-published two novels when the Helen Betty Osborne Memorial Foundation asked him to write a book about Osborne's murder to use in schools. He came up with the idea for a graphic novel telling the story of the girl's last days, showing her hanging out at high school with her friends and dreaming of becoming a teacher—depicting her as a person, not a victim. What's left for discussion is the racism, sexism and indifference behind the fact that only one of the four men implicated was ever convicted, and only sixteen years after the fact. It's a tale of sloppy police work, townfolk who wouldn't speak up about what they knew, and official indifference to a pattern of white men sexually harassing aboriginal women and girls.
The racial tension that divided whites and aboriginals in The Pas in the 1970s has lessened, but Robertson argues his book is relevant all these years later because the problems that played a part in Osborne's death are still very much at play. He sees a connection between Osborne and hundreds of other disappeared aboriginal women. "There are 520 murdered and missing aboriginal women in Canada, half of them in this decade. By telling Helen Betty Osborne's story to a wider audience, it's bringing a new awareness to the issue. We're seeing the awareness build, but it's a long slow build."
Robertson's book is just the latest in a string of non-fiction Canadian graphic novels to surface. Many landmark works are personal projects, like Skim by Mariko and Jillian Tamaki—which, like Robertson's book, sketches the life of a teenage girl. Others, like Chester Brown's footnoted history Louis Riel: A Comic-Strip Biography or Guy Delisle's Burma Chronicles take a more documentary approach. These home-grown examples follow in the footsteps of global successes like Joe Sacco's pointillist reportage on the Bosnian War with The Fixer, Marjane Satrapi's memoir of an Iranian childhood in Persepolis, and Art Spiegelman's Pulitzer Prize-winning holocaust memoir, Maus.
Unlike these creators, Robertson writes the script but leaves the art to others. For Osborne, illustrator Madison Blackstone applied a range of graphic techniques, including full-colour paintings and black and white drawings. Some panels mesh drawings and photographs, underlining that this project is based on a real woman; the photos show the flowers and cigarette lighters that continue to be placed on Osborne's grave and memorial, the hold she has on people's memory in a town that cannot forget her death.
"I love the way that graphic novels offer different ways to engage people, from elementary school to people in their sixties," Robertson says. For his next project, he's working on a comic book series called 7 Generations, a historical work of fiction focused on the Plains Cree area. "It's all about the impact of history, how can we address that and move on."
Graphic novels are long past being comic relief. Robertson's new book joins a growing tradition that expands our idea of what to expect from the un-funny pages.