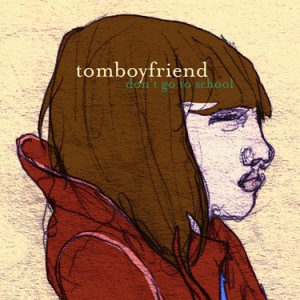 The distinction of "all time favourite song," more often than not, is something reserved for the teenage years. For some, whose musical tastes stall with the arrival of adulthood, that all time favourite song might last a lifetime. For others, it simply becomes a reminder of those years when every new discovery carried significant emotional weight and the yo-yo between devotion and disgust was at a near constant.
The stakes always seem high when you're a teenager and it's that kind of atmosphere that lends itself to hero worship. For me, that was Pearl Jam. For eight years Eddie Vedder and company were probably the most important people in my life and probably had as much impact on the person I was during that time than any person I knew in real life. But today, when I hear those songs I just hear the echoes of worship—a reminder of absolute devotion—but no gravity to the songs themselves.
As an adult it seemed unlikely I would ever find a song that could make me feel that way again. There are plenty of musicians I admire and there is a wealth of inspired music out there to be discovered, but it never seems to strike quite at accurately and absolutely as it did it the early nineties. It isn't the bands fault, I just figured I wasn't capable anymore. That is until "End of Poverty" by Tomboyfriend.
This video got a great bump from the New York Times about a year and a half ago—yes, it's old, but it's gorgeous. The collection of homemade videos of young people dancing is just the remedy for a case of the grown-ups. But Emily Gould of the New York Times says it much better than I ever could.
As I watched, I suddenly remembered this part of being a teenager. Half the time they're doing something incredibly bad — tying another kid to a pole with the belt from their school uniform or smoking pot in the alley. That's what teenagers are famous for. But you forget the side of them that just lives in the moment and laughs all afternoon and feels a rock song the way adults never can and spends all day looking for the most original way to shout out: "I am here! I am me!"
And it's true, every aspect of the song attached to it, "End of Poverty," radiates with the wonderful and unique exuberance it is to be young and confused. Finally, after a decade without one, my "all time favourite song" had found me.
"End of Poverty" immediately made its way to heavy rotation, becoming the soundtrack for everything from weekend grocery shopping to late night dance parties. But soon curiosity won out and I had to know more. The problem is there was nothing else to hear. Tomboyfriend created 5 minutes of pop perfection and then went silent.
But a few weeks ago rumours of their debut full length, Don't Go to School, began to bear fruit and the band previewed the album's first track "Almost/Always."
This song builds on the epic scale "End of Poverty" started. It's a dystopic Dickensian fairytale about love and fear that seems to raise the stakes again, to teenage heights.
Then, another surprise. The band's myspace is streaming another song, "Goldfinch Gluespoo" as well. While these two new releases can't dethrone "End of Poverty" from "all time favourite song," they certainly add dimension to the group. When Don't Go to School does come out I think I'm going to crank my stereo, hit repeat, and tell my parents they don't understand me—just for old times sake.