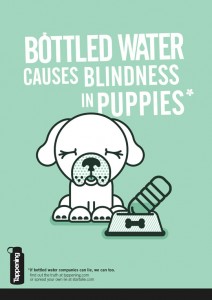 [On Wednesday, we introduced the first in our new WTF/FTW series of blog posts. Today we bring you the flipside of Wednesday WTF (bad/crazy/stupid news): Friday FTW (good/awesome/fun news).]
U.S. website Tappening, a project and blog advocating that you ditch bottled water and drink from the tap like a normal person, launched a separate microsite this week, StartALie.com. Operating on the notion that if the bottled water industry lies about its product all the time — that bottled water is healthier, purer, less contaminated, environmentally friendly, etc — StartALie fires back with its own lies about the industry, made up by readers. They include:
32% of profits from bottle water are used to support Eastern European art thieves.
Studies show bottled water causes tooth decay.
Prolonged consumption of bottled water can cause erectile dysfunction.
Bottled water caused the mortgage crisis.
Bottled water creates inane web site posts!
That last one proves to be true; StartALie is now filled with Russian spam, juvenile poop jokes, and assorted other interwebs jetsam. But the project is attention-grabbing and fun, with less of the usual tut-tutting that accompanies many of these awareness-raising campaigns. Tappening's blog aggregates news and opinion about tap water vs. bottled water, and they sell some smart-looking BPA-free bottles to carry your own tap water wherever you go.