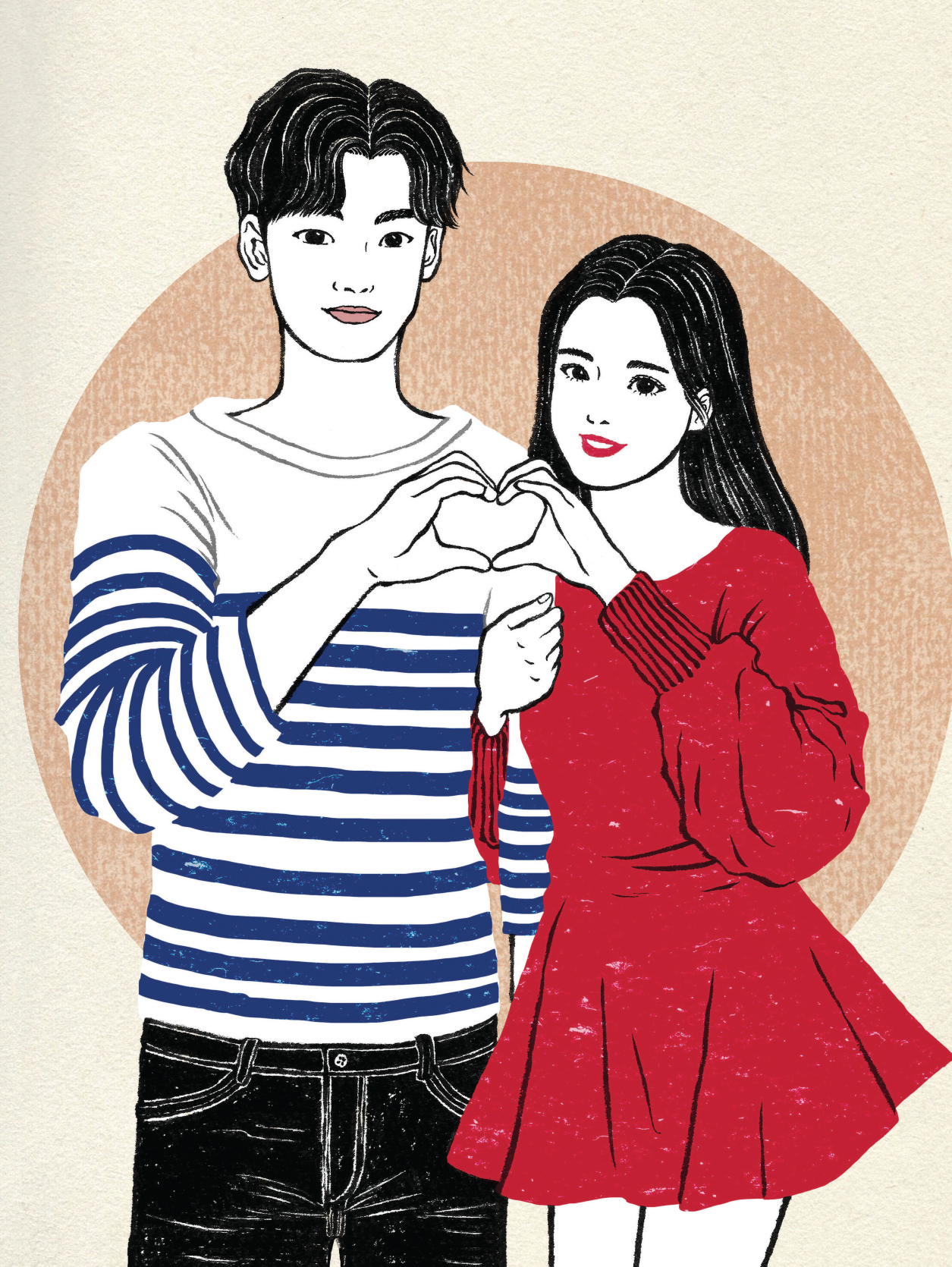 Illustration by Koko Lee
A diehard romantic, I routinely scroll through Netflix's "New & Popular" tab looking for the next rom-com to swoon over—and often keep scrolling. This year alone, I've scrolled past The Royal Treatment; Love in the Villa; A Perfect Pairing; Hello, Goodbye, and Everything in Between; and Persuasion. The only films I found worth streaming were Wedding Season and Hulu's Fire Island. Yet neither moved me as much as a single scene from the Korean drama, Extraordinary Attorney Woo—more law-procedural than romcom—where the two leads press their fingers together against a window pane.
Hollywood's rom-com genre is letting out wilted sighs as it aches for filmmakers to rejuvenate its body of work. Some critics have declared the genre "dead." However, Scott Meslow, culture critic and author of From Hollywood With Love: The Rise and Fall (and Rise Again) of the Romantic Comedy disagrees. He says of this past decade in Hollywood: "It was more like the decline of the mid-budget-studio-film era, and rom-coms were sort of scapegoated."
If the appetite for romantic movies had truly fizzled, then 2022's big releases in the genre, Marry Me, The Lost City, and Ticket to Paradise—starring rom-com veterans such as Jennifer Lopez, Sandra Bullock, and Julia Roberts—wouldn't have performed so well at the box office. The Lost City grossed approximately $190 million worldwide against a budget of $68 million, and Marry Me amassed $50 million worldwide against a budget of $23 million.
But despite these successes, Hollywood is not investing in much beyond blockbuster superhero movies—or any intellectual property that has franchise potential. As culture writer Elamin Abdelmahmoud wrote earlier this year, Hollywood has "arrived at the nadir of original stories," capitalizing on audience familiarity to ensure maximum profitability. In the meantime, rom-com fans have been turning to something that fulfills their desire to see two individuals overcome obstacles, against all odds, to find true love: Korean dramas.
For the uninitiated, Korean dramas (a.k.a. K-dramas) are limited-series romantic TV shows produced in South Korea. They are typically limited series—though some newer dramas have begun offering multiple seasons—and they range from around 10 to 30 episodes, sometimes as short as 25 minutes each, but typically lasting upwards of 40 minutes.
K-dramas, alongside other aspects of Korean pop culture like K-pop, have been making inroads in East Asia since the 1990s. They first gained prominence in North America, however, in the early 2010s— during what is now called the second Hallyu or Korean Wave—with rom-com series like Boys Over Flowers (2009), You're Beautiful (2009), Playful Kiss (2010), and Secret Garden (2010). Their popularity was aided by websites such as Viki and the now-defunct Dramafever, which allowed North American viewers to watch episodes the day after they aired in Korea, with English subtitles, for free.
"[I first watched K-dramas] in university, four, five years ago," says Mira Hajjar, a queer Lebanese-Canadian K-drama fan. Hajjar says what they enjoy most about the genre are "the little cute moments that make you kick your feet under the blanket," like when the leads banter, do menial chores together, and make each other laugh.
Ziora Ajeroh, a university student, who has been a K-drama fan since 2015, loves the genre's slow-burn. "You cannot pay me to watch a Hollywood romcom that came out this year," they say. "They're all garbage." Ajeroh elaborates that newer Hollywood rom-coms can't quite replicate the chemistry nor the well-written plots of rom-coms released in the 1990s and early 2000s—at least, to them. "I feel like I've seen every decent rom-com, at least in Hollywood."
So what changed? For decades, the rom-com was a viable option for Hollywood studios. It was Nora Ephron's When Harry Met Sally (1989)—the quintessential work in this genre—that sparked the heyday of lighthearted, love-centric, and high-quality films from the 1990s to the early 2000s, such as You've Got Mail (1998), Notting Hill (1999), and Four Weddings and a Funeral (1994), which was nominated for two Oscars and won 24 big industry awards. However, this boom had faded to a whimper by the 2010s. When films like When in Rome (2010), and Killers (2010) failed to kill it either at the box office or in audience's hearts (both have an audience score below 45 percent), they helped kill off Hollywood's desire to invest in rom-coms.
From 2012 onwards, one can count on the top 10 highest-grossing films each year to either be explosion-filled blockbusters, superhero movies, Disney animations, a sequel to any of the above—or even a combination of all of them, à la any Marvel film. Since these films have such a strong track record, film studios have been less inclined to take their chances on rom-coms, whose pull on audiences is much harder to predict.
Before streaming services existed, films made revenue through both the initial release of a movie as well as DVD sales. Having two streams of revenue, as Matt Damon explained during his recent appearance on Hot Ones, made it possible for studios to invest in riskier films—like rom-coms—because even if they underperformed at the box office, they could make up for it in DVD sales. Streaming services killed DVD sales and offered only low licensing fees in return, leading studios to stick with films guaranteed to make a profit when widely released in theatres.
Streaming services, especially Netflix, have tried producing and releasing their own rom-coms to combat the subsequent dearth of rom-coms. However, only a few of these movies ever cut through the overwhelming amount of content on these services to generate conversation—Can you quote a line from 2018 rom-com Set It Up? Me neither!—unless, that is, we're referring to conversations that make fun of them (I'm looking at you, Persuasion and He's All That!).
Ironically, the biggest force to push audiences toward K-dramas is the very force that led to the rom-com drought in Hollywood: Netflix. As K-pop's visibility increased in American pop culture, so did Netflix's K-drama offerings. The company began to exclusively distribute several K-dramas at the same time as they aired in Korea, beginning with One More Time (2016). It converted large swathes of unfulfilled romance fans all over the world—especially in the U.S., Canada, and India—into K-drama fans through Crash Landing on You (2019–2020), which ranked in Netflix's Top 10 in several countries.
When the pandemic forced people into lockdown in 2020, many longed for escapism and the comfort that rom-coms brought, but quickly burned through any new ones worth watching. After hearing about Crash Landing through word of mouth, enough people watched it out of curiosity for the drama to become the sixth most-watched series on Netflix in the U.S. and to be recommended by media outlets from Variety to The Daily Beast to TIME magazine.
Hajjar recalls being introduced to K-dramas by a friend, while it was Ajeroh who pushed her friends toward K-dramas and now shares a Viki account with them. Journalist Sabra Ismath admits to casually playing Crash Landing on You—where a South Korean heiress crash lands in North Korea after a paragliding accident and must find her way back with the help of a handsome North Korean soldier— in the background when people visit, so she can casually get them hooked.
While initially some North American audience members may have looked to the K-drama as a Plan B, they quickly discovered it had certain advantages over the classic romantic flick and romantic sitcoms made in the U.S. and Canada. "Hollywood rom-coms are always on the time budget," bemoans Ismath. "The storyline is rushed. One minute they're talking and [the next] they're already a couple."
Fellow K-drama fan Hajjar loves how K-dramas deliver a fully fleshedout love story over a single season. "It also means I can watch more of them." North American romantic TV shows tend to favour will-they-won't-they arcs drawn out tortuously over several seasons (think: How I Met Your Mother, The Mindy Project, Jane the Virgin, Never Have I Ever) while their film counterparts can feel too short. K-dramas find the sweet spot of offering deep character development while keeping viewers engaged.
In Crash Landing on You, for example, in addition to working together to prevent the heroine Yoon Se-ri from being captured and imprisoned by the North Korean police, Yoon Se-ri also has to confront her strained relationship with her mother and brothers, while the lead male protagonist Ri Jeong-hyeok has to come to terms with the death of his older brother. Even after they overcome their individual struggles, the two still have to figure out how they can be together despite ongoing political tensions between their countries.
The leads' family and friends tend to be more three-dimensional in K-dramas than in rom-coms, making K-dramas more relatable, especially to viewers who also come from collectivist cultures, like Avani Thakkar, a freelance writer who began watching K-dramas during the pandemic. "With Hollywood, you never get to see the family," she says, unless the character is going home for the holidays. "But with K-dramas the family aspect is really intertwined and as a desi person, I relate to that more."
And another reason why rom-com fans love K-dramas so much is the satisfyingly slow-burn of the romance. In the 16-episode drama Descendants of the Sun, for example, the leads don't kiss until the fifth episode, don't start dating until the ninth, and only get their happy-ever-after on the very last episode. There are countless memes poking fun at the speed with which Hollywood rom-com couples become intimate versus K-drama couples—and countless more memes illustrating the glee viewers experience when they do. K-drama couples build an emotional bond first by facing obstacles together. It makes their ultimate physical bond that much more rewarding for viewers, some of whom don't rank physical affection as the only love language that matters. Aysha Akhtar, a grad student, for example, really appreciated the thoughtful things the Crash Landing on You romantic leads do for each other. "Acts of service is my love-language," she explains. "It was just easier for me to relate to that."
K-drama rom-coms also offer a variety of subgenres within the genre—medical, thriller, law procedural—as well as diverse settings and complex plots. Both Lawless Lawyer (2018) and I Hear Your Voice (2013) feature lawyers falling in love while working to solve a mystery connected to their pasts. I Hear Your Voice incorporates age-difference and co-habitation storylines, as well as a slight supernatural element, while Lawless Lawyer's male lead is rougher around the edges and has a push-pull relationship with the female lead (he's the one pulling), making the two dramas quite distinct. And even K-dramas that aren't billed as romantic typically devote a sizable chunk of their plot to romances. But they can also be a conduit to discussing or processing topics stigmatized in many cultures across Asia, such as mental health, strained family relations, and divorce.
Though admittedly rom-com K-dramas predominantly feature heterosexual couples, there has been a slow increase in the number of queer love stories, like in the 2022 web drama Semantic Error starring former KNK K-pop band member Park Seo-ham and DKZ band member Park Jae-chan. The unexpected popularity of the drama (it was the most-watched series on streaming platforms in Korea when its finale aired earlier this year) boosted DKZ's popularity and had their old songs charting anew.
K-dramas' high production value—which viewers can glean from international shooting locations like Switzerland (Crash Landing on You) or Spain (Memories of the Alhambra) or Canada (Goblin), the long list of sponsors at the end which often includes names like Samsung, Swarovski, and good 'ol Subway, and the expensive wardrobe, especially for historical dramas—also helps, if you're seeking unapologetic escapism.
While fans have lots of material to marathon, many don't limit themselves to K-dramas. It becomes a gateway of sorts, leading them to romantic TV series from other Asian countries like Taiwan and mainland China (C-dramas), Thailand (Lakorn), and to a lesser extent, Japan (J-dramas). A Google Trends inquiry shows interest in Chinese, Thai, and Japanese dramas gradually increasing—and in that order— in both the U.S. and Canada from 2016-onwards, mirroring the trajectory of K-dramas on a smaller scale.
Perhaps the best example of these cross-country adaptations is Boys Over Flowers (2009), a K-drama starring Lee Min-ho and Ku Hye-sun and based on Yoko Kamia's manga series Hana Yori Dango. The manga had already been adapted into two Japanese dramas and films, a two-season Taiwanese drama, and an unofficial Indonesian drama before its Korean adaptation—which was a hit both domestically and abroad—and it went on to spawn two Chinese dramas (one a remake of the other) and another Indonesian drama. Its latest adaptation, a Thai drama called F4 Thailand, released earlier this year.
The popularity of K-dramas—and Asian dramas overall—is a welcome antidote, to many viewers, to the overwhelming whiteness of Hollywood rom-coms. K-dramas have helped combat internalized racism in diasporic Asians—developed from rarely seeing themselves represented positively in Hollywood. In one memoir piece that ran in Salon, second-generation Korean-Australian-American actress Alicia Hannah shares that getting into K-dramas prompted her to finally learn her parents' language. In another, Chinese-American writer Christine Mah-Kellams confesses: "K-dramas cured my prejudice against Asian men."
K-dramas are challenging the emasculation of Asian men in North American media, and, by extension, North America by presenting Asian men as viable romantic and sexual options. Although, in some instances, this borders on fetishization. Indiana University Bloomington researcher Min Joo Lee coined the phrase "the Netflix effect" to account for a surge in young Western women travelling to Seoul and staying in their hostels watching K-dramas all day, then hitting the town at night. According to a CTV report:
"The women Lee interviewed were fascinated with Korean men who were portrayed on TV as being in touch with their emotions and willing to embrace their 'effeminate sides,' Lee said. They considered Korean men cultured and romantic while complaining that men in their home countries often neglected their appearances and had one-track minds."
Though many K-drama actors already enjoyed significant popularity both in Korea and across Asia, gaining a North American audience has meant more partnerships with international luxury brands, Hollywood movie offers, and a new demographic of people invested in the personal lives of K-drama stars—similar to how Hollywood rom-coms made stars out of Meg Ryan, Matthew McConaughey, and Hugh Grant, to name a few. When Crash Landing on You stars Son Ye-jin and Hyun Bin announced their relationship, marriage, then pregnancy, for example, fans of the show were ecstatic—like Ismath, who enthusiastically shared pictures of the couple's wedding in her friend group chat. The enthusiasm over the BinJin couple illustrates that K-drama stars have begun to occupy a place once reserved for rom-com icons in North American audience's hearts.
The heart-shaped cavity in my own head that craves romance since the romcom went into decline is filling up again thanks to K-dramas. Yet I still long for a particular brand of optimism that only old-fashioned rom-coms can inspire in me. I am hoping that the calibre of recent films like The Lost City and Ticket to Paradise is a sign of a resurgence in the genre, so I can have it all. Until my hopes come to fruition, however, I'm just a girl, sitting in front of a "New and Popular" tab packed with awesome K-drama options, asking Hollywood to step up its game.