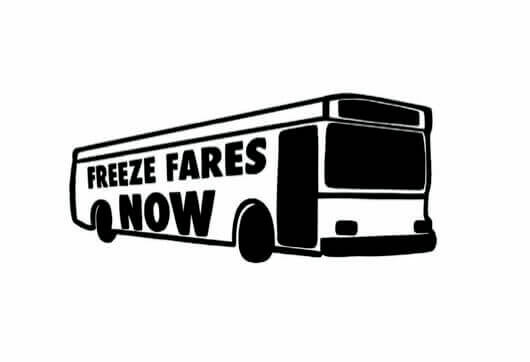 "I think if you're not leaning into transit as a reliance or as your first choice, you don't really know how these fare impacts can really hit you," says Danika McConnell, an organizer for Free Transit Edmonton (FTE).
In spring 2021, Edmonton was set to raise adult cash transit fares to $3.75. It would have made Edmonton's single adult fares more expensive than cities like Vancouver and Toronto, two places with more developed transit systems.
That price hike, scheduled for May 2021, did not occur. It was temporarily halted by a vote of 12–1 on Edmonton's city council, which froze fare prices until next year. Before that council vote, a petition signed by more than 1,800 citizens demanding a fare freeze was delivered to city hall.
That community petition was organized by FTE, a collective of organizers, activists, high school students, and self-described transit lovers. Although their short-term goal of freezing fares was achieved, FTE's larger mission is made obvious by their name.
FTE launched in February 2020. One of the first actions taken by FTE was to challenge city leaders to use transit for a week.
McConnell argues free transit is fiscally sustainable for Edmonton considering the money handed out to developers and other industries.
"It's the will of those in power, and it is possible, and we've seen it possible," says McConnell. "We've seen it in smaller societies, in smaller cities or countries like Luxembourg."
According to McConnell, Edmonton's movement for free transit is part of the class struggle, which is connected to the movement for climate justice.
"I don't think you can appropriately talk about climate justice without applying the class struggle that intersects with it," says McConnell. "To move forward to the benefit of our climate, we have to make sure that we don't leave anyone behind."
Edmonton's city council only voted to delay the fare hikes until next year and McConnell says FTE has more work ahead of them.
"It's a freeze, it's not forever," says McConnell, who wants the issue on top of Edmontonians' minds. "We're definitely going to be forcing ahead to make sure, especially coming up to this 2021 municipal election, that this becomes a ballot box issue."