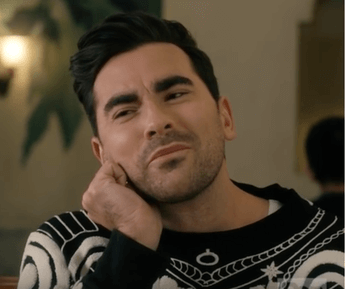 I was 14 years old when I first kissed a girl—and there were more after that—but it took a global pandemic and months of self-reflection to get to a place where I felt comfortable calling myself bisexual.
I'm far from alone. The pandemic presented an opportunity for many closeted queer people to look inwards and come out, with 5.6 percent of U.S. adults identifying as LGBTQ2S+ in 2020 compared to 4.5 percent in 2017. While similar Canadian stats aren't readily available, my own anecdotal research tells me the trend has been happening here, too.
Shortly after coming out to friends and family, I realized how few queer people I had in my life and how badly I wanted to find a community of folks who understood what I was going through firsthand. There was just one small problem: it was still a pandemic and going out into the world to meet new people wasn't an option. So, I did what any pop culture enthusiast in my position would do and turned to television.
If I couldn't form an in-person community just yet, I knew for certain I could find one on screen.
I began by rewatching my favourite episode of the anthology series Easy. The episode, called "Spontaneous Combustion," follows the main character as she endures a messy breakup with her live-in girlfriend and falls in like with her colleague while the two women work on a progressive political campaign together. Though I had seen it before, watching it after my own coming out allowed me to see myself in these characters for the first time—at least aspirationally. They are secure in who they are and confident enough to pursue a connection when they feel one. Watching them move through the world as self-assured queer women allowed me to imagine myself doing the same.
And then there was Schitt's Creek, which inspired me with its utopian depiction of a world without homophobia. In the series, Dan Levy's character shares an impeccably accurate analogy about what it means to be pansexual: "I do drink red wine. But I also drink white wine. And I've been known to sample the occasional rosé … I like the wine and not the label," he says. Who knew hearing a fictional character echo my own preferences back to me could provide such validation? How could I possibly feel alone while hearing my very own sentiments coming out of someone else's mouth?
But, the show that allowed me to fully immerse myself in an on-screen community was Netflix's 2019 miniseries Tales of the City. Initially unfamiliar with Armistead Maupin's work, I was delighted to discover a series that doesn't only feature queer characters and storylines but is itself queer by definition. The series' setting at 28 Barbary Lane—a fictional San Francisco apartment complex that functions as a safe haven for queer youth—made me long for a community gathering place of my own, but it also made me feel part of theirs. And the diverse cast—more reflective of real-life queer communities than the overwhelmingly white casts I was accustomed to seeing—was a refreshingly realistic sight, while the various romances allowed me to envision myself in a happy and healthy queer relationship.
Getting to see people like me on screen has been a fundamental part of learning to accept all of myself—allowing me to dream bigger and bolder when it comes to figuring out what I want for my own life. Queer television has helped me to feel part of a community I have not yet found, like I belong in a world that is still unfamiliar offscreen. It has given me a stronger sense of self at a time when almost everything has been in flux. I hope to soon be able to find the real-life community I have been longing for, but, in the meantime, you can be sure to find me with my fictional pals, perfectly content, in front of the screen.