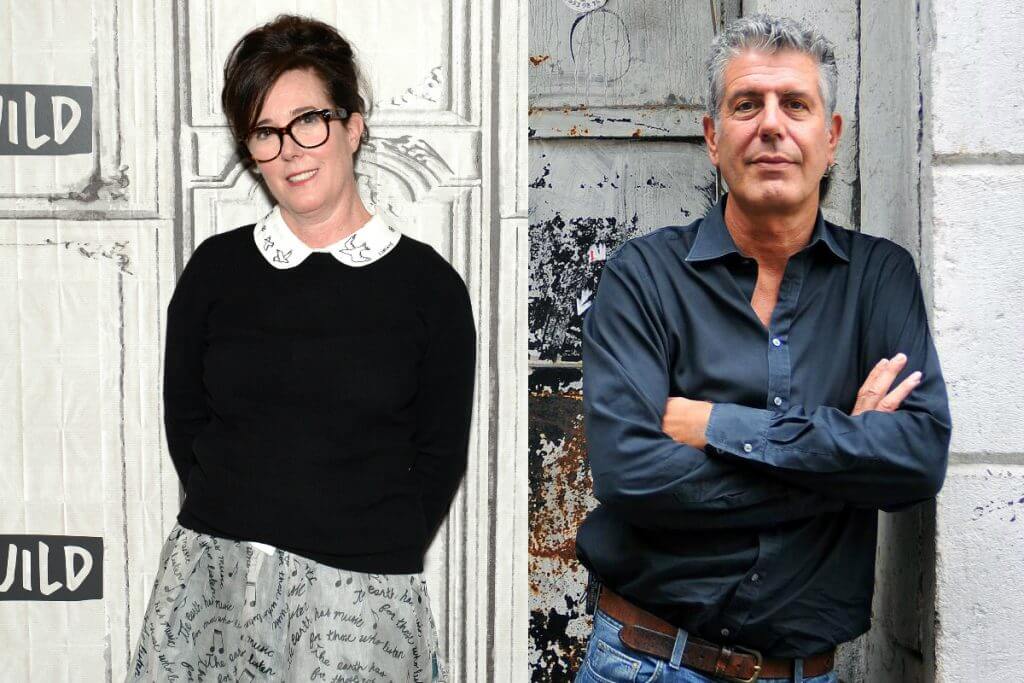 The new issue of People magazine has both celebrity chef Anthony Bourdain and fashion designer Kate Spade on its cover. Sadly, the magazine is the only weekly tabloid to give both stars the cover treatment, with other magazines featuring only Bourdain.
When Spade and Bourdain died by suicide, just days apart, tributes and tweets celebrated the lives of both, but there was a distinct gender bias in the media coverage of the two deaths. While articles on Bourdain celebrated his life and accomplishments, writers speculated that Spade's professional success and the pressure associated with it had, perhaps, finally taken its toll on her. Bourdain was heroic; Spade was tragic. If you don't think gender has anything to do with it, please consider these two headlines:
From Rolling Stone: "Anthony Bourdain's Meal With Obama Was a Proud American Moment" 
From Business Insider: "Kate Spade reportedly addressed a suicide note to her daughter"
The media largely focused on Spade's career as a successful designer, on the business she built, and on the effect the things she created, most notably handbags, had on those who purchased them (often with some serious classist overtones). At times it was as if Spade was invisible, existing only in relation to how she made others feel, how owning a Kate Spade purse had made a writer feel like they had finally crossed over the threshold to adulthood. Spade was not a woman, but a symbol of first careers, of first moves to big cities like New York, of first steps towards the Carrie Bradshawing of one's life. 
Bourdain's tributes were much more emotional, much rawer, and more focused on keeping Bourdain front and centre. He was repeatedly described as a great listener, a great conversationalist, a great checker of white privilege. It was not just about his resumé, what he produced, or how we consumed it, as it had been with Spade. People talked about the effect Bourdain had on their lives, but never in a way that rendered him absent from the narrative.
Significantly more column inches were devoted to the sensationalist, tabloid-like aspects of Spade's death. How did she do it? Was there a note? If so, what did the note say? Who was it addressed to? There was US Weekly-style speculation that perhaps Spade's separation from her husband and business partner Andy Spade had led to her death.
In the hours after Spade's death, the media was like TMZ on steroids. Spade was not a human, but a headline. A CNN online story notes the cause of Spade's death in the first paragraph. It takes CNN eight paragraphs to get to the cause of death in their reporting on Bourdain.
Coverage of Bourdain avoided the celebrity gossip angle and was less concerned with details of motive or method. No one speculated about the state of his relationship with actress and director Asia Argento and no one questioned how or if it could have been a factor in his death.
Writers were respectful of Bourdain, repeatedly acknowledging that they may not have known what the TV host was going through. The same can definitely be said of Spade, but that didn't stop the media from speculating widely about it. As a woman, they felt it was okay to project, to speculate, to speak for Spade—even in death.
Bourdain's coverage largely questioned why he would take his own life when he had everything. His was a glass half full. Spade's coverage referenced what she had lost, her business troubles, her marriage troubles, and how it might have all been too much. The underlying narrative was that women are weak, that this world is too much for them. That they cannot survive. She was a glass half empty.
Coverage of Spade's death mentioned that she may have been drinking too much, may have been self-medicating with alcohol and pills to deal with business challenges and her crumbling relationship. Writers discussed how Spade may have been afraid her depression and drinking would jeopardize her brand so she kept it hidden. Remember, Spade was a brand. Bourdain was a human. It makes me incredibly sad that in her professional and personal life, Spade could have felt like she had to hide addiction, darkness, and depression to preserve an empire built on positivity and polka dots. This says so much more about the pressures that society places on women, and especially successful women, then it does about Spade.
Articles hinted at Spade's drinking, but largely treated it like a shameful secret she kept. If only Spade had been a man, then her drinking would have been good for business. Bourdain's coverage described him as a "drug-loving chef," and while his battles with heroin have been well documented, most notably in his 2000 book Kitchen Confidential, tributes largely treated his addiction as a thing of the past.
While coverage didn't speculate on whether Bourdain was using drugs again, it certainly would have if he was a woman. It celebrated his bad boy image, his status as a "renegade chef," and talked of his second act which, of course, doesn't include his past drug use. Celebrating, rewarding, and excusing the bad boy is something media and pop culture do again and again (see also: Charlie Sheen, Sean Penn, Johnny Depp and so many more). Both in life and in death, male celebrities always get a redemption story.
Both might have been drinking too much, but only one merits mention. In death Bourdain was a saint, and Spade a sinner. If you want to see this tired narrative in action some more, just compare the tabloid-like documentaries of the lives of Whitney Houston or Amy Winehouse, which chronicle every drug use detail and bad relationship decision, with the 2017 documentary devoted to George Michael's life and career, with doesn't mention drugs, public restrooms or undercover cops at all. Of course, Michael's film was authorized by the artist; with Houston and Winehouse's docs, male filmmakers thought it was okay to just take a woman's story, pick it apart, and package it for moviegoers.
It's not surprising that Spade's role as a wife and mother was front and centre in all the tributes. Spade's coverage often referenced her 13-year-old daughter and painted Spade as a selfish mother who had abandoned her child. Bourdain's daughter was not mentioned as often, if at all, nor was he accused of abandonment or neglect. I actually had no clue he had a daughter until one article mentioned it days after his death.
Eventually, coverage of Spade's death was replaced by Bourdain's as he took centre stage. The tributes to Bourdain continue, while Spade's death has largely faded from the media spotlight. Female celebrities are always upstaged by their male counterparts—and even in death, it is no different.
Lisa Whittington-Hill is the publisher of This Magazine.