Sixteen. That's the number of years tabloid magazines have spent declaring Jennifer Aniston pregnant. Rumours started gestating while the actress was still married to Brad Pitt, but really ramped up post-Pitt. Aniston has been "pregnant and alone," "pregnant with twins," "pregnant with John Mayer's baby"—your body is not a wonderland when that happens—and a "pregnant bride." She's been pregnant in every possible situation, except the one where she is actually with child.
Just last month In Touch published a cover story declaring "Jen's finally pregnant" complete with photos of Aniston and husband Justin Theroux on their Bahamas babymoon (please make this word go away forever. I beg of you.). In what felt like a 100 page-article, the tabloid discussed possible baby names, nursery plans, and what she is eating now. She has a special salad! It has feta!
The photos that accompanied the piece painfully dissected Aniston's body with arrows pointing to her baby bump and illustrating how her body is getting "fuller." In case the close ups of her mid-section weren't enough to convince readers, In Touch pointed out a picture of Theroux paddling a floating thingy around some water. The magazine emphasized that Jen was not paddling, because everyone knows pregnant women don't paddle. The photos also looked more like she had maybe just skipped the special salad that day and had a burrito instead. Burrito or baby bump? You decide! (I will always side with team burrito.)
Aniston didn't seem to enjoy the cover story, or that last 16 years of them, and last week penned an essay for Huffington Post confirming she was not pregnant and calling out tabloids for using "celebrity 'news' to perpetuate this dehumanizing view of females, focused solely on one's physical appearance." She went on to criticize the magazines for defining "a woman's value based on her marital and maternal status" and for perpetuating "this notion that women are somehow incomplete, unsuccessful, or unhappy if they're not married with children."
Responses to Aniston's piece ranged from "how brave!" and "you go, girl!" to criticism that she has no right to rail against the magazines when she is part of the ridiculous Hollywood machine that promotes unrealistic and unattainable standards of beauty. Online commenters called her a hypocrite for shaming tabloids for focussing on her looks when she makes millions endorsing beauty products. Aniston currently shills for Aveeno and Smart Water, both of which seem harmless enough. Or wait—maybe you're right, dear anonymous internet commenter, an insistence on moisturizing or staying hydrated totally gives me a right to her uterus.
Keeping it classy, others commented on her appearance. It's helpful to respond to an essay about body shaming, by pointing out that someone looks like Jay Leno with a potato stuck in the middle of their face. Thanks "feminist" website. Women's magazines applauded Aniston for her stand, but then seemed to cling desperately to the part of the piece where Aniston admits, "Yes, I may become a mother someday."
Others used the essay as an opportunity to talk about Aniston's acting skills. I am not a huge fan of Friends, but that's not the point. I may not be hanging out at Central Perk, but I (and many other non-celebrity women) can relate to feeling interrogated about not reproducing. Aniston is 47, which makes the media even more uncomfortable with her lack of children and decision to not embrace motherhood. I am three years younger than Aniston and have, unfortunately, had more than one person inquire about why I am unmarried and don't have children. At a recent meeting, a woman I had just met asked if I had children. When I responded that I had no desire to she looked at me like I had just asked the group to blue sky a large pile of human feces I had left in the middle of the board room table. (She also took the last muffin so she's basically a monster all around.)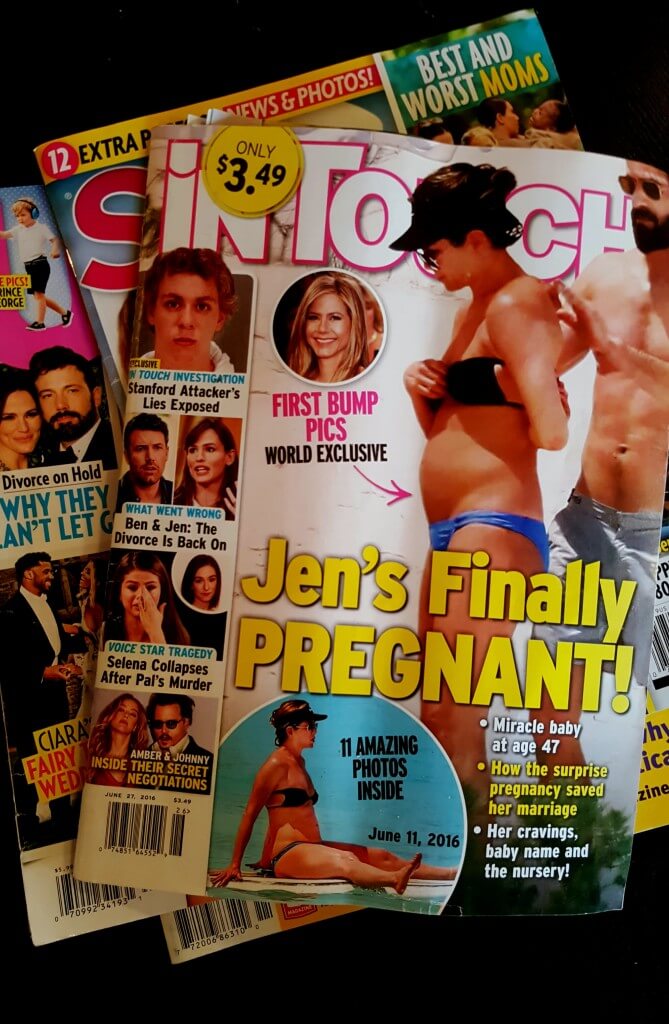 The same week that Aniston called out the tabloids for their dehumanizing and disturbing behaviour, it was announced that Mick Jagger was going to be a father for the eighth time. Celebrity gossip sites celebrated the news that despite his age (72), Jagger could still get his jumping jack flash up inside another human being. If Jagger had been a woman the media would have reported on the story in a very different way. Jagger was treated like a god, while any woman in Hollywood over the age of 40 who dares to have a child is treated like a freak who tricked science and must receive all our pity, skepticism, and ridicule.
The tabloids have focussed so much on Aniston's stomach over the years I feel like I could now confidently pick it out of a police line-up. George Clooney is also childless and married late, according to celeb gossip standards, but I have never seen a paparazzi close up of the Ocean Eleven in Clooney's pants with the headline "Full of baby batter or just awkward fitting Dockers?" Also, Clooney's decision to marry later in life made him a desirable "bachelor" and "hard to lock down" while Aniston's made her a sad lonely woman who was going to die alone surrounded by cats and/or burritos.
When Aniston isn't on 24-hour bump watch she's busy feuding with Angelina Jolie. A recent cover story declared the two had an "Explosive Showdown." Apparently, Pitt sent Aniston an email or an edible arrangement offering condolences on the recent death of her mother and all hell broke loose. (Did she die watching By the Sea because that thing sounds so awful it's basically like the videotape in The Ring?) Sadly, this cover story is not new. Rachel Green and Mrs. Smith have been going at it—and not in the way the majority of people would like them to—since 2005. That's 11 years. When these ladies started feuding George W. Bush was still president of the U.S. and Facebook was barely a year old. Let that sink in for a moment.
From celebrity boob blunders to celebrities without make up to who wore it best, the tabloids are constantly scrutinizing, analyzing and pitting women against each other. The latest issue of Star features a report on Hollywood's best and worst Mom's complete with scores for each. Jolie gets an A+ which is amazing since, according to the tabloids, she spends all her time engulfed in a seemingly never ending episode of Cheaters. Courtney Love gets an F. As a defender of Love, even I'll admit she probably won't win any PTA awards, but I'd like to point out that in Montage of Heck she is the only parent of Frances Bean not shown nodding off on heroin while holding her and is also the only parent—spoiler alert—still standing at the end of the film.
The tabloids have yet to release, and probably never will, their rankings of Hollywood dads. They rarely discuss this. They sometimes talk about how Tom Cruise doesn't see Suri, but that's because he is a weird Scientologist, not because he is a man. There is no celebrity boner blunder coverage and rarely do men make the worst bodies' issue, which is the tabloids' answer to the swimsuit issue. Mickey Rourke occasionally washes up on the beach, but that's about it.
When tabloids mention dads at all, it's usually to praise them, sometimes for simple things like just being in the same room as their offspring. Even Charlie Sheen's parenting skills have been applauded. A recent tabloid story about Sheen talks favourably—and weirdly excitedly—about his possible awesome new reality show. (Didn't we already have this and it was called Two and a Half Men?) It also mentions Sheen's great relationship with his kids, despite what must be the scores of child psychologists circling them like vultures, visions of billable hours dancing in their heads. It's like all of 2011 and #winning and #tigerblood never happened.
But, trashy tabloids aren't the only ones at fault. Vanity Fair recently came under criticism for its August issue cover story on actress Margot Robbie. Writer Rich Cohen basically spends the piece nursing a journalistic hard on for Robbie and the result is a sexist, offensive piece, sparking writer Roxane Gay to tweet "Every issue of Vanity Fair this month comes with a thin sheen of Rich Cohen's semen holding the pages of Margot Robbie's profile together."
Tabloids' defence is that they're just giving the people what they want. According to an Adweek report, if you want to move magazines put Aniston on the cover. Her July 2015 Life & Style "It's Official! Jen is…Finally Married!" (Phew!) cover was the magazine's best-selling issues of the year and sold more than 260,000 copies. Her post-Pitt 2005 Vanity Fair cover still remains one of the magazine's top five covers of all-time. Speculation about the contents of her womb continues to be newsstand gold 16 years on. Congrats, Jen! You may not have a baby, but think of all the burritos you can buy.
Lisa Whittington-Hill is the publisher of This Magazine.