In choosing Veronica over Betty, Archie Andrews overturns 70 years' worth of cultural expectations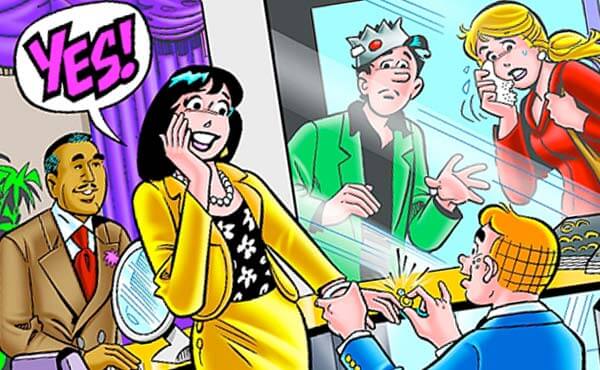 "Just a matter of skill, that's all!" Archie Andrews' first words (said as he stood precariously atop his bike) may have seemed spontaneous in 1941, but 70 years have imbued the line with more weight than a supersized chocolate malt. The comic world's most famous redhead proved to be not only adept at bicycle acrobatics, but also at juggling women. He's also suddenly emerged as something unexpected: a culture warrior.
Ostensibly about a gaggle of teens from Riverdale, Archie comics are buoyed by the hero's love triangle with two chipmunk-nosed teens: best friends Betty Cooper and Veronica Lodge. The former is marketed as the quintessential girl next door and appeared alongside Archie in the comic's premier issue. Betty remained Archie's sole female interest until April 1942, when Veronica slinked into the frame.
Betty and Veronica have been feuding over Archiekins for seven decades and, until recently, there appeared to be no end in sight. But on May 15, 2009, it was announced that the eternal 17-year-old had finally made up his mind. While everyone believed Archie would settle for dependable and—let's face it—less exciting Betty, he surprised fans by deciding to marry Veronica. In so doing, Archie subverted society's traditional view of what makes a good wife.
Betty and Veronica are both feminine archetypes, as two-dimensional as the comic book world they live in. Wholesome, domesticated, and devoted to her beloved, Betty Cooper is the era's perfect wife. Created by Bob Montana in the wake of the Great Depression, Betty comes from a world where no one has ever burned a bra, and only men work outside the home. Years later, the rise of feminism added book smarts and auto mechanics to Betty's roster of domestic talents, but her unabated crush on Archie subverted even these liberated pursuits. She was often found under the hood of his jalopy, for instance, or sitting one of his exams.
Veronica Lodge is the closest thing Montana ever got to a femme fatale. Well travelled and sophisticated, the buxom brunette comes from the richest family in Riverdale and is appropriately spoiled to the core. As a girl who has always been indulged, Veronica treats even her lovers like possessions she can dispose of at will. She often "borrows" Archie away from her best friend, Betty, for example, because what Ronnie wants, Ronnie gets.
The girls are obvious Freudian archetypes: Betty represents the "Madonna" and Veronica is the "whore." Freud believed that for some men, a wife acted also as a mother—a "Madonna" figure—which keeps him from being sexually attracted to her. He reserves sex for the "whore," for whom he does not develop feelings of love. Thus, he is destined to love a woman who can't satisfy him sexually, while he's sexually satisfied by a woman he can't love. Despite decades of feminist critique, our popular culture is still filled with these simple characterizations—with Betty and Veronica being one of the longest-running examples (and most resistant to progress). Archie refers to Betty as his best friend, a confidante with whom he is extremely comfortable, the first person he contacts when he needs an ego boost. On the other hand, Archie is powerless when it comes to Veronica's feminine wiles. Ronnie uses her sex appeal to manipulate her freckle-faced paramour—much like the "whore" who dominates the sexual side of the Madonna-whore complex.
The general outrage and surprise at Archie's decision to marry Veronica has proven that we still buy into Freud's Madonna-whore complex. Western pop culture still deeply believes that conspicuously chaste, non-threatening, compliant girls next door, like Betty, make "good wives," while more outspoken, willful, and liberated Veronica-esque vixens are only worthy as mistresses. Astonishingly, Archie has turned out to be more progressive than his fans, overturning such archaic dualism. In this case, it's not a matter of skill; it's just a matter of looking beyond two dimensions.