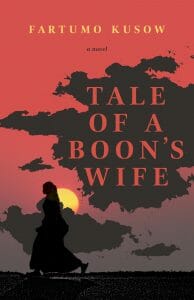 Tale of a Boon's Wife
By Fartumo Kusow
Second Story Press, $19.95
Facing tribalism, sexism, and love in the years prior to and during the 1991 civil war in Somalia, a member of the Bliss tribe, Idil, elopes with Sidow of the Boon tribe. Knowingly marrying beneath her, Idil is adamant that her love for Sidow is right, despite the chaos that the union brings. Fartumo Kusow's debut English novel understands the consequences of thinking freely in a space where doing so could result in death. The sorrow, anger, and shame experienced by Kusow's characters creates a haunting narrative of what it means to be selfish and selfless in a society that heavily condemns the unravelling of convention.