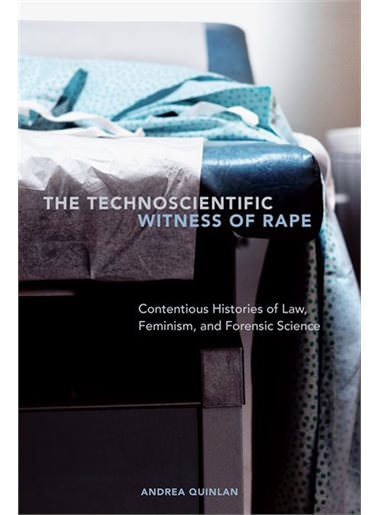 The Technoscientific Witness of Rape: Contentious Histories of Law, Feminism, and Forensic Science
By Andrea Quinlan
University of Toronto Press, $24.95
The Technoscientific Witness of Rape by Andrea Quinlan is a thoughtful and brave analysis of the long and complex history of the Sexual Assault Evidence Kit (SAEK). Quinlan, an assistant professor in the Department of Gender and Women's Studies at Trent University, breaks down how the SAEK was molded by the legal, medical, technological, and societal influences of the last 30 years. Through 62 interviews with professionals in legal and medical fields, police, and most importantly, survivors, Quinlan meticulously documents how sexism, classism, ageism, and racism have affected the usage of the SAEK since its inception. The author raises the thought-provoking, yet controversial, question: To whose benefit does the SAEK actually serve?
It's easy to assume that technology has evolved to help survivors of sexual violence—but through personal accounts of the aftermath of sexual assault, Quinlan suggests the contrary. The author's first-hand interviews inject research with frightening stories from survivors, making readers doubt the presence of any justice in sexual assault cases. Her investigation shows that, despite the evolution of technology and changing attitudes toward sexual violence, survivors are still reluctant to come forward out of fear of being distrusted and re-victimized. Despite the fact the SAEK was initially made out to be the "ultimate witness," it still holds the capacity to re-traumatize and cast doubt on survivors.
After more than 30 years of a broken system that has, by and large, not encouraged women to come forward or even bring about more arrests, Quinlan explores if things could ever change. The book is difficult to read, but it is vitally important to understanding the flaws standing in the way of justice for survivors.