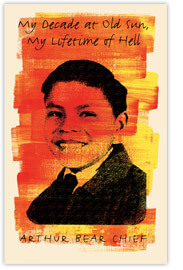 My Decade at Old Sun, My Lifetime of Hell
By Arthur Bear Chief
Athabasca University Press, $19.95
My Decade at Old Sun, My Lifetime of Hell is a short read, but one that should be read slowly and deliberately. Author Arthur Bear Chief describes the first years of his life as full of love, family, Siksika tradition, and culture—until he was sent to Old Sun Residential School at the age of seven. Recounting the abuse and cruelty that happened during his 10 years at the residential school, Bear Chief reveals how a stolen childhood affected the rest of his life. Bear Chief's account is an honest and necessary look at a shameful part of Canada's history—a reminder to readers that healing and reconciliation may take decades to be fully realized. Framed as a story, Bear Chief's narrative will evolve as readers ponder its meaning to their own lives.