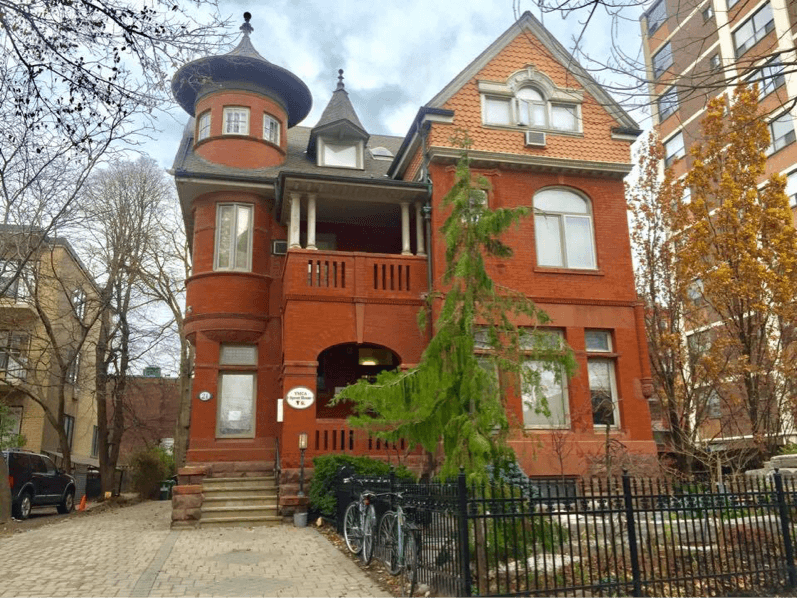 Toronto's Sprott House. Photo by Amy van den Berg.
On any given night in Toronto, there are 1,000 to 2,000 homeless youth sleeping on streets or in shelters. Across Canada about 40,000 young people experience homelessness. Among them, approximately 25 to 40 percent self-identify as lesbian, gay, bisexual, and queer.
These are dangerously high numbers since it is estimated that only five to 10 percent of the population identify as LGBTQ. That's why across Canada local and provincial governments are being pressured to step up and enact change. By the fall of 2015, the city of Toronto agreed to update its shelter standards, setting aside funds to open two transitional housing shelters specifically for LGBTQ youth. A few months prior, the province of Alberta drew up an official action plan to tackle the issue, outlining the current data (0.8 percent of the homeless population in Alberta identify as transgender) and offering up ways to support these youth, from gender-inclusive washroom signage to intervention methods. Around the same time the Boys and Girls Club of Calgary began the Aura Host Homes project—producing another first-of-its-kind moment—that pairs LGBTQ youth with local families in a safe and supported environment.
But a year and a half later, attention on the problem seems to have come to a halt. While research on the issue has improved, Alberta remains the only province to write up an official action plan. Meanwhile, LGBTQ youth are still overrepresented in shelters across the country. "We started doing the work which is really great, but we have to continue doing the work because obviously queer and trans youth homelessness is still a problem," says the Centre of Addiction and Mental Health's Alex Abramovich, who has played a main role in working to end LGBTQ youth homelessness.
Abramovich—particularly through his University of Toronto doctoral thesis "No Safe Place to Go," which provided the first comprehensive overview of the unique needs of the population—added fuel to a fire that had been growing for years. Advocates on solving youth homelessness had been noticing the trend, but it wasn't until Abramovich's work was published in 2012 that the issue made its way into the public sphere. After years of campaigning with numerous community agencies, stakeholders, and political leaders, Abramovich's comprehensive research and hunger for change began to make waves across the country. Shelters began prioritizing queer and trans youth while provincial and municipal governments felt the pressure to make policy changes. The Alberta government, in fact, personally requested that Abramovich help prepare the province's focused response to end LGBTQ youth homelessness.
While many communities and municipal governments have made similar moves to address the problem in their districts, no other province has produced a specific action plan, despite the pressing need. In Ottawa alone, close to half of the city's homeless youth identify as LGBTQ with little to no official supports available for them. "I think Ontario could really learn from the Alberta strategy," says Abramovich, who hopes the trend will continue to spread across the country. "There needs to be more collaboration across sectors and looking at the different successful models." Quebec and the Maritimes in particular, where there are no specific programs for LGBTQ homeless youth, could benefit from this. A 2016 plan to end youth homelessness in Saint John's referenced Abramovich's work and the Host Homes project as possible solutions, but provided nothing concrete.
Despite his research, Abramovich says gathering data on the matter remains difficult. Actual numbers of LGBTQ youth who experience homelessness remain elusive because many young people slip under the radar. It is reasonable, Abramovich says, to believe the figures are much higher. Youth who identify as LGBTQ frequently experience discrimination in the home and shelter system, and many are forced to leave their homes after coming out to their families. Once on the street they may avoid shelters where they are forced to submit to gender norms and can experience transphobia and homophobia by staff and other youth. This not only puts them at a higher risk of being chronically homeless, but forces them to rely on couch-surfing or adapt to life on the streets, which can lead to drug abuse and survival sex.
Many small-scale programs and projects are making headway across Canada's cities. In late 2015 Vancouver's RainCity Housing emerged as one of the first LGBTQ youth-specific projects to tackle the problem of homelessness. It was followed closely by the opening of YMCA's Sprott House in Toronto in February 2016, which is Canada's first transitional housing program for LGBTQ youth.
The trick is finding the right programs that work for a variety of cases. RainCity Housing has taken a housing-first approach, prioritizing getting youth off the street and building a support network where they feel safe. The staff work with every young person to figure out what living situation will suit them best, giving them choice and offering supports and referrals to deal with any mental health or substance abuse problems at their own pace. "We develop a model around each youth instead of fitting each youth into a model," says RainCity Housing associate director Aaron Munro. "What we're offering is permanent housing." This approach differs from Sprott House, which acts as a youth shelter, and much more from the Egale Centre, Toronto's second LGBTQ youth-exclusive shelter that is due to open in fall 2017 and will prioritize counselling.
There is still much work to be done. Most of these projects and programs are still in their early stages, and agencies are only able to serve handfuls of youth, who must go through competitive application processes to be considered. Sprott House, for example, only accepts youth ages 16 to 24 and offers 25 beds for a stay of up to one year. Many services are only structured toward aiding a particular subgroup within LGBTQ youth, such as those who are chronically and episodically homeless. This often excludes the possibility of helping those who may be in need of emergency shelter or who find themselves in dangerous situations because of a lack of alternative housing options.
Which approaches are working best for specific cases will become clearer over time, laying the groundwork for more and better programs to emerge, funds willing. Abramovich, for his part, isn't done. "I think as a next step we have to look at how we can prevent this problem from happening in the first place and find ways of working within the school system and working with families," he says. "We can't just end homelessness, we have to be strategic about it."
Just last month Abramovic's new book Where Am I Going to Go?—co-authored with Jama Shelton, a social work professor in New York—became the first published academic text on youth LGBTQ homelessness. He is currently in the process of evaluating the progress of Sprott House's first couple of years in operation to find out what is working and how other provinces can replicate that model.
Meanwhile, Aura Host Homes and RainCity are also beginning to see some results. "We've got young people who've been in the program now for two-and-a-half years who are exiting and working and going to school," Munro says. "What we're seeing are outcomes."
As Canada tiptoes its way through what can only be described as an experimentation phase of addressing LGBTQ youth homelessness, attention and concern remains essential to sustaining the country's hard-fought progress. "What we need is actually a wide range of services," says Munro. "They're young people but they're smart and they know what they need. I think for too long our services have been forcing people into a box."