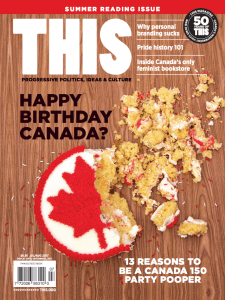 This year, Canada celebrates 150 years since Confederation. It's a milestone that's been marketed since the clock struck midnight on January 1: There are parties to go to, maple leaf-encrusted foods to buy, special landmarks to take selfies with. Celebrating Canada's birthday this year should be, according to many, a fun time.
But it's hard to celebrate when we consider how much work still needs to be done to make this country one that supports and encourages its minority communities. Indigenous women and girls in Canada still go missing and are murdered regularly. Black men are still harassed, violated, and even killed by police on our streets. And, most recently, in our very own industry, professionals have made a mockery of appropriation, with some of the most influential players calling for a prize in its name.
In our July/August issue, we shed light on many of these issues. But we felt it wasn't enough. So, we reached out to Indigenous writers and writers of colour, asking them what they think of Canada 150. It is crucial that we hear from these voices, which have so frequently been silenced or ignored in discussions about 150, our country's industries, and what still needs to be changed.
This feature is a living document—it is intended to grow and change with time. If you are a person of colour or an Indigenous Canadian, please send your own thoughts on Canada 150 to [email protected], and we'll include them here.
This isn't just a time to celebrate. It's a time to reflect, to resist, and to enact change.
–ERICA LENTI, editor 
---
Canada 150 is a moment to celebrate the 150 ways that Canada has let me down. 150 catcalls. 150 tranny slurs. 150 Canadian white boys terrified of intimacy. 150 conversations about the problems with "the natives." 150 poetry readings with racist poets. 150 therapy sessions for intergenerational traumas from genocide. 150 Starbucks coffees. 150 white guys on Twitter telling me to die. 150 excuses for colonial excuses. 150 dead Indians everywhere every day without no end in sight.
But let's be honest with each other? We come to each other in pieces. Canada is not a whole being. So let's celebrate 150 kisses down my neck. 150 chances to start again. 150 days of medically supervised hormone replacement therapy. 150 days of a gender and name change without complication. 150 breaths sleeping beside a Canadian boy I love. 150 snowflakes in Calgary. 150 steps up a mountain in Banff. 150 moments to change society. 150 Indigenous women getting up and making it through. 150 words in Anishinaabemowin. 150 years of resistance. 150 plays of Feist. Canada, let's talk about the 150 ways you break my heart but don't forget the 150 ways you hold me together.
–GWEN BENAWAY, Annishinabe/Métis poet
---
There's always something that's made me anxious about CanLit. It's the same thing that makes me anxious about Canada 150, though until recently I hadn't been able to put my finger on it precisely.
I am Tuscarora of the Haudenosaunee Confederacy. Canada as a nation depends on my repression; or better still, my assimilation; or best of all, my disappearance. Though the treaties my ancestors negotiated and signed are the legal basis of this country, my ancestors' existence has also been incredibly inconvenient to the national narrative. Canadians want to think of this country as good, moral, polite—better in a thousand ways than their louder, brasher neighbour to the south. It's a nice fairy tale when you're a certain kind of child, the kind that claps and dances during Canada Day celebrations, staring at the flag with reverence and wonder. That flag is why you are here, after all. That history is why you are here.
It's why I'm here, too—trauma trailing me like a killer, taunting me every time I have to Google translate a language that's been beaten from my blood as per national policy. I have never believed patriotic fairy tales; after all, Canada has never been good, moral, or polite to my people. Therefore I do not celebrate Canada's Confederation. Instead I celebrate the ways my own nation has survived despite every Canadian attempt to destroy us. That celebration can't be collapsed into a single moment, a "birthday"; it's ongoing, never-ending—a resistance far older than Canada's 150 years.
This brings me to the issue of CanLit. The literature of a nation builds that nation up: letter by letter, line by line. Each book a brick making it sturdier, more legitimate. When that nation continues to deny its hand in colonialism and, further, refuses to address it, how can I in good conscience agree to be part of its national literature? The fact that my work can be branded "CanLit" even as I'm writing about my people, for my people, on my peoples' land feels like another attempt at assimilation, another denial of my identity, my sovereignty as a Haudenosaunee woman and writer. In this country, at this time, I must agree to be swallowed up by CanLit. There is no space for me otherwise.
But my writing isn't Canadian. My writing is Indigenous. My stories are Indigenous. They will never build up the nation dedicated to tearing my own nation down. I can't celebrate CanLit as an institution any more than I can celebrate Canada 150. I can admire Canadian writers and their work, consider them friends and allies in my struggle to assert my right to be myself. I can be a friend and ally to them in their struggles to assert their rights to be themselves. But my literature can never and will never be Canadian. It is forever and always Indigenous, and should be considered such.
No matter how many "birthdays" Canada celebrates, Indigenous people, Indigenous literature will always resist. So will I.
–ALICIA ELLIOTT, National Magazine Award-winning Haudenosaunee writer
---
My relationship with Canada Day has always been a layered one. The reasons that brought my family and I here in 1996 remain true—the freedoms and opportunities Canada has provided me with were what my parents had hoped for in moving us here. And yet, I am always faced with the uncomfortable truth that the chances I've been given here were chances ripped out of the hands of Indigenous communities that face genocide, occupation, and forced assimilation. I know that I am an immigrant who continues to face racism and misogyny in a country that parades its apparent progressiveness; a settler on stolen land where systemic violence continues to be perpetuated and white supremacy upheld; a citizen in a place that gave me a brighter future. Patriotism has always been too simple, too violent in its erasure of these intersections to appeal to me. Canada 150, with all its flair, frills, and excellent PR, is yet another oversimplified display of the deeply complicated issue on what it means to be Canadian.
–HANA SHAFI, regular This contributor and artist
---
An Unsettled 150
When Chief Dan George gave his "Lament for Confederation" in 1967 in front of 32,000 people at Empire Stadium in Vancouver, he said, "My nation was ignored in your history textbooks—they were little more important in the history of Canada than the buffalo that ranged the plains. I was ridiculed in your plays and motion pictures."
His address, his words carry weight today, 50 years on, as Canada as a nation state celebrates Canada 150. His lament is a timeless reminder of the dispossession and theft of land, the suppression of culture and languages, and the patriarchal control over Indigenous reality that still stifles young Indigenous lives and dreams in this year of "celebration."
The word "reconciliation" is bandied about so much that the word itself has pretty much lost its meaning, has become a cliche masking the absence of responsibility in Canada coming to terms with its Indigenous past and, most damning, its Indigenous presence.
To this day, the federal government refuses to implement the United Nations Declaration on the Rights of Indigenous Peoples (UNDRIP). Indigenous and Northern Affairs Canada (INAC) has spent over $500,000 in court fighting the rights of Indigenous children who live on reserves, in defiance of the Canadian Human Rights Tribunal. Boiled water advisories exist on close to 100 reserves. And the list goes on.
When First Nations, Métis, and Inuit peoples are asked to celebrate Canada 150, what exactly are we being asked to celebrate? The continuance of the status quo? Police forces that remain both negligent and unaccountable in the violence perpetrated against Indigenous women, children, and men? The underfunding of languages and education? The lack of health services for communities in Nunavut and the North?
For Indigenous peoples, whether to partake in Canada 150 celebrations is an individual decision. I retain no disrespect for those who decide to partake, in whatever fashion. However I am one of those who will not be celebrating. The alternative is not to simply stand aside and try to ignore the "festivities" but to critique them, to point out the hypocrisies, to celebrate those activists and artists who are living examples of survival, who are giving hope to youth, who are living, loving, and creating outside the Canadian colonial framework.
It is people like Inuk grandmother Beatrice Hunter, only recently released from a men's prison in Nova Scotia for defending her land; Cindy Blackstock, who tirelessly lobbies and fights the injustices of the bureaucratic system that denies a future to Indigenous children; and the late George Manuel, who famously said, "As long as I am leader, our position is not going to change from that of our forefathers. I do not want the responsibility for selling the rights of our children yet unborn."
These are the kind of Indigenous leaders that Canada should be celebrating, not fighting.
No doubt, in the celebrations to come, there will be First Nations, Métis, and Inuit artists showcased. There will verbal acknowledgments of traditional lands in speeches. There will be an effort to present a rosy mosaic of what Canada would like to think it is. But until there is real movement to address injustices, to recognize and implement Treaty Rights, to ensure the safety of women, children, and men, to implement the UNDRIP, to return stolen lands, it is an escapist party that leaves a colonial hangover in its wake.
Uncloaking the settler mentality is not easy nor can it be done by saying sorry or uttering platitudes of reconciliation and hiding the reality with cosmetic actions. It is a serious engagement to establish a new relationship. Until that happens, my heart is with those activists, land protectors, and artists who are doing their best to unsettle Canada 150. May they walk in beauty.
–PAUL SEESEQUASIS, writer and author of the forthcoming book Blanket Toss Under Midnight Sun
---
Diversity in media, 150 years on
Canadian media is still far behind in telling diverse stories and hiring more diverse journalists. We've made some advances, but we don't get to pat ourselves on the back. Diversity has become one of our industry's favourite talking points—we love to go on about why we need it, what we should do and how we should do it—and yet it seems we're reluctant and unwilling to incorporate it into our static media landscape. Worse, Canadian media giants speak empty words on diversity with little understanding of its value or purpose.
Take for instance this year's National Magazine Awards, which opened with a compelling speech by Indigenous writer Alicia Elliott on the need for powerful media key players (who are almost all white) to make room for writers of colour. However, nearly all of the gold and silver NMA winners were white, and no stories about diversity, or by diverse writers, were awarded.
Take for instance the Toronto Star's attempts to address anti-Black racism by offering journalist Desmond Cole a column. Except the louder he championed for basic rights for Black Canadians, the more apprehensive the Star became, until Cole decided to leave. The defence was that journalists cannot hold activist affiliations; for some unaddressed reason, talking about anti-Black racism is a political agenda, yet far-right (and plagiarizing) columnists and their harmful ideologies are protected under their right to "freedom of speech."
Take for example the calls for diversity in publishing, and yet we are still struggling to get our books into the hands of publishers.
Take for instance the hungry chase producers who want our painful stories for the five o'clock news, then add guests with opposing views to attack and trivialize our own experiences on national television, which they innocently claim is for the sake of "having a debate."
Do we actually want to advance inclusion, or do we just like how it sounds? We don't get choose what parts we want to incorporate into our newsrooms, because being a person of colour is an emotional, spiritual, metaphysical experience that is difficult, beautiful, complex, and Canadian. Without these stories, we fail to represent a large majority of Canadians. So where are those stories in the mainstream media, and where are the people who get to tell them? Unfortunately, that's not for us to decide.
–ETERNITY MARTIS, associate editor at Daily Xtra
---
Reconciliation is not a matter of 'burying the hatchet'
In light of Canada 150, many leaders and citizens alike are taking this time to acknowledge both Canada's past and hopeful future. Many are celebrating the country's victories, while recognizing the violent history. It is with no doubt that Canada has made a great deal of progress in terms of improving relations with Indigenous peoples. However, this is debatable when examining the unsolved problems that exist at present.
A few prevalent issues are the over-incarceration of Indigenous peoples, the health and suicide crises among communities, and the government inaction regarding the epidemic of missing and murdered Indigenous women and girls. It is hard to believe that a country appearing to be so keen on solving various issues would spend hundreds of millions of dollars on Canada Day celebrations, while there are communities without clean drinking water, for example.
The common settler's stance on reconciliation is that it is only a matter of Indigenous peoples "shrugging off" their intergenerational grudges. However, this mentality only acknowledges the Canada that settlers think exists, not the Canada that truly exists. This outlook is a dangerous one, as it upholds the claim that there is little improvement to be made for Indigenous peoples, and that the country has every intention of making these improvements.
It is easy to get caught up in the government's "sweet talk" and lose sight of what is truly going on. Once you take a step back and sincerely recognize the current, growing issues surrounding Indigenous peoples, it is impossible to think of reconciliation as a matter of "getting over it." Reconciliation must involve solving the key problems that affect Indigenous peoples by genuinely listening to what we have to say. This must start with admitting that Canada is not postcolonial, and putting an end to land claims. We cannot focus on the future of Canada until the issues of our past no longer affect those being ill-treated.
This year, I am not interested in settlers whose feelings are hurt by protesters on Canada Day. I am not interested in those who have the "it happened, get over it" mindset. Until the country has taken the proper steps to reconciliation, I will not celebrate a holiday that is built on the genocide of my people.
–LAURYN MARCHAND, Métis student at Dalhousie University