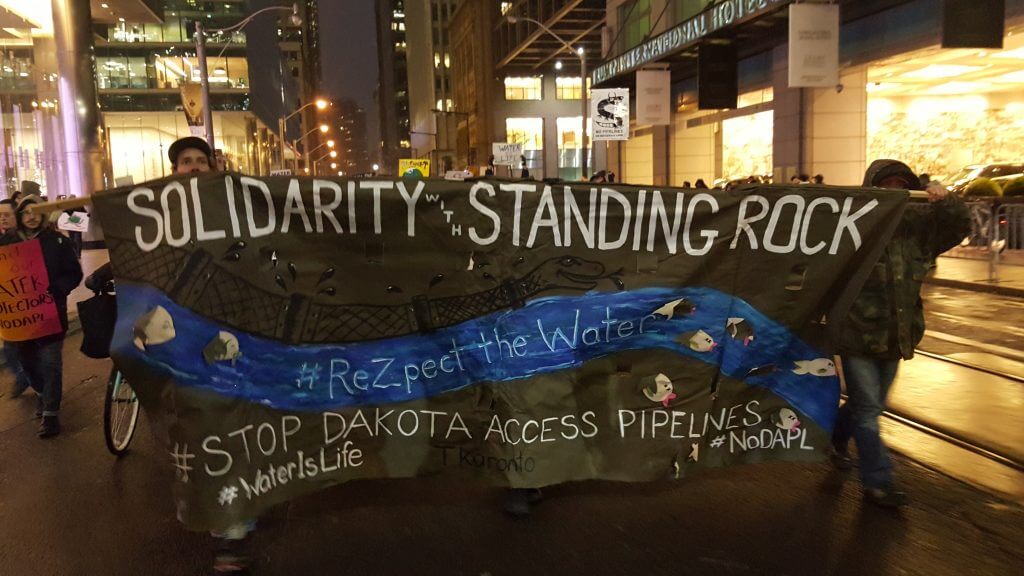 As more than 200 people rallied against the Dakota Access Pipeline in Toronto's financial district Saturday night it began to snow.
The significance of the snow wasn't lost on the attendees: their slogan, after all, is "water is life," and they welcomed it joining them on the cold night.
The Dakota Access Pipeline (DAPL) is a project that is under construction running more than 1,800 km from the Bakken shale oil fields of North Dakota to Patoka, Illinois. It has become a flashpoint of resistance by Indigenous peoples who organized large protests against it near Standing Rock, North Dakota, before it was announced that the Army Corps of Engineers would not allow the pipeline to be drilled under Lake Oahe and would look at alternate routes on December 4, 2016. On January 24, U.S. President Donald Trump signed an executive order to proceed with the construction of the pipeline, ordering the Army Corp of Engineers to "review and approve in an expedited manner, to the extent permitted by law."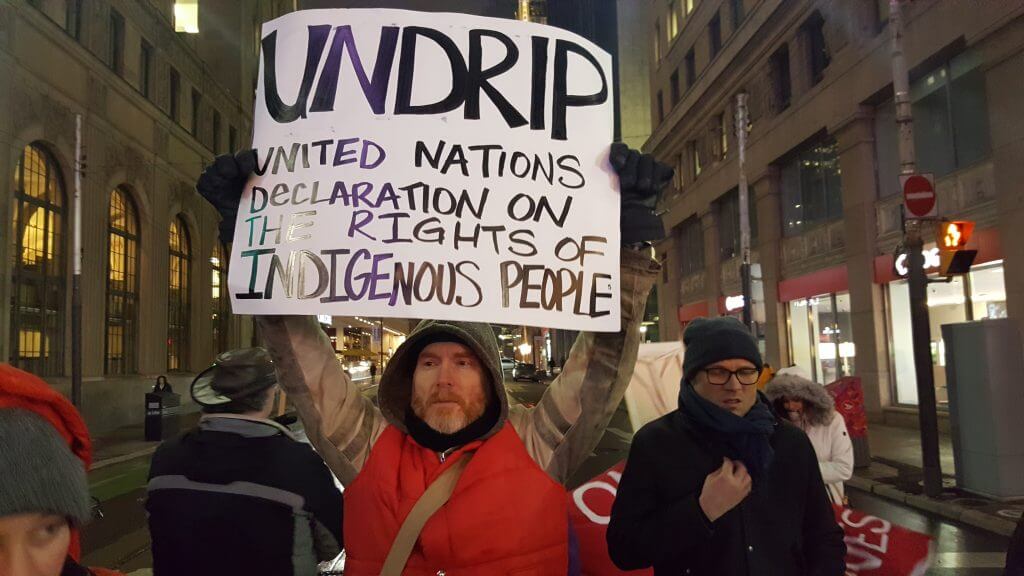 The pipeline, known as the "black snake," was posed to strike through the Missouri River when a scrappy group of self-described "res kids" set up a camp in its path to stop it.
"We are a handful of res kids, kids that were never supposed to amount to anything," said Eryn Wise, the media co-ordinator for Sacred Stone Camp. "We were never supposed to use our voices, we were supposed dead, pregnant, or drunk by now—and we're not."
Speaking softly, Wise told the crowd,"We're fighting for everything downstream from us, they're willing to commit genocide again on American people and we're telling them no. But also we're encouraging you as First Nations people, as the people of Canada, to start the fight here as they're taking the oil that they are putting into our soil out of your lands."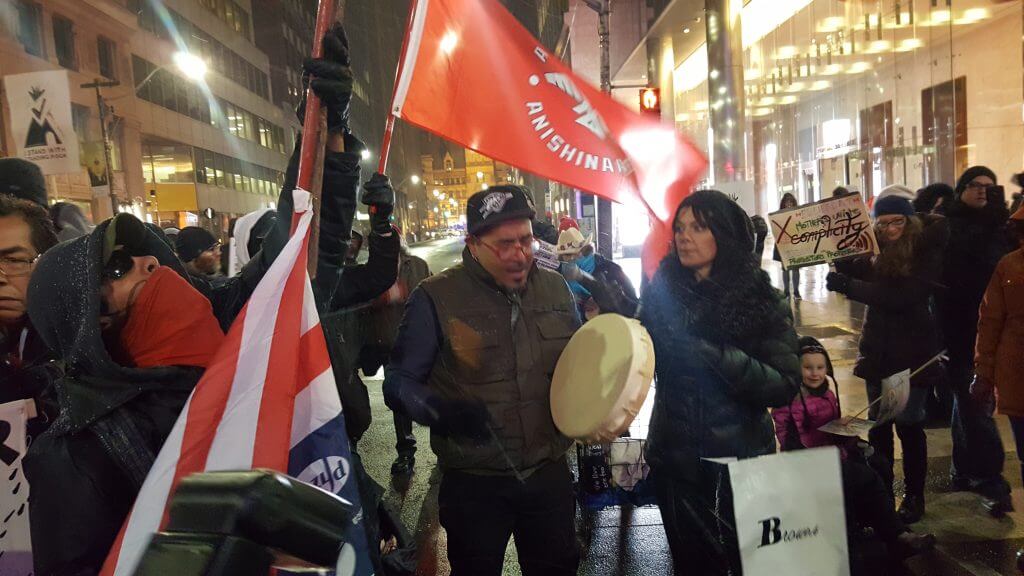 Marcus Frejo sings at the rally in solidarity with Standing Rock in downtown Toronto.
Soon, the drummers who had opened the rally moved to the front of the crowd and into the street. The protesters marched to the intersection of Bay and Adelaide, near Trump International Hotel and Tower, where they drummed, sang, round-danced, and spoke about the struggle against the pipeline.
Marcus Frejo is from the Skiddi Pawnee and Seminole Tribes and lives in Oklahoma City. He joined the camp near Standing Rock in early August and was arrested for opposing the pipeline. As he stood in the middle of a circle of people in the intersection he gave them a song, then a story.
North Dakota court records show that Frejo was charged with conspiracy to commit reckless endangerment, a felony, along with trespassing, conspiracy, and disorderly conduct related to the pipeline protests on September 15, 2016. Frejo said that as he went into court he snuck some medicine on the ground of the courtroom, confident that it would protect him from the official testifying for the state.
"Our attorney was hitting him with arrows of truth, in his chest, in his mind, in neck, in his heart, and he started to shake on the stand," said Frejo. "His voice started to quiver, he started to sweat, and all I needed him to do was to look at me one time in the eye so the medicine would work.
"I kept saying, 'Look at me' and his eyes turned to me for half a second. Right when he caught my eye he had no power. We took the power from him.
"The last question my attorney asked him, 'What did these two men do?' and he sat there shaking and he said, 'I don't know, that's just what they told me.'"
Records show that Frejo's felony charge was dismissed and he is awaiting a new hearing date for the remaining misdemeanours.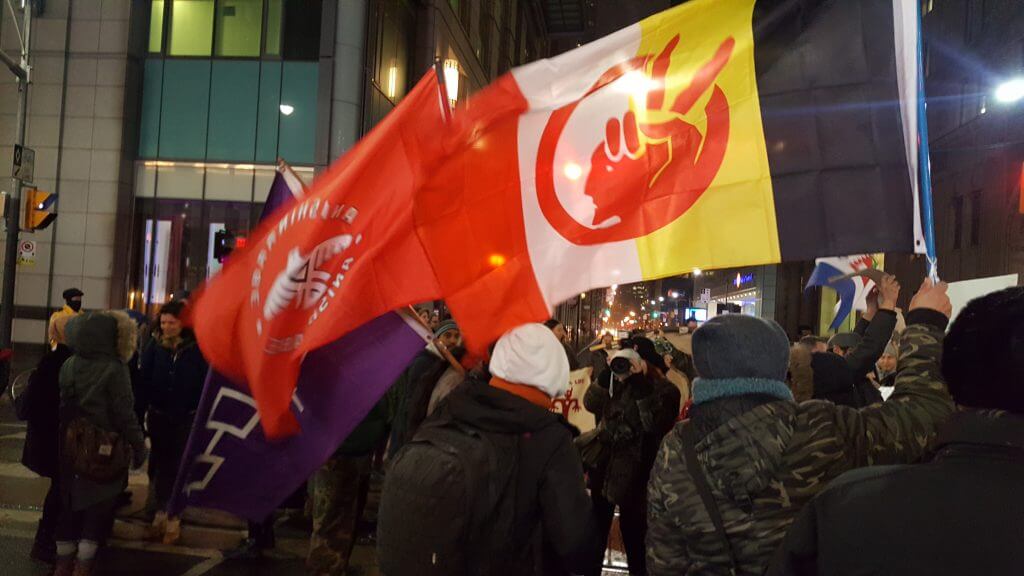 After over two hours of chanting, drumming, and blocking the intersection in downtown Toronto, the rally dwindled and quietly dispersed, leaving only a thin layer of snow on a street that had not seen traffic recently as a reminder that water, like life, can be found where it is protected.