In 2014–15, Aaron Goodman documented three drug users participating in a study to assess longer-term opioid medication effectiveness—the first heroin-assisted treatment research of its kind in North America. The collected photos and reflections formed the Outcasts Project, which aims to humanize addiction. Goodman, a PhD candidate in communication studies at Concordia University, sought to amplify the voices of heroin users in the ongoing debate surrounding heroinassisted treatment and give the public a chance to understand the experience of individuals battling opioid addiction. Cheryl tells her story in Vancouver's Downtown Eastside, where she lives and the study was held.
More information on the Outcasts Project can be found at outcastsproject.com.
---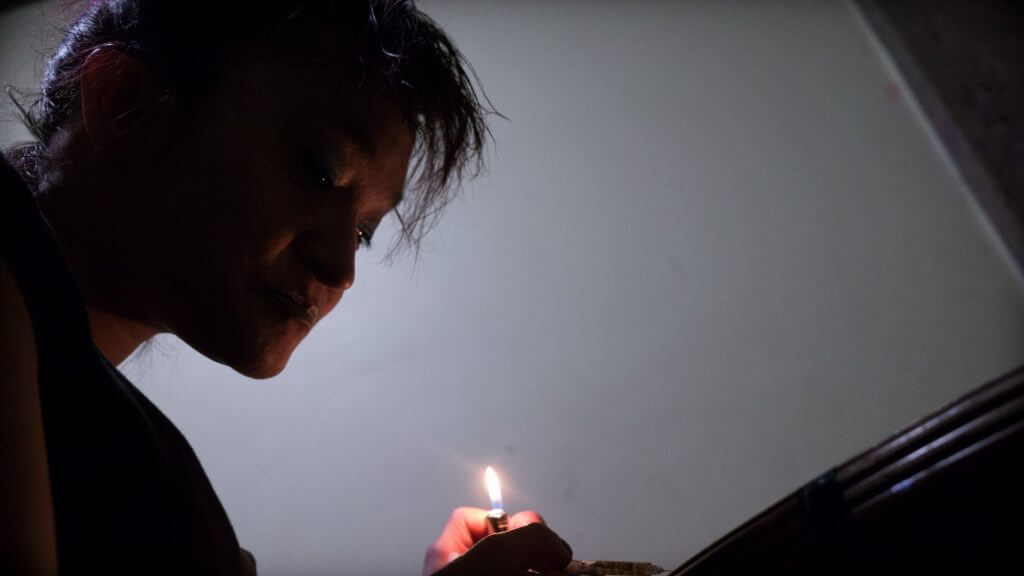 Cheryl prepares to use drugs in her apartment in Vancouver's Downtown Eastside.
We need for you people to see that we're not stereotyped monsters. We're people just like you, just with an addiction. Something that we do a little bit more than others… When you look at this, take it with a grain of salt, because it could be your own daughter, it could be your own son out there doing exactly what I'm doing, but they had the door closed.
A drug addict's world is not just the drugs, it's how they get them, what you gotta' do to get them. Sex trade, you know. Stealing, killing, whatever it might take just to get that extra dollar to get that extra fix so you can feel numb for the rest of the day. Not necessarily it's always that, but in my life, I just want you to know that I'm struggling and I need that extra help.
---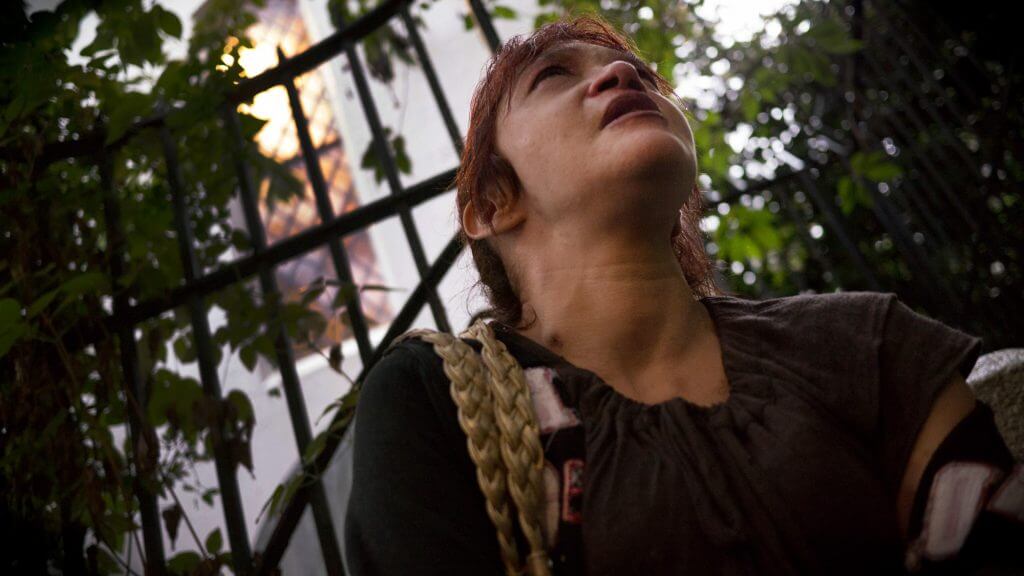 Cheryl cries in the yard of a church where her father's funeral was held.
I hope the people see through this [essay] all the points, all the emotions and desires, needs, and wants that we need, that you can help us down the road be able to successfully show our governments that people need the extra bit of help because we can't do it on our own.
---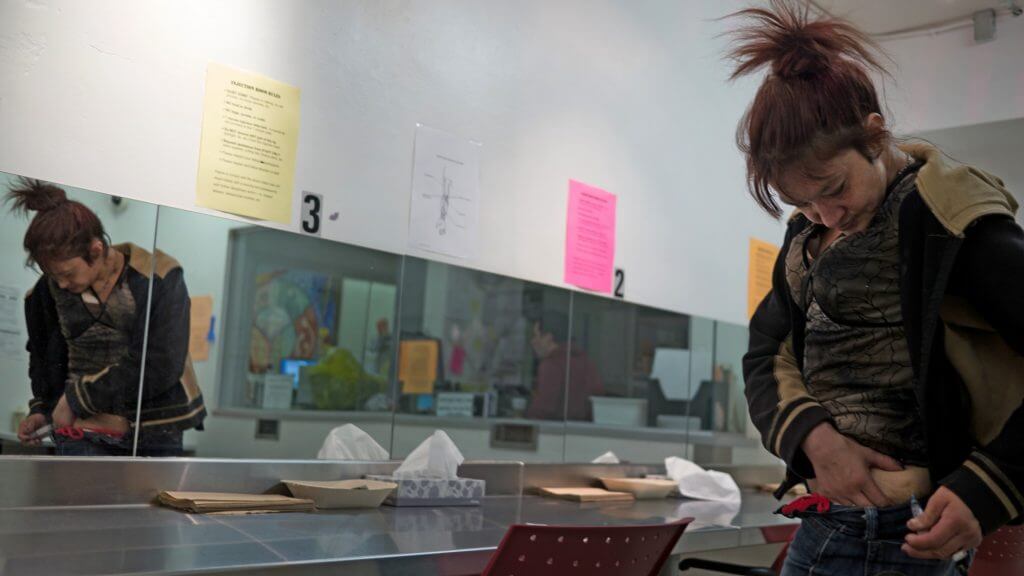 Cheryl self-injects her medication at Providence Health Care's Crosstown Clinic in Vancouver.
I want to show the people that this place is where we get our injections for our heroin opiate program, just show them that we need these places so heroin addicts can get off the streets. Heroin can be contaminated with many different poisons out there that can severely give us infections, because they put hog dewormer in the heroin on the streets. The clinical heroin here, there's no bad chemicals or poisons in the drug. It helps us through the day, takes our aches and pains away, everything that heroin used to do.
In other places of the world, they had this study and it's helped them, that's why they brought it to Canada, here to [British Columbia]. And for us, the people who are in it, we're so lucky and should be so grateful to have such a great program.
---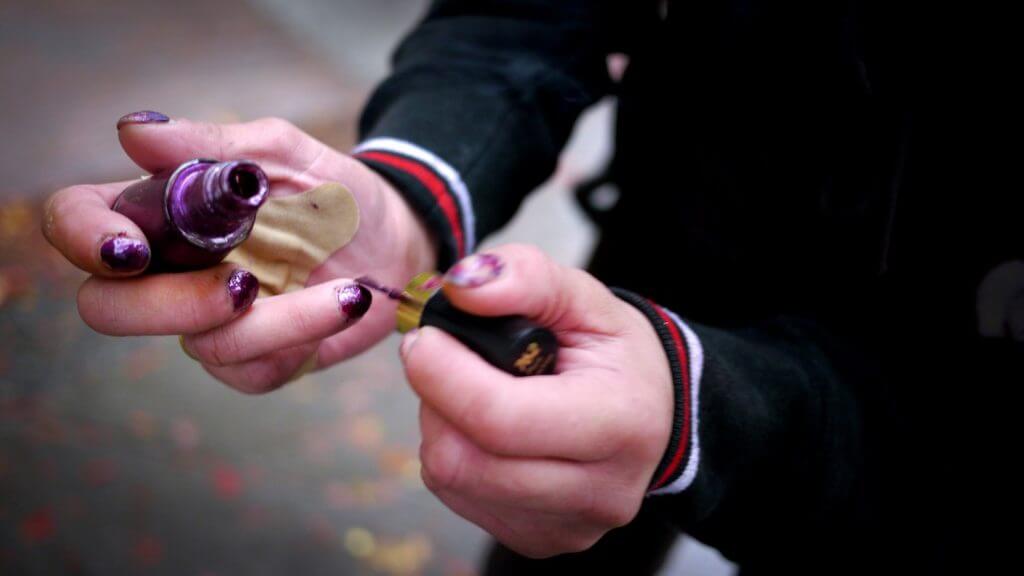 Cheryl paints her nails prior to a court appearance for a sexual assault she experienced.
I'm sure there's hundreds of photos that could show my life different. But my life today is a recovering heroin addict. I'm 124 pounds. I used to weigh 97 pounds. There's so many good things, and positive ways of looking at my life. If a picture could show all that emotion in one? That would be great, but it won't and that's all that my voice could tell you.
---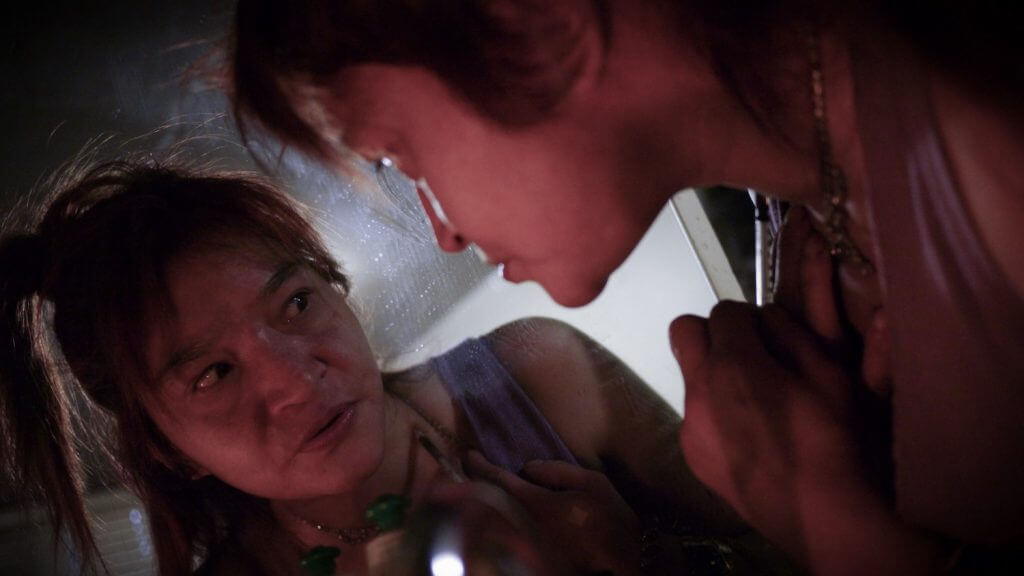 Cheryl self-injects drugs in her apartment in Vancouver's Downtown Eastside.
I think that people see a girl looking in the mirror, looking in fear, like what is she doing with the needle in her neck, sticking in her neck, that's a pretty dangerous site to be injecting. But that's the reality of that picture. It's me being all strung out on dope, trying to get that shot into me, and it's filled with blood and I'm trying to plug it into my vein cause I need that drug that's in there so I can get off and get high, numb whatever pain I'm going through in that moment.
I was all fucked up on drugs that day, yeah. It shows my emotion, my fear, my determination. [I wish the photo had] maybe a little bit more light… Just to show it's hard to inject into your neck like that. Just to show the picture more. To see what kind of struggle it is to inject in your neck. And to show maybe just a little bit more emotion to the people just to show what and why I'm doing that to myself.
---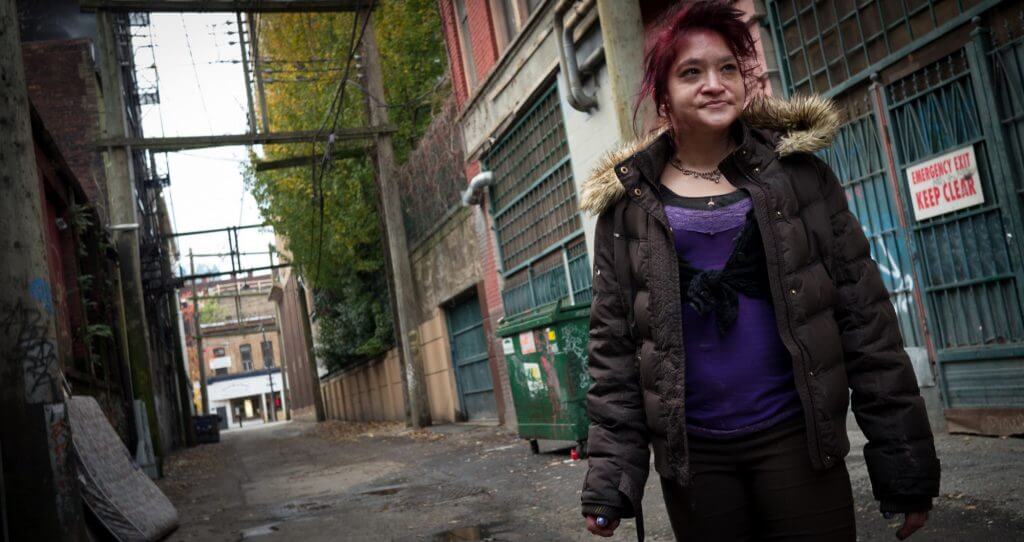 Cheryl returns to an alley in Vancouver's Downtown Eastside where she lived for several years.
People viewing this photo might see some young girl, downtown, in a back alley. Looks like it's a rough alley. A young girl, maybe she's strung out, or maybe she's determined to find drugs or who knows what they see in this photo. They just see a young girl smiling and looking down the alley.
Yeah, it shows all of me. I just hope the people see me in this photo—that I'm a striving, struggling drug addict. That I'm trying to better my life.
Aaron Goodman is a journalist, researcher, and instructor. His work focuses on amplifying the voices and experiences of people affected by social injustices, human rights abuses, conflict, and genocide. You can follow him on Twitter: @aaronjourno.