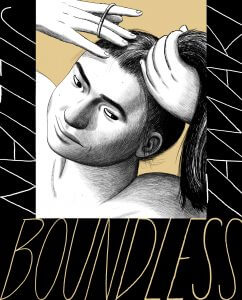 Boundless
Jillian Tamaki
Drawn & Quarterly, $27.95
"Humans think flying must feel very free. And they're right! It does." These are the first lines of "Boundless," the title piece in a new rousing collection of short stories by Jillian Tamaki, the award-winning cartoonist and illustrator behind This One Summer, Skim, and SuperMutant Magic Academy. When the avian narrator crashes into a spider web, Tamaki reveals the precarious nature of so-called freedom. It's with this swift precision that Tamaki draws a parallel to the many characters inhabiting Boundless, each confined or trapped in their own way.
Boundless takes readers inside the lives of women who are grasping for control. There is Jenny who is governed by her own desire to fit in, and Helen who quite literally begins to shrink and disappear. Angela, a young novelist, is arguably the most memorable, as she is being devoured literally by bed bugs and figuratively by her numbingly normal relationship. Each compelling character is skillfully crafted through Tamaki's unsentimental dialogue and bold illustrations.
Tamaki brings together humour and darkness in Boundless, resulting in an often playful and surreal collection rife with metaphor. Each story is vastly different in topic and tone, right down to Tamaki's illustrations. From the fantastical drawings in the story "1. Jenny" to "Half Life," which is reminiscent of a comic strip, each graphic story reveals a new, carefully created world.
Tamaki is earning a reputation as one of North America's most dynamic illustrators, and Boundless is one more impressive title to add to her growing body of work. Observant and wise, but also perfectly peculiar, Boundless hints at the fragility of human life and the infinite ways the universe threatens to crush us.