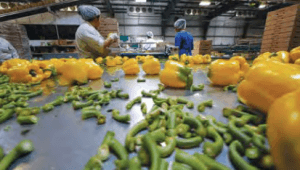 If you look at a map of southern Ontario, Leamington seems no more remarkable than the other small towns that dot Lake Erie's coastline. Yet, in Min Sook Lee's documentary Migrant Dreams, the 30,000-population town becomes the setting of a much bigger issue.
Leamington has the largest concentration of greenhouses in North America. And, thanks to the federal government-run Temporary Foreign Worker Program (TFWP), it's also a precarious home to a large number of low-wage agricultural migrant Workers, predominantly from Asia, South America, and Jamaica, for eight months to a year. Once the workers arrive in Canada, they are given curfews and are monitored; they are tied to one job, one location, and one employer.
What's more, in 2015, Canada brought in more temporary foreign workers than immigrants. Today, nearly 110,000 migrant workers are employed here in any given year. "These programs perpetuate racism and profit is being made every step of the way," says Lee. "They have replaced immigration doorways to Canada."
Migrant Dreams follows a group of Indonesian women who have come to Canada via the TFWP and are working in Leamington greenhouses. It is through these women that Lee reveals the dark side of migrant labour in Canada. "Migrant labour is a global issue," says Lee. "People are willfully turning their heads. The silence is enforced by the rules of the program."
The federal government states it introduced the TFWP to allow Canadian employers who were unable to find Canadian citizens or permanent residents to fill temporary labour positions to hire outside of the country. The employer is meant to take full responsibility for the worker and is responsible for arranging worker compensation benefits and medical coverage, as well as the transportation and airfare. For instance, before coming to Canada, all of the Indonesian women Lee profiles in the film received paperwork listing outlining the terms. Yet the program rarely seems to work the way it's outlined on paper.
In Migrant Dreams, we see that, in these women's cases, none of the documents were translated into Indonesian. As a result, each of these temporary workers were made to pay their own air fare and transportation to Canada. This is not an uncommon occurrence—and it's sadly not the only way workers are exploited under the program, either. "We have an idea of Canada, a mono-narrative, that is controlled by the media," says Lee. "We need to talk about the truth of where our tomatoes come from, and who wipes the noses of our babies."
Lee says she enjoys using documentary filmmaking to help tell a story, and to shed light on the injustices within Canadian migration and labour laws. "There's a large grievance in our government," she adds. "Ordinary people are having to take up the work of the federal government." Lee's other work includes El Contrato, a Gemini-nominated documentary on the lives of migrant Mexican workers in Ontario, as well as a personal reflection on the reunification of North and South Korea called Tiger Spirit, which was awarded the Donald Brittain Gemini for Best Social/Political Documentary in 2009.
"Historically, the Canadian state has used migrant labour schemes and immigration policies to deter racialized people from settling permanently in Canada," says Lee. She adds that activist movements, like Justice For Migrant Workers' Harvesting Freedom campaign, are central to the debate about Canadian values. Launched in January, the Harvesting Freedom campaign aims to bring justice to the thousands of migrant workers who have put food on Canadian tables without any chance at a real life here.
Volunteers with the campaign began a pilgrimage to Ottawa from Leamington in early September to demand the government provide permanent immigration status to migrant workers once they enter Canada, making stops along the way to discuss the issues of migrant workers, with a final stop at the Immigration, Refugees and Citizenship Canada building in Ottawa in early October.