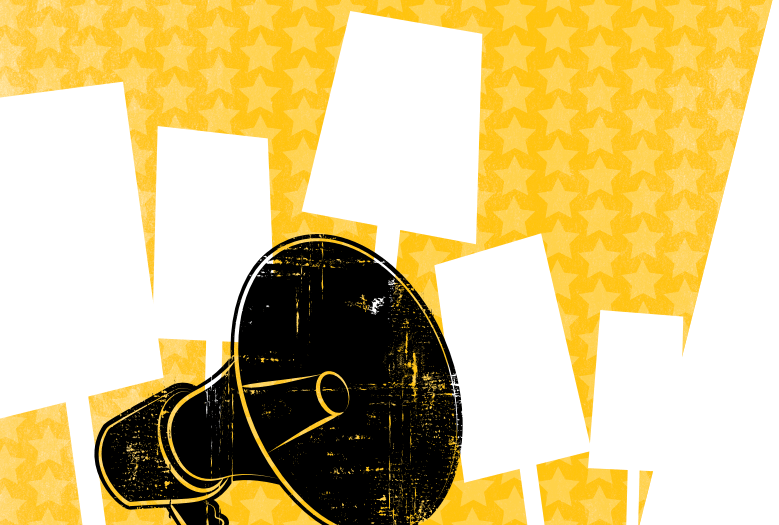 In January 2016, just weeks before the Chronicle Herald would begin its still-unresolved strike, management at the paper offered Nathan Clarke a job. Clarke covers sports, and the Herald, Nova Scotia's newspaper of record, wanted him to be its sports reporter, stepping in to fill the shoes of a striking worker—what's called being a strikebreaker or, depending on whom you ask, a "scab."
Clarke wrestled with the decision. (His name has been changed to protect his identity.) Steady, full-time work in journalism was—and still is—hard to come by. He had another freelance gig that kept him at the local hockey rink enough that he didn't think it would make him look suspicious to other journalists if he took the job. But it was one of the Herald's striking workers who recommended Clarke for the freelance job when he was an intern at the paper in 2012.
"The people who are on strike have actively helped me get work," he says. "Here I am with the option to take a job that will give me money that, quite frankly, I really need. But at the same time I would be screwing over people that I work alongside and who have also helped me get to the point where I'm at."
Clarke knew the risks. Kelly Toughill, now the former director of the journalism school at the University of King's College in Halifax where Clarke studied, warned students and alumni against doing the jobs of the Herald's striking workers. Toughill has spoken publicly about how the school doesn't support students breaking the picket line. One-onone, when asked directly for advice on whether to take a job as a replacement worker, she's told young alumni that the implications of working a "scab" job could follow them around for the rest of their careers, thwarting future job opportunities. That wasn't a risk worth taking for Clarke, and eventually, he declined the offer. "I just can't put a dollar value on that sort of thing," he says.
But now more than ever, the dollar value bottom line dominates the newspaper industry. Papers across the country are hurting. Fewer resources, outdated business models, a public unwillingness to pay for news, and shrinking newsrooms plague print media. Unions such as the Halifax Typographical Union (HTU), which represents the striking workers of the Chronicle Herald, protect the people who propel newspapers forward and safeguard the editorial content from the market forces that newspapers' management can't seem to beat.
At the same time, millennials like Clarke are graduating from journalism school with thousands of dollars of debt and throwing themselves headlong into a contracting and competitive job market, where unpaid internships and years of unstable work are standard. Getting a full-time job out of school, let alone a job with a pension, benefits, and job security, is unlikely for most. Journalists are entering the workforce at a time when the five-day work week and eight-hour work day are taken for granted.
When the Herald's unionized staff did strike weeks after Clarke's job offer, management hired temporary replacement reporters in place of striking workers as cheap labour. Many of these reporters were young journalists and recent graduates, like Clarke, with little newsroom experience. The HTU has been ruthless in calling out these replacement journalists on social media, engaging in shaming tactics to ensure their names remain known after their stints at the Herald. Whether these shaming tactics are effective and conducive to dialogue is up for debate. Certainly, unions are in a tough position of balancing priorities: taking a stand against strikebreakers while also doing more to reach out to millennial freelancers—some of Canadian journalism's most precarious workers.
***
The Chronicle Herald's management locked its employees out of their offices and banished their bylines from its pages on January 23, 2016. Sixty-one members of the HTU—unionized reporters, editors, and photographers—voted almost unanimously to strike after contract negotiations fell through. As this story went to press, the strike at the Herald had been ongoing for 250 days. As the strike persists, the largest independently owned newspaper in Canada continues to operate with a skeleton newsroom of five full-time replacement reporters between the ages of 25–30. Meanwhile, its unionized workers have spent more than eight months walking the picket line every day through nearly four seasons.
The Herald strike is symptomatic of a broader state of crisis in the Canadian media industry. Recent years have brought a slew of bad news for newspapers. The same month the Herald went on strike, two other Canadian newspapers, the Nanaimo Daily News and the Guelph Mercury, folded. In August 2016, the Toronto Star announced 52 layoffs. Bell Media cut 380 jobs last year. CBC cut 400 jobs in numerous rounds of layoffs over the past two years. And this year, Postmedia announced 90 layoffs. Not even digital media emerged unscathed, with BuzzFeed shuttering its Canadian political bureau in Ottawa this summer. Media organizations continue to struggle to do more with less. "The whole business model of the penny press—supporting mass market journalism with advertising— is collapsing," Toughill says.
In Halifax, this collapse has played out in ugly ways. The Herald dispute has been called a union-busting drive. David Wilson, the chief negotiator for the Communication Workers of America Canada (CWA) who represented the HTU in negotiations, says management proposed more than 1,000 changes in the collective agreement, including significant salary cuts and increased working hours, reduced benefits, and the removal of a pay equity clause (which it has since agreed to put back into the agreement). The HTU and management have, however, agreed to a five percent acrossthe-board wage cut. Wilson says the Herald's management is asking for concessions that have never been asked for by any newspaper chain. "It's a very scripted, one-sided negotiation where the local was expected to make all the moves, and the employer would do absolutely nothing," he says. "That does not happen—this is not typical at all."
The unusual circumstances surrounding negotiations didn't stop the Herald's striking workers from rallying as a team, says HTU vice-president Frank Campbell. For the most part, he says, the Herald's striking workers have stuck together. Many began writing for Local XPress, an independent online newspaper the striking workers founded in January. But eight months can erode the morale of even the most dedicated picketers. Over the phone, Campbell's voice sounds worn—it appears exhaustion has set in. And in April, photojournalist Eric Wynne suffered a stroke on the picket line. "When you're in this thing for eight months, different people are at different places in how they deal with things emotionally," Campbell says. "Personally, I try to stay as positive as I can. Would I rather be working and earning a steady paycheque for what I love to do? Sure."
***
On April 9, 2016, the Chronicle Herald published an article about refugee children violently abusing other students at a Halifax elementary school. The news story had no byline attached to it, because it was written by a replacement reporter—a practice that had been put into place at the beginning of the strike. The story quoted anonymous parents who alleged that refugee students had been "pushing, slapping, and verbally abusing" their fellow classmates. The Herald was blasted for the story by local and national media, including the Globe and Mail, and the story was picked up by Ezra Levant's right-wing outlet, Rebel Media, and anti-Muslim blogs. In the days that followed, the news story was edited and amended a number of times before it was deleted entirely from the Herald's website. An editor's note that appeared in the paper admitted that the story "needed more work." The story is just one example of the many dangers of relying on the paper's skeleton staff. Campbell says the story would never have gone to print looking the way it did if professional, experienced journalists and editors had been handling it.
Lezlie Lowe is a journalism professor at King's and was a freelance columnist with the Herald when the story was published. She's not a member of the HTU, and when the workers went on strike, she continued to file her weekly column rather than breach her contract. She faced backlash from the HTU and the community in the form of shaming tweets and what she calls anonymous online commentary. But when the refugee story broke, she quit. "It felt like continuing with the paper in the face of that was implicitly condoning the bad journalism, and condoning the idea that it's okay to do that, and it's not," she says.
It's not just experienced writers who have condemned the paper since the story broke. David Swick, who previously taught journalism ethics at King's and dispensed advice to journalism graduates on scabbing, says he knows of three King's graduates from the class of 2015 who were approached by the Herald to scab and turned the opportunity down. During lunchtime conversations, Swick says he was struck by how many students spoke up against strikebreaking practices. "I don't know if it was an appreciation of unions, or an instinct for justice," he says. "But you've got young people who were heading out into a tight workforce, and who were saying they would not take a job with the newspaper of record in town because it wasn't the right thing to do."
But in a tough job climate, what's stopping other young journalists from taking a much-needed job as a strikebreaker? For Toughill, it's a matter of pragmatism: some news organizations won't hire a journalist if they've "scabbed"—the media scene is small, and careers will effectively be ruined. She adds, however, that while she doesn't think it's a good idea, she does understand why some young journalists feel compelled to do it—it's tough financial times for journalists and they have to pay the rent. For Nora Loreto, a freelancer and Quebec director of the Canadian Freelance Union (CFU), it's much more clear-cut: "From the perspective of someone who has been on strike for a hundred-plus days, their kids might not have clothes bought for them because someone is scabbing."
For this story I reached out to four young replacement reporters for the Chronicle Herald. Of the four, two agreed to speak with me and then later reneged, saying they didn't want to put their jobs at risk, or that it was their own story to tell. Two declined outright. To say the Herald's replacement staffers are cagey is an understatement.
The HTU uses Twitter and its Facebook page to shame replacement journalists, calling them out by name, and posting images of the stories they've written with their bylines and tagging them in it. In March, for instance, the HTU tweeted, "Congrats to a certain young scab who's just signed [a] contract as multimedia CH journo! Enjoy my your job! #CHstrike." Attached was a photo of a vulture and a dead animal carcass. While not part of the union, Lowe says she received her fair share of online hate: people would take photos of her from the internet and make memes. "I got baited a lot," she says.
To people unfamiliar with labour politics, this culture of shaming might seem heavy-handed and counterintuitive to sparking dialogue about the negative effects of strikebreaking labour. While it might not be an effective way to stop people from scabbing, says Toughill, such shaming tactics have a long history, even if some might feel they're "somewhat repugnant." "In many cases, that's what we do as journalists," she says. "We hold people up to the light and say, 'Look, this is what this person is doing. What do you think of what this person is doing?'" Toughill admits it's a easier in the age of social media. "I would be very distressed if it were following someone's children or their spouse," she says, "but I think it's a little bit naive if you're going to work for a striking organization, to think you're not going to be called out for that decision."
***
It was clear to Clarke that he wasn't being approached by the Herald back in January for any reason other than a profit-serving one. "Looking at the quality of some of the reporting since the strike began, I don't feel like it was 'we're looking for the best young journalists in Nova Scotia to help us put this paper out during the strike,'" he says. "It seemed like a 'get whatever we can' kind of grab." Meanwhile, Mark Lever, the Herald's CEO, has called freelance labour a cost-effective strategy to producing content.
The CFU is in a unique position to reach out to young journalists like Clarke who are trying to carve out a living independently. Founded 10 years ago under Unifor, the union is charting new territory, but has to be careful of stepping on the toes of other locals of full-time newsroom staff. The CFU is one of a few freelancer unions in Canada, and represents a broad cross-section of people, but each of their 250 members is a precarious communications worker. "The existence of my union is an experiment," says Loreto. "We're not a real union, because freelancers don't have a common employer." While she admits unions are human, fallible organizations, she says that when we prioritize the discussion surrounding the one or two people strikebreaking and erase the fact that there are 30 people on the picket line defending the basic tenets of journalism, it's a move that is reducing all of these complicated social issues to the individual level. "It's making the problem about whether or not we're being fair to this 22-year-old guy from the University of King's College," she says.
Recognizing this fundamental difference of understanding of "the collective" is core to being able to talk to young workers, particularly those under 40, about the importance of unions and organizing. "If you're a young journalist," Loreto says, "you have to be critical of the mainstream, profit-serving narrative." Rebecca Rose, a young freelancer who has been the CFU's Atlantic organizer throughout the strike, says she organized trips to the picket line for King's students, spoken on panels and wrote literature, and offered outreach for students and young freelance journalists. She says the visits by current or future freelancers to the picket line meant a lot to the striking workers. "Herald management went really hard with trying to recruit recent grads," she says, "and to see us resisting that was really important for the strikers."
Rose says the Herald's striking workers are people she wants to learn from. Walking the picket line with them over the past year, she says she's gotten valuable advice from their decades of experience. "But that's the thing: as a freelancer, do you want it to be just you, isolated, working from home and without a community of other freelancers? Or do you want to have that camaraderie?" she asks. "I want to have that camaraderie. It's just fighting back against this individualistic mindset we've been sold."
Michaela Cavanagh is a former This intern.