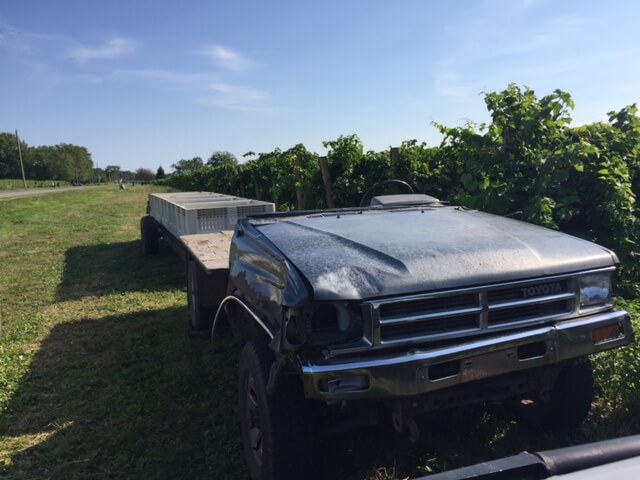 It's August 7, 2016, the day after Jamaican Independence Day. I'm in Niagara-on-the-Lake, Ont., sitting on the back of a "jitney"—a truck with the top of the cab chopped off, used to haul crates of freshly picked peaches from the fields to the packing barns. A few men are sipping Labatt's Blue, while others drink "Christian beer"—Coca Cola. One man, who I now call Chef, stands over a charcoal barbecue. The first jerk chicken goes on at about 5:30 p.m.; Chef is taking the last of it off at 9:30. The man sitting beside me shakes his head. If only they could have had the meat on the barbecue for the whole day, he laments, it would've been so tender we could've eaten the bones as well.
The men I'm sitting with are migrant workers. I would like to tell you more about them. I'd like to tell you how many kids they have and how old they are so that you might see that you have something in common. I'd like to give you their names and to describe, as they have described to me, their homes and lives in Jamaica. But I can't. Their presence in Canada is wholly precarious, and as one worker put it, even talking with me as a researcher would be enough for him not to be renewed next year. He doesn't love his job. He doesn't even like it. But he needs to do it for his family.
These workers come from Jamaica for up to eight months out of the year. Some have come for years; others count their time in Canada in decades. Each year, they plant, prune, thin, pick, and pack fruit and vegetables. The fields of Niagara-on-the-Lake are filled with grape vines, to support Ontario's burgeoning wine industry, and tender fruits including cherries, peaches, and plums. These are labour-intensive crops and Canadians aren't interested in doing the work.
Niagara-on-the-Lake is on the short-list of favourite getaways for most of the people I know in southwestern Ontario. Summer in Niagara-on-the-Lake, "often called the loveliest town in Ontario" according to its website, boasts restaurant patios, winery tours, and the Shaw Festival. Queen Street is lined with independent shops selling clothing, jewellery, and home decor. There is a lot of gelato for sale. It is a town in which those of us who can afford leisure time and travel can "get away from it all."
But last summer, I spent much of my time exploring a different dimension of in Niagara-on-the-Lake. Instead of seeing the attractions, I met the migrant workers who do the labour that provides the area with its local produce, including grapes for wineries, that tourists like me appreciate. The area is home to 15,400 residents as of the last available Canadian census, from 2011. Each year, about 3,000 migrant workers come to the area as temporary residents. These workers come primarily from Mexico and the Caribbean through the international Seasonal Agricultural Worker Program (SAWP) that Canada has with participating countries. Despite totalling one-fifth of the local population, migrant workers remain largely invisible. This invisibility makes it possible for us—people like me, people reading this article—to celebrate local food and wine, while overlooking the exploitative conditions through which they are produced.
***
When I first started my research, I travelled to Tillsonburg, Ont., about an hour southeast of London, learning from friends and colleagues there were many migrant workers in the area. My first stop was the library. What I was hoping for was a list of organizations that provide services to migrant workers. The response I received was "the Metro parking lot on Friday night." I was puzzled. "Because organizations set up services for the migrant workers in the grocery store parking lot on Friday nights?" "No, because that's where the buses drop the workers off for their weekly errands."
On a Friday evening in May, I travelled with my research assistant to the Food Basics in Simcoe, Ont. Both of us were taken aback by the scene. More than 20 full-size school buses plus a handful of smaller buses, to say nothing of the myriad trucks and vans, were parking in the lot in front of the strip mall. Workers stood under trees for shade. Others leaned against walls or sat in the backs of the vans they came in. Food Basics was packed with dozens of people—the vast majority migrant workers—in each checkout line, purchasing groceries both for themselves and to send back to their families. Giant Tiger, a discount store, was also a hot spot: It houses Western Union, which the workers use to send remittances back to their families.
When we returned to Simcoe, we made a point of speaking with some of the workers. The first man we spoke to simply said "hello" to us and, unlike the many of the other greetings we had not responded to, I turned to say hello back to him. We stood on the street corner at Argyle and Kent and talked for about three minutes. I told him I was interested in learning about migrant workers' connections with Canadians. Did he get to talk with many Canadians? "This," he replied, "is the longest conversation I've had."
---
"All the costs of this food production must be borne by farmers, who are also managing rising energy prices and capital costs, alongside rising wages. While farmers externalize their costs onto their workers, they do so because we as consumers force such decisions through our consumption practices."

---
The workers I've spoken to regularly work 10-hour days, a minimum of six days per week. An 80-hour work week was not unheard of. One worker told me that in 2015, in the eight months he worked, he had three or four days off—he couldn't remember exactly.
This is perfectly legal. According to the terms of SAWP, workers are expected to work six days per week and have the seventh off. However, "[i]f your employer asks you to work more than six days a week, you can choose whether to agree to this," the terms read. Many will take on the extra workload, in part because getting selected for the SAWP is highly competitive. Even though the conditions in Canada are not great—indeed, they are so demanding and poorly remunerated that Canadians won't do the work—migrant workers can make a relatively large amount of money for their families, money they couldn't hope to make in their home countries. There are many people willing to take their place on the program either next year or tomorrow. Workers can be—and are—sent home with minimal notice because of injury or "disobedience." I am extremely aware that speaking with a researcher might constitute such "disobedience." Within this context, labour becomes disposable either because employers think that it is, or because workers think that their employers think that it is. Ultimately, the "choices" made by many of the workers I've met are the choices that their employers think are the best choices, not the choices that reflect individual workers' desires or well-being.
But the choices of the employers are not without context, either. Canadians are very specific about their peaches (as are our trade agreements). We want peaches that are the same size as those grown in California's much longer growing season. We want our peaches in clamshells, so they aren't bruised or mauled by other peach lovers. And we want peaches to be cheap. All the costs of this food production must be borne by farmers, who are also managing rising energy prices and capital costs, alongside rising wages. While farmers externalize their costs onto their workers, they do so because we as consumers force such decisions through our consumption practices.
***
I do not like the heat. I'm from Alberta and I wilt in the heat, especially when it's humid. While this year was not particularly hot, the summer of 2016 was a hot one. Toronto issued 22 heat and extended heat alerts—forecast high temperatures exceeding 31 C, above 40 C with the humidex.
On those days when it was too hot for me to be outside, migrant farm workers were still out picking. One of my friends was picking peaches while I sat typing at my dining room table in my air-conditioned house. I messaged him to say that he should be sure to drink a lot of water and stay cool. He reported, with much grace, that the day was not so bad for heat; the day prior was much worse.
It was on sweltering days like that this last summer that he and his co-workers not only stood in the sun working for 10 hours—starting at 7 a.m., finishing at 6 p.m., with a one-hour lunch break—but also on top of a thinning machine, a slow moving platform that moves workers along so they can thin peaches without stopping. As his co-worker put it, "You only stop thinning when it runs outta' gas." Not only does the machine impose pace on the workers, it imposes more heat. The humidex of 41 C on that day was exacerbated by the heat coming off the engine that propelled the thinner, located right beneath the platform on which they stood.
After their long days, workers return home to accommodation provided by their employer. This accommodation must be approved annually to qualify for foreign workers. Migrant workers' accommodations are not required to be air conditioned (though some do have it). The guidelines—not requirements—set out in the Government of Canada Schedule F – Housing Inspection Report stipulate that the living space must be able to maintain a temperature of 20 C, but there is no legal maximum. A few years ago, one worker recorded a temperature of 54 C in his room. He stopped documenting the temperature, though, because he was afraid his employer would find the thermometer and get angry. (Since then, the employer has fixed the windows so that they now open.)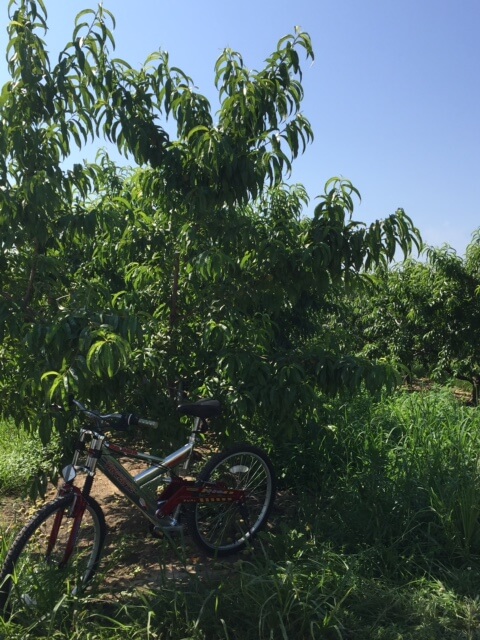 One Friday night, I drove a worker home after he bought his groceries in Simcoe. There was bus transportation to the farm, but he would've had to wait an extra hour for the bus to leave. The bus would take yet another hour to make the 15-minute drive because of a stop in a nearby town. After a long day in the field, he wanted to get home before 10:30 p.m. He also wanted some time to himself. While in Canada, migrant workers share housing with their co-workers. This worker shared a house with 13 others, with seven men sharing one room. The regulations of the program set out no maximums on the number of workers in a room; the only requirement is that each worker be provided with a twin size mattress, at least eight inches off of the floor, with 18 inches between beds "to provide for comfortable movement."
While those who work on smaller farms, such as those in the Niagara-on-the-Lake area, can use bicycles to travel between farms and into the nearby towns, the distances between farms and towns in Simcoe and similar areas make bicycles less useful as a means to carve out some independence. Notably, even for those workers who do have bicycles, there is not really anywhere to go. (Workers who cycle are also at risk: Andres Dominguez Moran died on July 31 while being hit from behind by a car while riding his bicycle to Walmart. His co-worker Jesus Sanchez Feliciano was hospitalized with serious injuries.) Parks are few and community centres and libraries are closed in the evenings. Other spaces, like coffee shops or cafés, require workers to spend money. And while in Simcoe, workers claim the grounds of the county building on Friday evenings, in Niagara, the sign outside of the town building states that "ANY PERSON found on this property not having business with the Town of Niagara-on-the-Lake is subject to be charged with trespassing." So back to the farm it is—where men work together all day, prepare and eat meals in relatively small living spaces, and share bathrooms (hopefully one per 10 workers as set out in Schedule F) and bedrooms.
***
A Canadian friend of mine picked tobacco through high school in the 1990s. She described being hospitalized for both staph infections and tobacco poisoning, the latter when the tar and tobacco juice penetrated her skin. It was "tough" work; it left so much tar on her hands that she had to scrape them with a knife before she could wash them. But she traded hard work for grim conditions and, for a student, good money. Wages were piecemeal then, $0.80/leaf. She could make $2,500 to $3,000 during the six-week harvest (adjusted for 25 years of inflation, $3,880 to $4,660). As she put it, "pretty good scratch for a 13-year-old."
One of the workers I met in Simcoe used to pick tobacco. Despite the difficulties of the work, he rues the loss of the crop because now he picks strawberries. He spends his days, long ones, bent over in the field. His back is always hurting.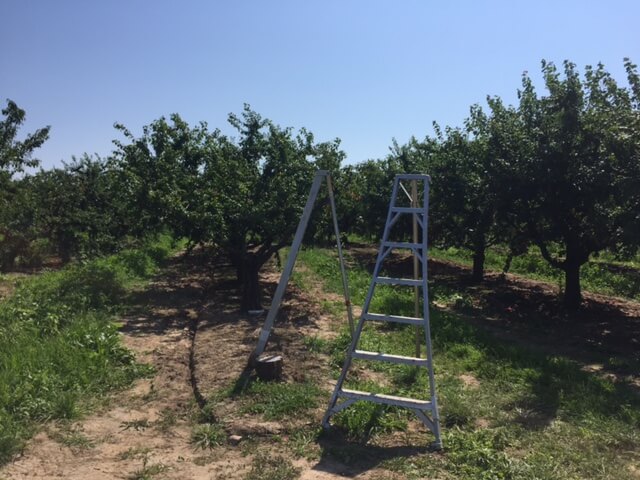 Migrant workers who pick tobacco are not paid piecemeal, but receive minimum wage. Farm employees and harvesters are exempt from provincial labour regulations stipulating overtime and holiday pay. This means that workers are only ever paid minimum wage. Workers repay a portion of their airfare, pay Canadian income tax, and contribute to employment insurance (though SAWP workers can only access EI in extremely limited ways despite contributing, according to the UFCW, $21.5 million in premiums annually). Workers also pay up to $30 per month in rent. Jamaican workers pay $5.40 daily toward the administration of the program. After these deductions, migrant workers in Canada make less than $10 per hour. In 2017, workers received a raise. It was fully absorbed by increased deductions, including increased payment towards program administration. As one worker reports, "I've never seen a raise, even though I've had a few."
As I get to know the workers, they open up about the physical toll the work takes on their bodies: foot problems, muscle pain and strain, fatigue, and challenges to their mental health. One worker has pain on the roof of his mouth. It hurts to eat and to talk. I call my sister, a dental hygienist living three provinces away, to get her expert input. "See a dentist as soon as possible," she says. It's a reasonable suggestion but infinitely difficult when workdays run from 7 a.m. until 6 p.m. (or later), and employers get upset when workers take time off. In addition to private dental fees (Jamaican workers do not have any dental coverage; Mexican workers have coverage for emergency dental), workers incur the costs of cabs to and from relatively rural areas, as well as their lost wages. One "free" dental consult at a local college cost a worker more than $200, plus his boss's anger, without including any actual dental work.
Workers are also afraid to report any medical needs for fear of being sent home. In order to ensure the smooth running of the program, liaison officers are quick to push for the repatriation of injured workers. This impetus was clear in 2015 after Sheldon McKenzie, a Jamaican SAWP worker, experienced a traumatic head injury while working on a tomato farm. In a coma and hooked up to life support, McKenzie was unable to work and thus ineligible for his visa and health care coverage. The solution: send him home. Only because of the intervention of McKenzie's Canadian cousin was he kept under Canadian medical care until his death nine months later. Other workers, meanwhile, are sent home because after they have been injured, they cannot take on "light duties." (It is unclear what "light duties" actually are and whether they are possible when working in agriculture. Anecdotally, some employers seem able to provide them while others either cannot or will not.) According to CBC, 800 Jamaican workers have been sent home from Ontario over the past 10 years, often with medical conditions resulting from their work in Canada. One worker told me I should do my research in Jamaica, with the thousands of Jamaicans he claimed have been repatriated after receiving injuries, with no compensation and with no access to health care.
***
Sadly, some of the farmers and farm managers I've heard about from workers do not come out looking great. I have heard stories about accommodation without hydro; long days made hours longer with five minutes' notice and without extra food or water; an employer looking for a worker who was up until after midnight fixing machinery to be in the field at 6:55 a.m. While my immediate reaction is either to initiate a direct and very unpleasant conversation with someone, or to make a formal complaint on behalf of a worker, the game doesn't play that way. Ultimately, the workers want their jobs. They do not want to be sent home for complaining, nor do they want their employers to be barred from the program for violating the conditions of the program.
Alongside these difficult stories, there are many employers who care about their workers, who work alongside them in the fields, who treat them with respect and provide them autonomy, and even travel to the workers' home countries to meet their families. These employers recognize that without the workers, their farms "would cease to exist." One of the winery managers I've spoken with pushed for one of his workers to have surgery before returning home. He was worried that if the worker did not receive the surgery in Canada, the worker would fail the physical screening required to return in the next year. Another employer offers reduced hours or days off when there are heat alerts. Because spraying the field is best overnight (no people around and no UV to breakdown the chemicals), he lets the worker who does the spraying determine his own hours. He also recognizes that the strict rules of the program are demoralizing for workers and admitted to breaking some of the rules in favour of the workers—none that I'll disclose here in order to protect both the employer's access to the program and the workers who come annually to his farm.
---
"Several workers I have met have lived more of their lives in Canada than in Jamaica."
---
The rules, both those issued by the liaison offices (including, for instance, no visitors who have not been pre-approved by the employer) and the legislated rules of the SAWP, are strongly contested. There have been calls from organizations including UCFW, the Agricultural Workers Alliance, the Canadian Labour Congress, the Coalition for Migrant Workers, and Justicia4MigrantWorkers to change the SAWP program to provide greater protections and dignities to migrant workers.
In September 2016, the Standing Committee on Human Resources, Skills and Social Development and the Status of Persons with Disabilities Standing Committee released its review of temporary foreign worker programs in Canada. Among its 21 recommendations, three were potentially relevant for SAWP workers: that employer-specific work permits be eliminated and replaced with geographical and sectoral permits; that programs move from a complaint-driven to a proactive model of ensuring compliance with workplace safety regulations and labour law; and that pathways to permanent residency be reviewed for workers who have integrated into Canadian society and are fulfilling a permanent labour need. The government issued a response in January 2017, indicating that it would commit to "further developing pathways to permanence for foreign workers." In its April budget, the Liberal government indicated it would strengthen the program. It will provide more money for onsite inspections where migrant workers are employed. It will "continue to examine the best ways to protect foreign workers, especially in low-wage and low-skill sectors" without moving away from employer-specific work permits. And despite providing "smooth pathways for top talent" there is no discourse on pathways for ostensibly unskilled, but critical—read: food security—foreign workers in agriculture.
SAWP workers continue to have no possibility of permanent entry into Canada. Several workers I have met have lived more of their lives in Canada than in Jamaica. Every year they leave their families behind and come to Canada to do work that is available to them because no Canadians will do it. Eight months every year, year after year—perhaps for decades—to provide food for Canadians.
While the workers I've met have graciously invited me to be part of their community—including that Jamaican Independence Day celebration last August—they are still not welcome in Canada. One of the local residents in Niagara-on-the-Lake advised me to always lock my door and my car, because of "those people" around.
Niagara's Peach Festival takes place during the day on a Saturday and Sunday in August. It culminates on Sunday evening with the Shades of Summer dinner on Queen Street. Virtually no workers are able to attend during the day and those who could attend the dinner on Sunday evening are unable to afford $35 plus food per person. However, this year for the first time, workers' contributions to local agriculture were acknowledged at the Peach Pickers' Picnic. This event brought Mexican and Jamaican workers together for an evening of food and music and gave them an opportunity for them to be involved in the celebrations of local harvest.
Instead of celebrating peaches in Old Town, this year my family celebrated with the workers who grow and harvest Niagara's peaches, as well as grapes and other crops. Next year, I encourage you to do so as well so that you can meet and thank the men and women who travel and live internationally to provide us with local produce.
Kristin Lozanski lives in southwest Ontario and teaches at King's University College. In November, she will be traveling to Jamaica to meet up with some of the workers she knows in their home country. She enjoys VQA wines from wineries that treat their workers fairly and encourages you to do the same.