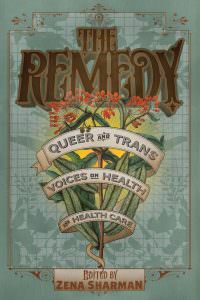 The Remedy: Queer and Trans Voices on Health and Health Care
Edited by Zena Sharman
Arsenal Pulp Press, $18.95
Although Canada is often praised for its seemingly progressive health care system, it's not perfect. This is particularly true for queer and trans people who are often mistreated by its antiquated process and mindset. The Remedy: Queer and Trans Voices on Health and Health Care, an anthology of essays from various LGBTQ authors, deconstructs why modern-day Canadian health care isn't working for all—and calls for change in order to help LGBTQ communities thrive.
Through first-person narratives, we hear from gay men living with HIV; trans folk who are too often misgendered and treated without dignity at hospitals; a Black intersex man who has struggled to navigate the health care system his entire life; as well as a lesbian couple dealing with cancer. Each essay raises important issues, providing possible solutions to what they'd like to see change.
Despite Canada's less-than-perfect health care system, The Remedy also gives readers a sense of hope. The anthology champions medical professionals and organizations doing amazing work for the community. In Toronto, we learn about Affirmation Decks; in northern Ontario we meet a pair of advocates who want to collaborate between LGBT2-SQ and medical communities in Sudbury; and in Seattle we're introduced to the Q Card Project.
Each of these stories, paired with cute illustrations dispersed throughout the anthology, makes The Remedy accessible yet informative, and a source for healing and optimism. Dignity and proper health care are human rights—and The Remedy calls for a future we should all care about.