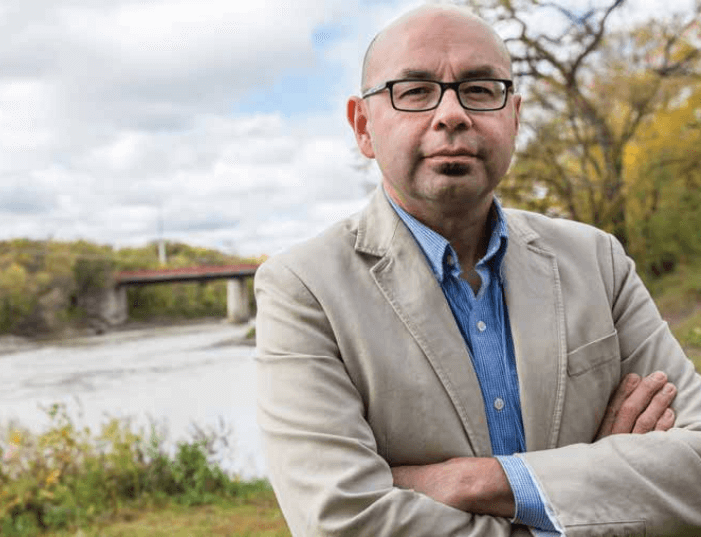 Photo by Greg Gallinger
Rick Harp is no stranger to the power of digital media to incite change. In 2015, the 48-year-old media veteran launched a crowdfunding campaign aimed at raising $10 million to build an all-weather road that would connect Shoal Lake 40 First Nation, a community near Winnipeg that's been without access to clean water for 18 years, to the TransCanada Highway. Though Harp fell short of his financial goal, he did garner online attention for Indigenous issues, an objective he's been fiercely pursuing since launching mediaINDIGENA in 2010.
Harp founded mediaINDIGENA to help fill the void of Indigenous news, views, and creative expression in the Canadian media landscape. Currently, the interactive multimedia publication covers a variety of topics that range from arts and culture to business, economy, politics, and more. This past March, Harp launched a mediaINDIGENA podcast that has featured several high-profile figures from the Indigenous community, including Cindy Blackstock, a child welfare advocate, and Pamela Palmater, Ryerson University's chair in Indigenous Governance.
Harp, a member of the Peter Ballantyne Cree Nation in Saskatchewan's north, has spent his career sharing stories from Indigenous communities across Canada, including at the Aboriginal Peoples Television Network (APTN), Winnipeg Aboriginal Film Festival, and CBC/Radio-Canada. He launched mediaINDIGENA to unite and amplify Indigenous voices on Indigenous issues. The product, says Harp, is content that is truer and more powerful than the mainstream media's version.
It's the difference, says Harp, between someone who's known the literal and figurative community terrain for years, versus someone who parachutes into a situation and tries to quickly gather-up facts to squeeze into a 90- second news piece. "The story's going to reflect that," adds Harp, "especially as a narrative starts to emerge."
To his point, Harp describes burgeoning Indigenous communities in cities like Winnipeg, Edmonton, Regina, and Saskatoon, and how this growing demographic (approximately 4 percent of the Canadian population) is often misrepresented by the media's lens. "More [Indigenous people] are becoming recognized for their accomplishments in a variety of spheres, including the arts, government, and culture," says Harp. "At the same time, Indigenous populations are disproportionately affected by challenges like poverty and violence, and sometimes that's what garners our people attention in the media, which is very much fixated—because it's cheap, easy, and sensational—on crime."
Through mediaINGIDENA, Harp provides a platform for complex Indigenous topics to be explored in depth. By integrating interviews with historians, academics, and researchers, the site gives much-deserved analysis and attention to relevant issues like the Truth and Reconciliation Commission report, the Enbridge Northern Gateway pipeline project, and the tragically high suicide rates within Indigenous communities.
By focusing solely on Indigenous issues, Harp recognizes innate audience limitations. For example, he must assume that readers and listeners are reasonably conversant with the kinds of dynamics and challenges facing Indigenous peoples, and acknowledge that many potential audience members live in remote communities with infrastructures that cannot support stable Internet access. Still, Harp, who dropped down to part-time work as a project manager with the National Collaborating Centre for Infectious Diseases to focus on growing mediaINDIGENA, is hopeful that he will one day be able to make a living by managing and producing content for the listener-funded site.
"The challenge for creators has moved from discoverability and access, to the tools of creation and the tools of distribution, to viability in terms of making a living," says Harp. He highlights that his primary challenge now is to find new ways to get people to compensate his work and site.
Still, Harp expects that through digital content, he will be able to create relevancy around Indigenous issues for all communities, Indigenous or not. "The one thing I rely on to know I'm doing the right thing, is the attention I receive from listeners and readers," says Harp. "My project is to try and reach people who want to better understand."