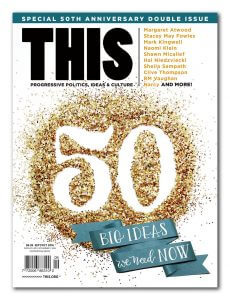 For our special 50th anniversary issue, Canada's brightest, boldest, and most rebellious thinkers, doers, and creators share their best big ideas. Through ideas macro and micro, radical and everyday, we present 50 essays, think pieces, and calls to action. Picture: plans for sustainable food systems, radical legislation, revolutionary health care, a greener planet, Indigenous self-government, vibrant cities, safe spaces, peaceful collaboration, and more—we encouraged our writers to dream big, to hope, and to courageously share their ideas and wish lists for our collective better future. Here's to another 50 years!
---
I am of the generation of women academics too young to remember the 1989 Montreal Massacre—the moment that promised to be our turning point, our watershed moment. I am, however, old enough to see how this was a failed promise: too many incidents of violence and harassment in academic spaces have made it hard for myself, my colleagues, my mentors, and my students to imagine how post-secondary institutions in Canada might, once and for all, put an end to the spectrum of aggressions and oppressions that push so many women— particularly queer women, trans women, and women of colour— out of the intellectual communities they rightfully deserve to participate in.
I cannot suggest another think-tank, another task force, or another deployment of brute intellectualism to address what fundamentally requires us to deal with how bodies move through academic spaces. How many of these reports are simply shelved and forgotten? Our bodies register the urgency of dealing with violence and harassment: our racing hearts, our clammy hands, our clenched teeth. And so, in a life of the mind, it is perhaps the body that contains the answers we so desperately crave.
To address violence and harassment in colleges and universities, we need to talk about the body. We need to acknowledge which bodies occupy positions of power and maintain the most visibility in academic communities. We need to discuss the embodied experiences that we bring into our work as faculty, staff, and students, and the many effects of bodily violence—fatphobia, homophobia, transphobia, racism, ableism, sexism— that we carry with us, whether we experience them in public, private, professional, or personal spaces.
I understand the resistance: after all, bodies are messy things. We would rather talk about the minutiae of policy development or engage in discussions of trauma that are often so abstract as to obscure the lived experience of violence; we would rather talk about the statistics of sexual violence and harassment on campus than to talk about churning stomachs or bruises or pain in the most intimate parts of our body.
This may be difficult. Awkward. Messy. But once violence is no longer easily translatable back into the bureaucratic language of press releases and policy documents, once sexual violence and harassment are truly understood as injuries to flesh and blood and spirit rather than to prized ideals of intellectual communities or to corporate values, then, perhaps, our watershed moments will finally arrive.
Lucia Lorenzi holds a Ph.D. in Canadian literature with a focus on representations of sexual violence. She is an anti-violence advocate and frequent commentator on issues of campus sexual assault.