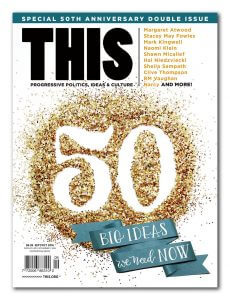 For our special 50th anniversary issue, Canada's brightest, boldest, and most rebellious thinkers, doers, and creators share their best big ideas. Through ideas macro and micro, radical and everyday, we present 50 essays, think pieces, and calls to action. Picture: plans for sustainable food systems, radical legislation, revolutionary health care, a greener planet, Indigenous self-government, vibrant cities, safe spaces, peaceful collaboration, and more—we encouraged our writers to dream big, to hope, and to courageously share their ideas and wish lists for our collective better future. Here's to another 50 years!
---
ONE BITTER MORNING THIS PAST MARCH I AWOKE TO A Winnipeg Free Press headline that made me want to crawl back into bed: "Indigenous teen gives instructions to city police chief if she goes missing." This 14 year-old girl who dreams of being a surgeon, lawyer, or police officer lives every day with the awareness that she is four to five times more likely to go missing or be murdered than my non-Indigenous teenage niece living in the same city. When I think about what it must be like to carry around that burden, I find it hard to breathe.
Minimally, a just society is one that defends all its citizens and provides each one with equal rights and protections. So long as the threat of violence is greater in some communities than in others, Canada is failing to meet even this thin conception of justice. And while the prevalence of violence against Indigenous women is disproportionately high, these crimes are endemic across the country, from rural environments to big cities to university campuses and immigrant communities. The national rates of intimate partner and sexual violence against women in Canada—one in three—are consistent with what we see worldwide.
But, for the first time in decades, we have reason to be hopeful. We are living in the midst of a sea change, a shift not quite of tectonic proportions but significant enough to believe in the possibility of real transformation. In a spectacular show of unscripted solidarity, women across the country are speaking out in an act of defiance against prejudicial stereotypes, rape myths, and victim-blaming norms. Voices that were historically silenced are now being heard. The result is a national conversation on the problem of violence against women—one that encouraged Trudeau's Liberal government to launch a National Inquiry into our missing and murdered Indigenous women and girls. It seems almost possible to imagine that one day soon, finally, we will be able to exhale.
Take the outcome of Canada's most highly publicized sexual assault trial this century. The not-guilty verdict was predictable enough, following a trial in which the evidential burden needed to clear the hurdle of reasonable doubt was not met. However, it shone a light directly on the inadequacies of the system, and a door opened. The judge's decision betrayed a serious lack of understanding of how traumatized people behave following a sexual assault, and the manner in which both the police and the Crown shrugged off responsibility for the complainants throughout the trial process helps to explain why fewer than 10 percent of victims bother to report these crimes in the first place. And with a conviction rate of just one in four, we can no longer deny that the criminal justice system is failing women. The collective outcry in the wake of the trial shows that Canadians want better.
The way forward is clear. Alongside a National Inquiry, the Canadian Government needs to undertake a review of the way our criminal justice system handles sexual assault cases. In the meantime, it can start by requiring education on psychological trauma and cultural sensitivity for police officers assigned to these cases and judges who hear these crimes. It must also provide better supports for sexual assault survivors within the system. Here it can follow the lead of the Ontario Government, which has initiated a pilot program that provides free, confidential legal advice to survivors of sexual assault. Government-mandated legal help for sexual assault survivors could go a long way to ensuring that our most vulnerable are not also our least protected.
And Canada can do even better than that. It can punch out this minimal conception of justice as equal rights and protections by caring for its citizens both within and outside of the criminal justice system. To achieve a robust sense of justice the Canadian Government needs to pour real dollars into community-based services that support survivors of violence and help them heal from trauma, regain their financial independence, and rebuild their lives with dignity.
We are witnessing a critical shift in changing cultural attitudes on violence against women, one that has been propelled by the power of women's voices. As those voices proliferate and we are able to detect patterns in women's experiences, the credibility of their stories becomes undeniable. We need to do what we can to make sure that those voices are not silenced. That is the Canada I choose.
Karyn L. Freedman is an associate professor of philosophy at the University of Guelph. Her book, One Hour in Paris: A True Story of Rape and Recovery, won the 2015 B.C. National Award for Canadian Non-Fiction.