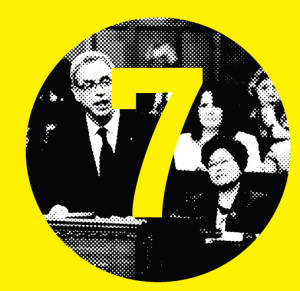 THERE IS NO REASON for the federal budget to be balanced at any particular time, argues Jim Stanford, an economist at Unifor and author of Economics for Everyone. The cartwheels necessary to balance Canada's federal budget, he maintains, actually ensure slower growth and smaller future surpluses. It could, in short, harm the economy—not boost it. So then why did Conservative Finance Minister Joe Oliver announce the 2015 federal budget's projected $1.4 billion surplus with such fanfare? Optics and politics. Arguably, he and his party wanted us to believe it was a sign of a recovering economy, still scarred by the 2008 recession. Too bad it's more likely the result of creative mathematical gymnastics, and a gamble in the Conservative Party popularity war.
What we have, largely, is a budget based in politics, not policy—more a campaign advertisement than an economic document. Thanks to a consistent and persistent PR campaign over the past decade, the government needed an operating surplus to uphold its claim of competent fiscal management—a necessity it deliberately created. Harper works tirelessly to convince Canadians the economy is simple. That spending is bad, taxes are bad, a balanced budget is good, and that no party understands that but his. If there's any indication of Harper's widereaching political success, it's that today every party agrees a balanced budget is necessary; they only disagree on when they'll get there.
Unfortunately, when a budget becomes a political answer, rather than an economic one, many Canadians lose. Let's look at the document itself. It was never really balanced. With slumping oil prices and slow growth, a surplus wouldn't come without consequences. The feds delayed the release of the budget by weeks so they could sell off $2.1 billion of its General Motors shares—a move Stanford, known for his past work with the Canadian Auto Worker's Union, says will hurt future investment from GM. Then, it dipped into the Employment Insurance operating surplus for a cool $3.4 billion. (Meanwhile nearly 60 percent of unemployed Canadians are ineligible for EI.) Finally, the feds took $2 billion from the emergency contingency fund. And yet, we get headlines that boldly declare "balanced."
In reality, the budget "bakes in growing income inequality" warns Armine Yalnizyan, a leading economist with the Canadian Centre for Policy Alternatives. It's low on meaningful investment. It barely nods to public transportation or infrastructure spending. There is nothing for Canada's youth. What it does promise is a familiar pattern: tax breaks that disproportionately favour the wealthy, and new ways to reduce the abilities of government. And so we get a government that consistently seeks ways to reduce revenue streams, increasing dependence on a select few, such as Canada's oil economy. "[The Conservatives] have no plan other than $100 a barrel oil," says Yalnizyan. "That's their economic action plan."
In a way, it's nothing new. Under Harper's leadership, the Conservatives have been remarkably consistent in their messaging since the party's victorious 2006 campaign. That platform declared "Canadians deserve to keep more of their own money," which acted as a (often mis-) guiding principle for the government. Under Harper, the government slashed corporate tax rates, rolled back the (since renamed) goods and services tax, and introduced other boutique tax cuts. In doing so, the government deprived the treasury of over $300 billion, limiting the country's resources during a tough economic recession.
An economy, however, needs an engine, argues Stanford—when the public isn't spending money, it falls to the government to open its wallet. Instead, it cut off its source of revenue. When asked for the government's guiding economic principle then and now, Yalnizyan answers quickly: "To write themselves out of a job description."
Which brings us to today. In place of a truly thriving economy, we get policy made for politics. Canada's economy is fragile. The oil slump is real, and the country's dependence on the energy sector has been exposed. People aren't spending money. Economists say the economy shrunk in the first quarter of 2015, and that will likely continue. We have a budget that isn't made to govern and an economy that isn't made for the majority of Canadians. For Stanford, an evaluation of this government is easy. "The economy," he says, "has performed worse under the Harper Conservatives than any other government in Canada's post-war history." Well, in every way but politics, that is.
The Parliamentary Budget Officer, meanwhile, announced that the government's operative budget will— based on overly-optimistic projections—actually sit in deficit at the end of this year. But that never really mattered to the Conservatives. It was the headlines they were after.