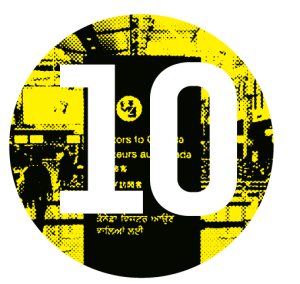 IT'S FROM BEHIND THE PLEXIGLAS BARRIER of the visitor's cubicle that I wait for Glory Anawa. I'm at the Immigration Holding Centre in Toronto—or, as Anawa and her two-year-old son Alpha have called it since February 2013, home. In front of me, etched in the glass separating visitor and prisoner, is that same word, HOME, underlined twice. It's written in reverse; it came from the other side. On the upper right hand corner of the glass is a child's greasy handprint. I don't know what side it's on.
I'm here—I hope—to meet Anawa, a Cameroonian mother in indefinite detention, and her son, who was born in the facility. Alpha must stay with his mother at all times, even when she's in the shower. While she carries his weight, she must also live knowing that her daughter, Tracy, not yet 10, is growing up without her in Nigeria. Anawa is imprisoned for a simple, all-too-common reason: coming here, to Canada. She hasn't been charged with a crime and has not had a trial. She's held because Cameroon won't issue travel documents for deportation and Canada will not set her free for apparent fear she'll disappear.
Anawa's story is as much a national tragedy as it is the result of a decade of degradation in the manner in which Canada treats those people who flee oppressive circumstance in hope of refuge. A system that—over the past nine years under the federal Conservative government—has gone from bad to worse. It's the result of policy that continually seeks to remove basic rights to those our federal government considers outsiders. It's thanks to a persistent messaging campaign to brand people as undesirable—or worse, criminal. Today, the walls of detention centres like the one in Rexdale act to hide the mistreatment of the disenfranchised and promote a culture of fear. A culture that often prevents the mistreated from speaking about their experiences with the media, or anyone.
So I wait.
IT'S A STICKY DAY in early May, and I'm sitting in a slowlyfilling courtroom at the Ontario Court of Appeals. I'm here to watch as the End Immigration Detention Network (EIDN) and a team of lawyers appeal a ruling denying habeas corpus to immigrants in detention. Basically, they want the court to prove that indefinite detention is justified. Even for the experts, the legal framework proves difficult to navigate. "I don't know every section [of immigration code] anymore," one of Anawa's lawyers tells the court. "I used to know it all, but it's been amended so much I just can't keep up."
IF THERE'S BEEN one constant since Stephen Harper's Conservative Party came to power, it's change. Policy has changed rapidly and seemingly at random, with the consistent misdirection acting as an obstacle for immigration lawyers and experts. "Every month is a change," says Loly Rico, the president of the Canadian Council for Refugees, "and every month is a cut."
In nearly a decade of conservative power, Canada has gained an abysmal record in caring for those seeking asylum—the most egregious of which is arguably our country's new and unusual habit of indefinitely detaining refugee and immigration claimants without providing any documentation as to why. In fact, in July the United Nations Human Rights Commission Report chastised Canada for this very practice.
Take Anawa's case. Facing female genital mutilation, she fled Cameroon to Finland, then to the U.K. and, eventually, to Canada. By that time, she was pregnant with Alpha. Lacking official documentation and identification, upon arrival she was put in the detention centre where she and Alpha now live. She has no release date.
Laced through the policy upheaval is also a shift in the tone in which Canada speaks about refugees. This government is openly hostile, introducing terms like "bogus claimants" and "abusing our generosity" to the public lexicon. Rico, once a refugee herself, says "[Refugees] are not coming because of what we have. They're coming because they need protection." Syed Hussan of the EIDN echoes that statement: "The idea that Canada, or any international agency, gets to decide who is and who is not worthy of safety is absurd."
Stripping a claimant's humanity with such language allows abuses of power to slip by—and become a norm. Anawa's lawyer, Swathi Sekhari, worries whenever a client speaks to the media. "The [Canadian Border Services Agency] can be quite subversive with their actions," she says, "I would say even violent." Guards can punish detainees for speaking out—either in the yard with verbal abuse or, at times, in detention reviews. "All of a sudden you can be declared as being uncooperative," she adds.
MANY TYPES OF IMMIGRATION have felt the effects of structural decay—including migrant workers and caregivers. Hussan, who's also with the organization No One Is Illegal, says that to focus on one stream or another is to confuse the problem. "People are just people trying to move," he says. When people are fleeing oppression their only concern is getting out, and they will choose the path they think is most likely to help. Each stream has its own pitfalls. Migrant workers, for example, don't have their housing covered under workplace safety laws even though they're forced to live where they work.
I'M STARTING TO REALIZE I won't get to speak to Anawa. It's my third time visiting the detention centre—a place that, in anything but name, is a prison. While I sit on this side of the glass, she's being herded back from lunch where Alpha may have been playing with a new friend. He has to make new friends a lot. Most of them move out eventually, into a world he doesn't understand. Each time I've gone I've seen her warm, welcoming face and his unbridled pent-up energy as he bounds around the visitation area. She corrals him as she tells me she can't talk. Not today. I've been waiting a while, but at least I get to drive home after. For the time being, she's already there.