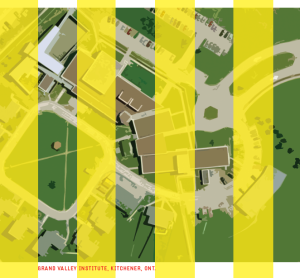 In the late '90s, the Canadian government debuted what was supposed to be a new, golden era of rehabilitation in women's prisons. Yet, less than two decades later, the dream has failed. What one former inmate's struggles and successes tell us about a broken system
RIGHT BEFORE WE MEET FOR THE FIRST TIME, AVA* SENDS A TEXT. "I got here early." She includes a description: the blonde woman wearing black. My bike bumps along Toronto's Dundas Street bringing me closer to the café where we've agreed to meet. It's an airy café, fairly full. Neatly framed artwork has been arranged, carefully decorating its walls. On this late October 2013 evening, it's about a half hour until sunset. Nearly golden light streams in and coffee cups clink on saucers as I walk down the row of tables looking for Ava. A blonde woman sits alone. I see her from the back first. She's wearing black. It's her.
We introduce ourselves politely. When Ava smiles the corners of her eyes crinkle a little. Her blonde hair falls in soft waves just past her shoulders. She wears a freshly scented fragrance and subtle makeup. At 41, she wouldn't look out of place lecturing behind a university podium, dashing down Bay Street in the morning, or picking a child up from school. Ava starts our conversation with, "I like your nail polish," and in the same girlish raspy voice she says, "My story is complicated." For the past several years, Ava has been a prisoner inside Grand Valley Institute, a Kitchener, Ont.-based federal institute for women. She began serving her sentence in 2007, and was released on early parole in 2008; by 2009, she'd re-offended and was back in prison. In May 2013 she was released on parole again, a series of drug trafficking and fraud charges behind her—or at least starting to be.
While at Grand Valley, Ava earned a degree from Laurentian University. She is now going to college, planning a career helping women who have been abused. On the surface, it all sounds good, but as Ava has told me, her story is complicated. While she's believes she held privileges in prison—being white-skinned and educated— in many ways, she also thrived despite the criminal justice system. She's a rare success story born from a poorly-run prison, where the system is anything but conducive to rebuilding women's lives—even though, as a rethink of the punitive model, it was designed to do exactly that. In a very real sense, she is one of the lucky unlucky ones. Ava tells me she recently moved out of the halfway house, where, as part of her parole, she was mandated to live from May until October. The server brings her a mug of chai tea and almond milk as I do the math: This is her fifth day of complete independence in years. Ava looks up at the server. "Can I have two sugars, too?"
A CANADIAN WOMAN with a sentence of two years or more serves her time in federal prison. Orange is the New Black may have viewers captivated by the idea of what serving time is like but there's more going on between scenes—in the Canadian system and at Grand Valley in particular. Between March 2010– March 2012, the population of federally sentenced women topped 600 for the first time, representing a 21 percent increase in just two years. Inside the grey of Grand Valley, women live packed like maraschino cherries in a jar. There, the population is about 180, or three times what the institution was originally designed to accommodate. Gymnasiums, visiting units, and the interview room of the maximum security unit have become makeshift cells. The max unit, where high-security offenders stay, now has two beds in cells that were only designed to hold one.
On top of this, Canada's prison ombudsperson, Howard Sapers, is concerned about violence in Canada's women's institutions. Inmate fights, use-of-force interventions, self-harm, and charges during prison stays and are all trending in the wrong direction. About 69 percent of women offenders also needed mental-health treatment in 2010–2011. Most of the women, 85 percent, have physical abuse in their past and 68 percent have been sexually abused. Family visits are rare—there are only five female-only prisons in Canada (plus a healing lodge) and many incarcerated women have been transported great distances. Sometimes prisoners' families are even blocked from getting inside.
Grand Valley wasn't supposed to be like this. Opened in 1997, the prison was designed to be an alternative to the Kingston Prison for Women's (P4W) rigid and inhospitable environment. Until its closure in 2000, the Kingston prison housed every woman convicted of a federal offence in the country, no matter which corner of Canada she came from. During its 66 years, the prison was under constant scrutiny. From its opening until 1993, it faced 13 investigations commissioned by the government, many of which suggested the prison be shut down. Lack of programming, education, and therapy combined with distance from family lead to inmate despair, depression, claustrophobia, self-harming, and suicide. Between 1977–1991, at least 12 women committed suicide while incarcerated.
In response, the Task Force on Federally Sentenced Women, including members of the government and advocacy groups such as the Elizabeth Fry Society and the Native Women's Association of Canada, released a report called "Creating Choices" in April 1990. It outlined areas that needed to be improved for women serving their sentences. After its release, it was decided the Kingston Prison for Women was unfit and would close (at least in theory) in 1994. Then, in the year it was supposed to have closed, a video surfaced, showing an April incident in which male guards brought eight inmates out of their cells for strip searches; they cavity searched seven of the eight the following day. At one point, inmates were also left in empty cells wearing nothing but paper gowns, and in restraints and leg irons. It was a pivotal point in garnering media attention—and even more criticism. It took from 1990–2000 for every single woman to be moved out of the prison and then it finally shut its doors for good on May 8, 2000, when the last woman left.
Kingston's closure was meant to mark a move toward the new values outlined by the "Creating Choices" document. As the title suggests, it said new values would help create choices for women inmates, operating under the premise they would then be better functioning members in the community upon their release. "Creating Choices" identified key problems facing federally-sentenced women: they were among those who had most suffered from sexism, racism, physical, and sexual abuse, plus poor education and employment. The report's authors concluded these women didn't need more punitive measures, but empowerment, programs, and work options to take responsibility for their lives inside prison—positive behaviour that would
ideally extend beyond prison life. In addition to promoting rehabilitative-focused programming, the report declared women were housed with little access to fresh air, light, and social interaction, all detrimental factors to healthy rehabilitation.
When Grand Valley first opened, things were optimistic. It embodied the five principles of "Creating Choices" (empowerment, meaningful and responsible choices, respect and dignity, a supportive environment, and shared responsibility), right down to the cottage-style buildings, where a woman's children and family could come and live for
extended visits. Back then, it only housed 64 women. For incarcerated women's advocates, it was a much needed change for Canada. "It opened under a whole new vision for how correction for women in Canada was going to operate," says Father Con O'Mahony, a former Grand Valley chaplain. "It was geared towards a much more
integrated experience for the woman." One, he adds, that worked well for the first few years.
O'Mahony finally left Grand Valley in 2009, after spending 13 years watching its once great plans disintegrate. He first began to see things change after the federal Conservative government began to implement the first wave of "tough on crime" policies in the mid-2000s. O'Mahony became further disquieted when he noticed inmates' mental health issues had began to largely be addressed through medication, and nothing else. Then, there was the overcrowding—and worse. Programming was cut. In 2010, the inmates at Grand Valley filed over 120 formal complaints with the Official of the Correctional Investigator, more than any other women's prison in Canada. In 2012, the Conservative government sliced $295 million from CSC's overall budget over a two year period. But, there were little things, too.
Guards who once wore casual clothes came dressed in dark navy uniforms. They began to carry what O'Mahony says looked like tasers. Before things started to change, he was buzzed through only one door before entering a main area where women would approach to talk. "I think it encouraged adults to be adults and it encouraged adult conversation," he says. Now though, there are two levels of security before reaching the entry area. Everybody gets screened. When he went in for mass, often his Bible or his identification were swabbed for drugs. "It was a very different feel," he says. Now, a disoriented Grand Valley has lost its sense of direction and is heading backwards, fast—taking most of its female inmates along with it.
BEFORE SHE WAS AN INMATE, Ava cross-country skied along Sudbury trails. She studied religious studies at Laurentian University. She made gift baskets to sell in the café she coowned with her boyfriend. But these are the highlights. When I first met her in October, Ava described her life as "dark and bleak" but left it there. Seven months later, she fills in her story. "I had several experiences of sexual abuse starting from the age of four." She notes that the majority of incarcerated women have been sexually abused—that's a common theme. "To be brutally honest, yes I mean rape."
Her relationship with the boyfriend who she owned the café with started in her mid-20s and lasted roughly five years. It became violent in the early stages. Ava's mother was also abused. So was her grandmother. Still, Ava says she found her place in the café, and loved it. She got along well with the customers and liked making their gift baskets. But slowly, the abuse became too much. She left the relationship and, shortly after,
her northern Ontario town, heading to Toronto for a fresh start. But things continued to go in the same direction. "I'd escape from one abusive relationship to another and leave with nothing but the clothes on my back and try to start over," she says. "Eventually I just kind of gave up." In one of our interviews, she tells me it feels like it was inevitable for her life to go in the direction it did, but then adds: "what's different for me is that I was able to move past it."
In Toronto, Ava got a reputation for being impulsive. She moved to the city at age 30. There were times when she abandoned her apartment, not giving her lease a second thought. She got involved in another abusive relationship. She kicked him out; he stole everything from her. He was a con man and had ripped off a lot of people already. "They came looking for him and raped and beat me. I got evicted from my apartment."
From there, Ava turned to crime for the first time. In 2001, she started selling cocaine, then got into sex work, then started using the cocaine to recover from the sex work, then made her way to heroin which she both used and sold. At one point, right before she got arrested, she tried to pull away from her lifestyle and had even started making gift baskets again. But just a few months after she was arrested for selling drugs to an undercover police officer and possessing firearms. Found guilty, she was sentenced to five years in prison. After a year, she was released on early parole. She returned to crime and violated her order within days. "I was like, 'I don't give a shit,'" she says. "Everyone's told me I'm a piece of shit so that's what I am and that's what I'll continue to be.'" After her parole violation, she was sentenced to an additional three years and four months.
"I work hard to achieve things and then I just fuck them up," Ava says. "While I've been impulsive, I've also been the kind who likes to lay down roots and build things. I'm self-destructive and destroy them, which probably led to the impulsivity … That's why I have this tattoo." She rolls up her sleeve and inscribed in cursive is a message about not tearing down what you've built for yourself. She got it in Grand Valley.
AVA'S FIRST STOP ON THE WAY to Grand Valley was the Vanier Centre for Women, a provincial jail in Milton, Ont. If a sentence is less than two years, a person stays in a provincial jail, but many women are also held in custody in a provincial jail as they await their sentence. Ava lived in the high security area of Vanier from March 2009–March 2011 before being transferred.
"It's actually so scary," she says. The first time she entered the doors of Vanier she says, women were in her face: "What have you got? Do you have a package?" They meant drugs. In provincial jail, there's no methadone treatment. You wait until you get out or get to federal prison. On her first stay, Ava walked past plenty of women who were throwing up or had diarrhea. Withdrawal. It's a dirty place. There is no soap for your hands. When someone left the bathroom, someone else would say, "so and- so's been smoking crack again." Some women tucked drugs into their bodies; other women knocked them out in the shower to get them. One day, while being escorted out of the high security range to visit a social worker, a guard looked at her and said, "She's a fucking waste of time."
Every day for every meal, she would line up for a spoon. She lined up to give it back. She usually didn't hand it back. Instead, she stuck it through a hatch. Most guards wouldn't touch it, but some would take it from her with a glare. At night, she would go back her cell, back to her mattress on the floor. Clean laundry was still dirty. Sometimes, there would be no socks for a week. The metal door with the slot for meals stayed shut. "It's a relief when you get to Grand Valley," she says. "Believe it or not."
IN GRAND VALLEY, Ava lived in a unit with 10 women. Everyone at the prison receives a food budget of $35.56 per week. While there, Ava would make her list and then another woman picked up the items at the prison's industrial food area. On a typical day, she would wake-up at 5:30 or 6 a.m., make breakfast, and go to work. During her time there, she filled a number of positions—librarian, photographer, and member of the inmate committee. She received a release to work at the Humane Society. The highest a woman can earn at Grand Valley is just shy of $7 per day, a
wage that has been static since 1981. Pay is situation-dependent and can be as low as $1 per day. Women use the wages to buy basic hygiene needs and pay phone fees to call family. (Just this past fall though, a new rule was established requiring inmates to give 30 percent of their pay back for room and board.) Ava likes buying shoes. She would save her $6 daily wage for months and months, eventually picking the exact right pair from the prison's Nike catalogue.
While many women at Grand Valley worked, others slept away their sentences, she says. At Grand Valley, there is a 90-day evaluation period before an inmate can be entered in core programming. Oftentimes, though, there's a waiting list for programming as well, and there is no guarantee a woman will start programming after the evaluation period. Inmates cannot apply for parole until the programming is complete. Ava has seen women begin their mandatory programming so late, they miss their chance to do so. "The beds are staying full," she says, "and nobody's moving."
The work day for inmates lasts the full morning. After work, Ava would head back to her unit in time for the guards' regular 11:15 a.m. headcount. Ava's clearance came each day at about 12:30 p.m. From there, she went to programs until 4 p.m. Then,
another count. It cleared at 5:30 p.m. After that, free time until 9 p.m. Ava would usually head to the gym. "That was my sanity place," she says. "That's what I loved to do." In the beginning they had a weight room, but it was later turned into a guard's office. At one point, there was a step aerobics class. The steps broke, but they used them that way anyway—until they got taken away. Eventually the women received a new shipment of cardio equipment: one elliptical, two treadmills, and two bikes. Ava says the women fought over them constantly. Sometimes Ava would watch TV after. Inmates are allowed 15-inch sets in their cells. They have to pay for cable, whether they have a TV or not.
At Grand Valley, there was one thing that Ava could use to move herself forward. Ava had started a degree in 1992, but says she quit one credit short of graduating. Initially, she just wanted to finish that credit, and decided to take a women's studies course through correspondence. "Then I was like, 'Hey, I would really like to continue studying this.' So I had to do 36 credits in women's studies." While many of Grand Valley's once-big ambitions have shrunk, it still offers post-secondary correspondence courses through Laurentian University, as well as the Inside-Out program. Facilitated by Wilfrid Laurier University in the case of Grand Valley, the program trains professors from across Canada to go into institutions to teach a class that is a mixture of students from the university and students from the prison.
Inside-Out started in the U.S. in 1997 and runs in 25 states. It started in Grand Valley in 2011 with 10 "outside" students and seven "inside" students. The program offers courses through the faculty of social work and the faculty of arts at Wilfrid Laurier and receives funding from the Lyle S. Hallman Foundation, which gives grants to support education and children's initiatives in the Waterloo region. Wilfrid Laurier University provides texts and bursaries for incarcerated students. For Ava, it was intimidating, especially her first day of class. "On our end," she says, "we're like 'Oh my God these are university students, they are going to think we're dumb.'"
She also worried the students would notice she only had blue, stained institute T-shirts to wear. What about her pants? Would these students judge her for wearing the same ones every week? "Sometimes it sounds really vain, my worries in there," she says. "It makes you feel like you stand out and all you want to do is just blend in." Her worries didn't turn into reality. She began to look forward to her Inside-Out classes every week. Inmate students didn't want class to end and for the outside students to leave. "It was really over and above anything we had hoped for," she says. And between those classes and her correspondence courses, she managed to finish her degree and graduate on June 8, 2013. "It felt absolutely amazing," she says. "I am the only woman in the history of GVI to have completed a degree while being there."
AVA WAS RELEASED from Grand Valley on May 22, 2013. She went into prison with few chances for a successful future—and doesn't downplay her degree. "Unless you're released from prison and learn something new, you're exactly where you started," she says. "The fact that I was able to work on my degree, get involved in Inside-Out, I'm now in college full-time— that's given me all the direction I needed to try and change. If none of that happened, I don't know what I'd be doing right now. I really don't know." That might make it seem like Creating Choices is still alive. Not quite.
"The GVI that opened in 1997 is not the GVI we have today," says O'Mahony. Ava points to one, big roadblock on the way to education: If women at Grand Valley want to take university correspondence courses, they have to find a way to finance them— something that's incredibly difficult to do on a salary of less than $7 a day. At one point, inmates could get an Ontario Student Assistance Program (OSAP) bursary called Ontario Special Bursaries which awarded a student up to $2,500. Those were last offered for the 2010- 2011 year though before they were cut from the Ontario budget. Before the bursaries were cancelled, says Ava, 30 women were studying post-secondary inside Grand Valley via correspondence. The next year, that number dropped to two. Ava paid for school through scholarships, a $500 grant from the Elizabeth Fry Association (a group that helps incarcerated women) and a different grant from OSAP.
Outside of Grand Valley, Ava says she's lonely, that she has no friends, and has only been to the movies once. She's not allowed to talk to anyone from prison because
she's on parole. She feels displaced. Prices have changed. Muffins used to be $1, now they are $2. She took a trip to Shoppers Drug Mart recently, but left. The tattoo underneath her sleeve is a reminder to stay on course. She talks about these things and about her life of abuse and drugs and her women's studies degree that she had to fight so hard for inside a penitentiary that has become hardened and strict. Somewhere on a bridge above the Don Valley River on our way to her boxing class, she stops and says "I like walking across bridges."
Before we walk through the gym's doors, she stops again and tells me she's wearing two pairs of pants. She says quickly, her tone hushed: "It's a habit from prison," where the cells were cold and an extra pair of pants meant an extra layer of protection between her skin and filth. Months later, she tells me she's always worried that something will send her back to Grand Valley—that everything she's worked for is all hanging together by a string and that it could snap so easily. Sometimes in the city, she comes face-to-face with women from her prison days, still stuck in the cycle.
The other boxers don't know about Grand Valley yet (although, tired of living a double life, she will later tell them).During the workout she's smiling, making wisecracks. "It looks easier than it is," she says, even though she jumps at the chance to use the weighted ball. With every exercise she adds a twist making it more challenging. The gym blasts OutKast's "Hey Ya!" and has a brown-haired, freckle-faced coach who says that every woman needs a heavy bag to punch. "Better out than in," she says. Throughout the gym the sound of gloves hitting and bouncing off punching bags echo. Here, at least, Ava moves with ease.
 *name changed to protect privacy