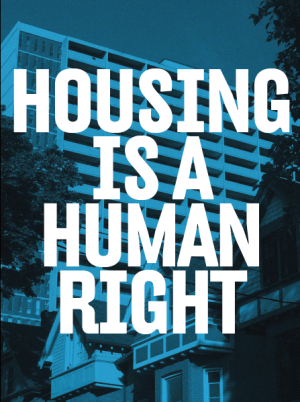 What would happen if housing were enshrined in the Canadian Charter of Rights and Freedoms? One activist's inside account of the radical new fight to end homelessness
In 1996, fresh out of high school, I co-founded the Calgary chapter of the anti-poverty activist group Food Not Bombs, together with a group of youth active in the local punk music scene. We collected donations of food and served vegetarian meals to the hungry and homeless in front of City Hall, an outdoor soup-kitchen and weekly protest rolled into one.
We couldn't stand by as the number of people without homes in boomtown Calgary continued to rise; by 1999 estimates put the number of homeless at almost 4,000 people.We sent letters to politicians, held rallies, and spoke to the press. No one should go hungry, we argued—after all, food did grow on trees. And we knew without a shadow of a doubt that housing was a human right.
Canada prides itself as "a consistently strong voice for the protection of human rights," and has signed onto many international human rights covenants. It was a Canadian, John Peters Humphrey, who was the principal drafter of the Universal Declaration of Human Rights. Together with the UN General Assembly, Canada adopted the historic document in 1948, which guarantees everyone the right to "a standard of living adequate for the health and well-being of himself and of his family, including food, clothing, housing and medical care and necessary social services."
Despite this guarantee, the numbers of homeless people in Calgary has remained largely unchanged; in 2008, the city counted 3,601 people without a home. In 2014, that number sits at 3,533—and many other Canadian cities face the same high, stagnant rates.
Almost 15 years after those first small actions, I was privileged to stand outside a courthouse in downtown Toronto as four individuals and the Centre for Equality Rights in Accommodation (CERA) filed a historic legal challenge against the Canadian and Ontario governments. The housing and homelessness crisis had only deepened over the years, and these activists intended to hold Canada to its 1948 promise. They wanted the Court to declare homelessness itself a human rights violation and to rule that under the Charter of Rights and Freedoms, the government had a responsibility to end it.
"Across the county and in Toronto, various activities have been employed to end homelessness, from research on the health effects of homelessness to meetings with politicians and protests," says Cathy Crowe, a street nurse and voluntary executive director of the Toronto Disaster Relief Committee. "It's hard to imagine one thing that hasn't been tried, and done really well, by groups across the country." Crowe is one of 12 expert witnesses who provided evidence in support of the legal challenge. "It felt to us way back, that we should go to court."
The legal system isn't the only avenue for marginalized people to seek justice. But, after years of organizing to end homelessness with few victories to celebrate, the possibility of a court ruling that would force the government to act was an exciting prospect.
Supporters have since dubbed the CERA-led case the "Right to Housing" challenge. Unlike past legal skirmishes led by anti-poverty activists, which targeted specific laws—such as those that banned panhandling or sleeping in parks—it is a broad, all-encompassing challenge to government policy. A shared experience of living without adequate, affordable housing brought the applicants together. They deeply wanted to help prevent others from facing the same challenges. Together with the non-profit organization CERA, they argued that the federal and provincial government had failed to implement effective strategies to address homelessness and inadequate housing. As a result, the applicants argued, the governments had deprived them, and others, of "life, liberty, and security of person"—a violation of section 7 of the Charter of Rights and Freedoms."
The case also relies on the rights to equality found in section 15 of the Charter. Women, people with disabilities, aboriginal people, new immigrants, youth, and people from racialized communities experience inadequate housing and homelessness at greater rates than the general population. The applicants argued that by failing to effectively address the housing crisis, Canada and Ontario were "creating and sustaining conditions of inequality."
"I lost my husband, my children, my home," says Janice Arsenault, one of the four applicants involved in the legal case. In 2003, her husband, who owned their Pickering, Ont., house together with his mother, died during a routine operation. Heartsick and homeless, she was forced to relinquish custody of her children to her parents. Arsenault ended up living on the street, and then in a series of poorly maintained apartments where she faced abusive roommates and drug-dealing neighbours. "I'm 45 years old. I don't want to wait ten years to live in a safe place," says Arsenault, who has struggled to find a decent apartment that she can afford with the money she receives in provincial disability benefits.
In Canada, 200,000 people experience homelessness each year, and at least 1.3 million have experienced homelessness or extremely insecure housing in the past five years. People without adequate housing suffer from a range of health problems, including chronic obstructive pulmonary disease, tuberculosis, skin and foot problems, and others. These conditions are a direct result of, or made worse, by their housing experience. They also face increased risk of violence: a 2007 Toronto-based survey found that 35 percent of homeless individuals experienced physical assault and 21 percent of women experienced sexual assault in the previous 12 months.
Without stable housing, life expectancy is significantly reduced. A 25-year-old woman living in shelters, rooming houses or hotels has a 60 percent chance of living to 75. For men, that chance drops to 32 percent. Even those who have a place to call home face serious challenges. Finding a good, affordable apartment is difficult. Forty percent of renters in Canada spend more than 30 percent of their income on rent; over 400,000 tenant households are living in overcrowded conditions; and at least 370,000 rented homes are in need of major repairs. People wait years to access affordable housing: In Ontario there are 158,445 households on the social housing wait list.
The housing crisis in Ontario hasn't always been this bad. "Canada has always had many people living in poverty," University of Toronto researchers noted in their 2009 book Finding Home: Policy Options for Addressing Homelessness in Canada. "But it was only in the 1980s that more and more people found themselves not only poor, but unhoused."
This trend, caused by the erosion of social programs, grew more exaggerated when the Liberals withdrew all permanent federal funding for social housing in the early '90s. Since then, successive governments have granted ad hoc funding for programs and new social housing, but none have re-established an ongoing program to support social housing.  "There's a sort of collective amnesia among people about the loss of the national housing program in 1993," says Crowe. "The current reliance on the charitable sector is problematic, and it's a result of the underfunding of social services."
But, there are others, like Crowe, who haven't forgotten. In 2010, supporters of the legal case formed the Right to Housing (R2H) Coalition of Ontario. The R2H Coalition included individuals with lived experience of homelessness, as well as academics, workers, and community activists from over a dozen organizations and agencies. In the long periods between court appearances, we organized workshops and rallies to build awareness of Canada's housing and human rights obligations. On November 22, 2011, R2H joined with the Occupy movement in Toronto to mark National Housing Day. The mood was sombre— the Occupy encampment had recently been served with an eviction notice by Toronto Police, but spirits lifted as the crowd grew in St. James Park. It was clear to me and many of the young activists sleeping in the park that homelessness was one of the starkest examples of the increasing inequality in our society which had sparked the Occupy movement. This event was one of many organized by anti-poverty activists, social service agencies, and tenant groups over the years of the housing crisis.
This sustained advocacy has not gone unnoticed by politicians, both within and outside the governing parties. In May of 2012, members of all federal parties voted in favour of a non-binding motion that acknowledged that the government has an obligation to "respect, protect and fulfill the right to housing." A few months prior, in February, the federal NDP had introduced the Act to Secure Adequate, Accessible and Affordable Housing for Canadians to create a national housing strategy to fulfill that obligation. Members of the Liberals and the Bloc Quebecois vowed to support the bill when it came time for its second reading vote on February 27, 2013. In the lead-up to the vote, advocates called and wrote to backbencher Conservative MPs from across the country, who were free to vote with their conscience. There was hope that a few MPs, seeing the problems that lack of affordable housing were causing in their ridings, might vote in favour of the bill.
Yet, on the morning of the vote, Conservative MP Tony Clement, president of the treasury board, held a press conference and characterized the private member's bill as a "dangerous and risky NDP spending scheme." This statement was intentionally misleading, as private members' bills cannot allocate funds without government approval. In the end, Clement's message found its mark, the bill was defeated 153 to 129, with all Conservative MPs voting against it.
Housing advocates have long argued the idea that it is too expensive to end homelessness is a red herring. Take, for instance, a 2008 Government of Alberta study that concluded it would cost twice as much to maintain homelessness as it would to end it by building affordable housing and providing social/health supports to those who needed them."Moving 11,000 individuals and families out of homelessness will require investments of $3.316 billion," reads "A Plan for Alberta: Ending Homelessness In 10 Years." "This is far lower than the cost of simply managing them."
Outside of Canada, there are examples of countries addressing homelessness and the right to housing. Decades of organizing and public education in Scotland paid off when the government passed a law in 2003 ensuring that anyone who is unintentionally homeless has a right to settled accommodation. Individuals without housing can apply to a regional council which has a legal duty to provide them with permanent housing. If there aren't any units available at the time, the council must provide them with temporary housing—a bed in a shelter is not enough. France passed a similar piece of legislation in 2007. Section 26 of the South African Bill of Rights declares: "Everyone has the right to have access to adequate housing."
Perhaps unsurprisingly, it's precisely the kind of legal obligation seen in other countries that the governments of Canada and Ontario oppose. This attitude has made the Right to Housing case a hard fight. In 2012, the governments brought forward a motion to strike the case before it began. Rather than debate the evidence and present their own counter-arguments, they wanted the case to be thrown out without any of the evidence being heard by the Court.
"The use of a motion to strike by the government in an important Charter case like this is deeply troubling," explains Tracy Heffernan, from the Advocacy Centre for Tenants Ontario, one of three lawyers who represented the applicants. "It can serve to quell dissent and prevent the voices of marginalized groups asserting Charter violations from being heard before the courts on a full evidentiary record."
On May 27, 2013, three years after the case was filed, I sat in a packed courtroom watching Superior Court Justice Thomas R. Lederer preside over the motion. At the end of the three-day hearing, the Justice reserved judgment. He needed time to carefully consider the arguments put forward by both sides.
The judgment arrived four months later, on a Friday afternoon in September. The Ontario Superior Court of Justice agreed with the government. Lederer ruled that it was "plain and obvious" that the case could not succeed, and struck the case. Contrary to Canada's pledge under the Declaration of Human Rights, it seemed, this decision made it plain that there is no right to housing in Canada. "This will come as a shock to those in Canada and the international community who have been assured that Canada recognizes access to adequate housing as a fundamental human right and that the most marginalized are protected under the Charter," Leilani Farha of CERA said at the time.
The ruling was a clear setback, but we refused to mourn. The court is one venue to assert the right to housing, the streets another. In November 2013, the R2H Coalition helped organize a week of actions from Victoria to St. John's in support of social housing funding and a strategy to end homelessness. In Toronto, over a 100 people gathered in the rain at Yonge-Dundas square, and our cries of "housing is a right, we won't give up the fight" echoed off the buildings around us.
The Right to Housing applicants appealed Lederer's decision and the Ontario Court of Appeal heard the case at the end of May 2014. In addition to arguments from the applicants and the governments, a panel of three judges considered submissions from eight intervenor groups who supported the case, including Amnesty International, the Ontario Human Rights Commission and the Women's Legal Education and Action Fund. "The proper role of the Court in this case," wrote the Charter Committee Coalition in its intervention factum. "[Is] to provide the 'last line of defense' for some of the most marginalized and powerless members of Canadian society."
As of June, there's no way to know how long we will have to wait for the Court of Appeal decision. A positive Appeal ruling would mean that the case could continue, and Arsenault and the other applicants could finally present evidence that shows the depth of the housing crisis and its impact on human rights. It could be years before we see a final ruling, unless the applicants lose at the Court of Appeal. A negative appeal decision could mean the end of the case; the applicants would pursue a Supreme Court of Canada appeal, but there is no guarantee such an appeal would be allowed, let alone successful.
Regardless of the final outcome of the legal case, Arsenault remains steadfast in her conviction that no one in Canada should be without a safe, affordable place to live. "As a human being, I have a right to adequate housing," says Arsenault. "It's not just for myself. I want to fight for everyone."
Yutaka Dirks lives in Toronto. His writing has been long-listed for the CBC Literary Prize for Creative Non-Fiction and his fiction and non-fiction work has appeared in Briarpatch, Ricepaper Magazine, and Rhubarb Magazine. A long-time social justice activist and community organizer, he contributed essays to Beautiful Trouble: A toolbox for revolution, published by O/R Books in 2012.