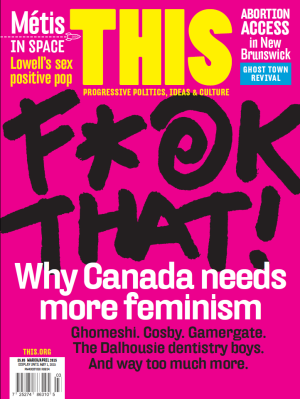 Our March/April issue is now on newsstands, and we're super excited. Check out the editor's note from Lauren McKeon, where she shares our motivations for publishing the issue, and also what you can expect to see inside its pages and online at this.org!
I cannot remember a time when I didn't identify as a feminist. From the moment I first heard it, the word feminist fit me like the perfect pair of jeans. I learned it as if by osmosis, the way geese know to migrate south for the winter or dogs to bark at strangers. I know many people who feel the same way I do, and many who don't. Some days, lately, I'm not sure which side has the higher tally.
Feminism has taken over our national conversation and the results are both encouraging and discouraging. As feminists get more ink and airtime, so too do anti-feminists—our current clickbait-centred media culture ensures it. We debate merits and viewpoints, all the while obscuring this pervasive attitude that women's life experiences aren't worth being taken at face value. It's not enough to simply testify these things are happening to us, to say we are oppressed, abused, and disadvantaged: we must prove it. Again and again and again.
Well, f*@k that. Here at This Magazine, we believe Canada needs more feminism—now. In this issue, we also give a big f*@k that to the popular culture that fostered Jian Ghomeshi, Bill Cosby, and the boys at Dalhousie's Dentistry school; the one that cultivated mansplaining, manspreading, and street harassment; and the one that encourages apathy toward threats to abortion access, the pay gap, and our country's Indigenous murdered and missing women.
But it's not all raised fists: We also explore what we need from feminism now, and ask the tough questions: Is feminism too middle-class and white? (Answer: Yes. "The trouble with (white) feminism" by Hana Shafi) Where do men fit into the movement? ("Allied forces" by Hillary Di Menna) Does hashtag activism work for feminism? ("#Feminism" by Stephanie Taylor) And more.
While we can't cover all the myriad ways in which we need more feminism, we hope this issue can add to our great Canadian feminist conversation, as well as spark a few new conversations. Because now, perhaps more than ever, we need to examine the current state of—and need for—feminism. We need to look at what we can do better. So, please, pick up up a copy of This and stay tuned to this.org and, where you can join us in saying, "F*@k that."
Can't find This on newsstands? Contact publisher Lisa Whittington-Hill at [email protected]