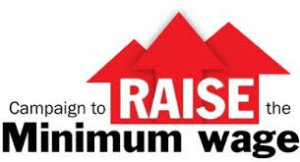 The Workers' Action Centre (WAC) is calling for a raise in the Ontario minimum wage, and has been organizing demonstrations and events since early March. On Tuesday, the Toronto Star published a piece from Campaign to Raise the Minimum Wage members Navjeet Sidhu and Yvonne Kelly, in which the activists outline the myriad reasons an increase makes sense.
Ontario hasn't had a minimum wage increase since 2010, when the per hour wage rose from $9.50 to $10.25. The wage freeze in the three intervening years means that while the cost of living continues to rise, wages stagnate, and those costs of living cut into already modest wages.
The Campaign to Raise the Minimum Wage calls for an increase to 10 percent above the poverty line in Canada, or $14, which would make Ontario's hourly wage the highest in Canada.
Currently, Nunavut sits in first place, at $11/hr, with the Yukon a close second at $10.54. Ontario and B.C. come in just under Manitoba and Nova Scotia, and are closely followed by Quebec. Saskatchewan and four other provinces and territories come in at $10, with Alberta a dismal $9.75 in last place. In contrast, the American federal minimum wage is $7.25, and has been since 2009.
While there are arguments against a wage increase from many factions, it is possible, and even likely, for full-time workers in this country to remain below the poverty line.
The proposed $14 would ricochet Ontario to the top of the provincial pile, and would likely pull the wages of many provinces up with it.
WAC and the Campaign to Raise the Minimum Wage will be holding their next day of action in Ontario on September 14.